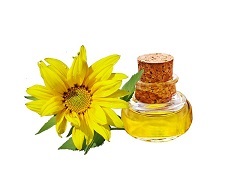 Well, they've finally come out and said it! Cooking with sunflower oil is highly toxic!
According to research done by Professor Martin Grootveld, professor of bio-analytical chemistry and chemical pathology, and his team, cooking with sunflower oil produces aldehydes, toxic chemicals that have been linked to heart disease, cancer and dementia.
I was astounded when I read that Dr Michael Mosley, presenter of the UK TV program "Trust Me, I'm A Doctor", claimed that the research they instigated "revealed for the first time that what we thought we knew about cooking oils is just plain wrong".
That's just plain wrong!
It's not the first time it's been revealed at all. Nutritionists have been saying for years that cooking with sunflower oil and other polyunsaturated oils is wrong. I've been saying it for at least 24 years. It was one of the first things I learned on the first nutrition course I took.
So what's wrong with cooking with sunflower oil?
Sunflower oil is made up mainly of linoleic acid, a polyunsaturated omega-6 fatty acid, and oleic acid, a monounsaturated omega-9 fatty acid.
The problem with polyunsaturated fats is that they are highly unstable and oxidize easily. This means that they react with oxygen to form free radicals and harmful compounds that you definitely don't want to be consuming.
In his excellent book Fats and Oils, Udo Erasmus says that frying in polyunsaturated oils destroys the fatty acid by twisting it to make an unatural form.
Did you realize that when you buy a bottle of sunflower or other polyunsaturated cooking oil in the supermarket it has already been subjected to high heat and been damaged?
Cooking oils are processed to extend their shelf life and make them more stable which results in the formation of detrimental substances like trans fatty acids, polymers, cyclic compounds, aldehydes, ketones, epoxides, hydroperoxides, and others.  Many of these substances are toxic, even in small quantities.
Sunflower oil cooking study
Let's get back to the study that Dr Michael Mosely was talking about. Volunteers were given sunflower oil, vegetable oil, corn oil, cold-pressed rapeseed oil, olive oil, butter, goose fat and lard and asked to use them in every day cooking. The leftover oil was collected and sent it to the lab at De Montfort University, Leicester, England to be analysed.
It was found that sunflower oil and corn oil produced aldehydes at levels 20 times higher than recommended by the World Health Organisation. They also discovered two previously unknown aldehydes which apparently was a world first. Butter, goose fat, olive oil and rapeseed oil produced far fewer aldehydes.
When asked for his tips for safe cooking Prof Grootveld reportedly said that "the ideal compromise for cooking purposes is olive oil because it is about 76 per cent monunsaturates, 14 per cent saturates and 10 per cent polyunsaturates".
Smoke points
I would not agree with that and neither would a lot of other health experts. A lot of the theory about the best oils for cooking is based on their smoke points. This is the temperature at which an oil, when heated, produces enough volatile compounds for a bluish smoke to become visible. I'm sure you've seen smoking oil.
Refined sunflower oil has a smoke point of 232°C  (450°F)
Unrefined sunflower oil has a smoke point of 107°C  (225°F)
Unrefined high-oleic sunflower oil 160°C  (320°F)
Virgin olive oil has a smoke point of 199°C  (391°F)
Avocado oil has a smoke point of 270°C  (520°F)
So from this you can see that Virgin olive oil has a higher smoke point than the unrefined sunflower oils (refined sunflower oil has already been damaged during processing) but this does not take into account the oxidation of the oil.
Oxidation and smoke point are different things. Monounsaturated and Polyunsaturated oils can and will oxidize long before they smoke while cooking.
Coconut oil better than olive oil for cooking
I stopped using olive oil for cooking after some bad fatty acids were found in my red blood cells when I had a fatty acid profile done. I went over to coconut oil for cooking because it is said to be better for cooking as over 90% of the fatty acids in it are saturated, which makes it very resistant to oxidation when heated.
So, I was surprised to hear Dr Steven Masley say, during the Healthy Heart Summit, that he recommends cooking with avocado oil and not coconut oil because it has a higher smoke point.
Avocado oil contains 12% polyunsaturates whereas coconut oil contains only 2% polyunsaturated fatty acids so that is why it is considered to be better for cooking. I'm still not convinced that avocado oil is better because of the amount of polyunsaturated fatty acids it contains. More research need to be done on this I think.
Animal fats more stable for cooking  
The most stable fats of all for cooking are animal fats which are the saturated ones.
Butter, lard, and goose fat, once thought to be the cause of heart disease, are now coming back into fashion as cardiologists blame highly refined carbohydrates and over-consumption of omega 6 oils for the chronic inflammation in the body that underlies cardio-vascular problems.
When asked about his choice of cooking fat Professor Grootveld said given the choice between lard and polyunsaturated oils he'd choose lard every time.
If you don't like the idea of cooking with lard  he did say that in view of the high saturated fat content in coconut oil it is also recommended for cooking.
Just remember to avoid heating it to high temperatures. High temperature cooking produces other compounds that are toxic to the body but I'll have to save that for another time.
My question is what oil or oils have you been using for cooking? Does this research surprise you? Let me know in the comments below.
Lard image by Glen