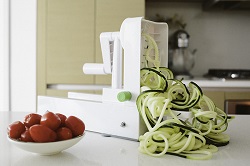 If you don't have a veggie spiralizer yet I bet you soon will. There's no better way of jazzing up your detox food than with this amazing kitchen gadget that's flying off the shelves.  They are already popular in the US but only just becoming known in the UK.
They are brilliant for turning vegetables into spiral ribbons known as "noodles" or "zoodles" that you can use for salads or to replace conventional carb laden pasta and rice.
So much so that writer and blogger Ali Maffucci lost 24 pounds (11 kg/1.7 stone) in just three months through replacing pasta, bread and rice with spiralized vegetables and doing some consistent exercise.
Before she swaped the carbs for spiralized vegetables she was always tired and unfocused. Now she is much happier, focused and energized.
She says "It's such a fun way to eat, you never get bored of what you're eating."
Spiralizers come in different shapes and sizes and some do more than others. The best ones can make "noodles" from hard veg such as butternut squash, summer squash, celery root (celeriac) or fennel that you might not think of as salad material. You have to do your research first.
Firm textured vegetables like carrots, courgettes, squash, sweet potato, parsnips, rutabaga (swede), kohlrabi, broccoli stalks, and mouli radish are best for spiralizing but you can also use firm fruits such as apples and pears.
Imagine a detox diet breakfast of ribbons of pear with a dollop of Greek yoghurt topped with walnuts and perhaps a touch of raw honey if you still have that sweet tooth. Yummy!
Or try spiralized carrot, courgette and onion stir-fried with organic eggs and herbs for a quick breakfast or lunch.
To replace pasta you just heat watery veg spirals like zucchini very gently in a little ghee (clarified butter) or olive oil or heat them in your sauce. You have to take care with sweet potato or butternut squash noodles because they easily over cook and disintegrate.
Some spiralizers will make tissue thin slices of veg which you can use for making attractive detox salads. Spiralizing allows you to slip more veggies into your diet, without sacrificing flavor.
Try these spiralized vegetable recipes. They make ideal detox food!
Zucchini Pasta with Avocado-Pepita Pesto
Karla's version of a Zucchini (courgette) pesto dish she was served at a vegan cooking demonstration. Quick and easy to make. Pumpkin seeds are rich in healthy fats, antioxidants and fibers needed for detox. Best soaked before use.
Get recipe here:  Zucchini Pasta with Avocado-Pepita Pesto
Rainbow Detox Salad
Melissa King loves beets ( beetroot) . Beets are excellent detox foods. They contain phytonutrients, known as betalains, that help support Phase 2 liver detox.  When your liver is able to detoxify chemicals and toxins more effectively your body is better able to balance hormones, cholesterol and energy levels. This recipe is a good way to get more beets into your diet and it's quick and easy to make.
Get recipe here: Rainbow Detox Salad
Cleansing Ramen Soup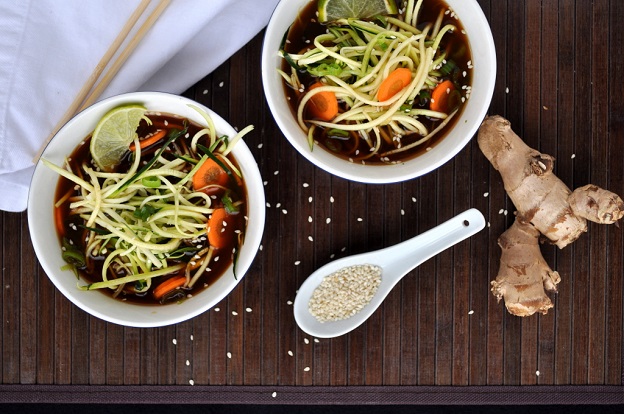 This soup contains lots of detoxifying greens, garlic and herbs that chelate and detox heavy metals. Although the directions are for julienned zucchini noodles you can, of course,  make them with a spiralizer. You can add some organic chicken if you want to add some animal protein for the rest of the family.
Get recipe here: Cleansing Ramen Soup
Sweet Potato Noodles with Tomato Artichokes and Chicken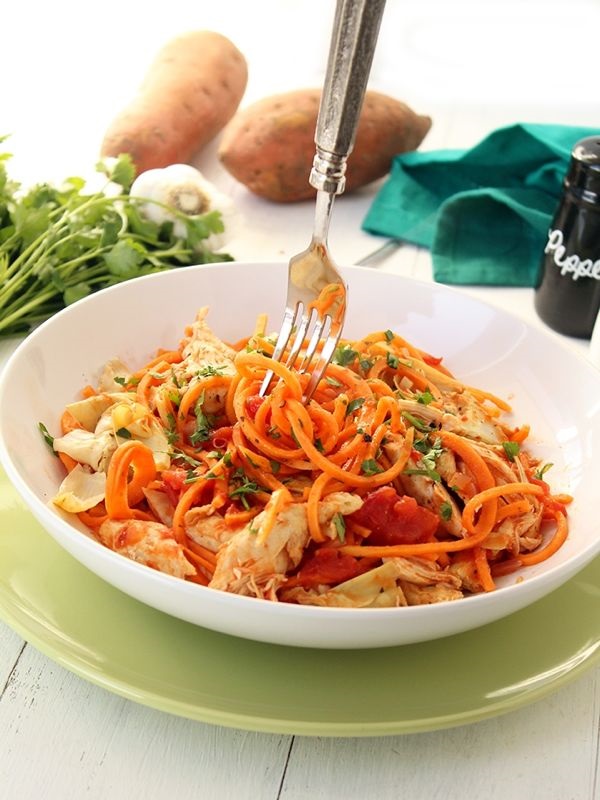 This dish, from Ali Maffucci herself,  consists of yummy sweet potato "noodles" simmered in a tasty tomato sauce. You can leave out the chicken if you prefer but you can still detox when you eat animal protein. Some of the amino acids you get from the protein are used for detox so you have to be sure you get enough even if it comes from plants. Remember you don't want to starve yourself especially if you are trying to lose weight.
Tomato Sweet Potato Noodles with Roasted Artichokes and Chicken
Benefits of spiralized detox food
Spiralized veggies are low in calories, low carb, low sugar and high in vitamins, minerals, antioxidants and fibre. Don't let anyone tell you that you are missing out on fibre if you give up pasta! If you eat enough of them the high fibre and water content of vegetables promotes a feeling of fullness that is so important when you detox. If you get hungry you will be tempted to give it up before you've even got going.
Spiralized vegetables are a great for everyone and a great way to get kids to eat more veg, but they are especially good when you want to avoid gluten or for those want to detox the Paleo way.
So, here's my question: Are you already spiralizing your veggies or if not are you inspired to get a spiraliser? Let me know in the comments. I would love to hear from you.