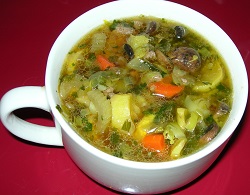 Have you heard that souping is new juicing? According to journalists the soup cleanse is the latest food trend among the health conscious. They say that people are becoming tired of juice cleansing and are turning to detox soups instead.
So much so that ever since Gwyneth Paltrow included detox soups on her blog  sales of soup maker blenders are overtaking sales of juicers for the first time.
Most juice detox plans are in fact juice fasts. They consist of drinking fresh juices with no other food throughout the day for a period of a few days or much longer like Joe Cross who juiced for 60 days.
Some health experts are concerned about the sugar content, albeit natural, of fruit in juices and the lack of fiber which is known to be essential for good health.
Fiber naturally binds to toxins in the intestines that have been processed by the liver, and incorporated into the bile, and helps to carry them out of your body.
Benefits of healthy vegetable soups
Healthy vegetable soups, on the other hand, provide vitamins, minerals, antioxidants, pytochemicals and fiber. I say "healthy" because most ready made soups that you buy in the supermarket can be laden with sugar and salt. There are some companies that are offering healthy, ready made detox soups.
Emmy-winning actor Michael Chiklis decided he wanted to drop 35 pounds when he had to wear a leotard for a film part and decided that a soup cleanse sounded infinitely better than a juice cleanse. He chose to drink ready made detox soups from a local company specializing in weight loss detox soups.
Detox Soups
Detox soups can be raw or cooked, hot or cold. Some people refer to blended thick fruit smoothies as soups but that's not what I'm talking about here. I'm talking about soups made from vegetables and fruits like tomatoes that we tend to think of as vegetables.
Journalists are talking about souping as something new but detoxing with soup has been around for years.
Dr. Henry Bieler, an American physician and author of "Food Is Your Best Medicine", believed that high levels of toxicity in the body was the root cause of most common diseases and ailments.
He was particularly interested in restoring the liver as a way to health and to detox his patients he prescribed a soup fast using a recipe he created which became known as Bieler's Broth. (recipe below).
Then there is the famous Hippocrates soup that is part of the Gerson Therapy for cancer and other degenerative diseases. People following the therapy do juicing and souping so they get the best of both worlds. The soup is used to cleanse, nourish and heal the body. (recipe below).
Talking of Hippocrates, we must not forget Ann Wigmore's Energy Soup. Ann famously cured herself of colon cancer using weeds and wheatgrass and founded the Hippocrates Health Institute in 1968 where she taught visitors how to use raw foods as a cure for their health conditions.
3 Day Soup Cleanse
To do a 3 day soup cleanse you simply drink 6 servings of healthy vegetable soups for 3 days. They are your meals. You do not eat any other food but you can drink water and green or herbal teas.
You can make the detox soups in batches and freeze it in portions so you don't get tired of the same soup. You can have them hot or cold, according to the weather and how you are feeling.
Don't forget to drink plain filtered water, detox waters or green tea during the day as well to stay hydrated and dilute toxins that are released during the detox.
As is usual before embarking on any sort of detox it's best to gradually cut down on sugar, caffeine, wheat, dairy products and alcohol over a period of two weeks before starting this detox or you could get withdrawal symptoms especially if you normally have a lot of these things.
Here are some tasty detox soup recipes for you to try.
Cauliflower and Turmeric Detox Soup
Serves 4
Ingredients (preferably organic)
4 cloves garlic, minced
3 tbsp coconut oil
1 large onion, chopped
1 cauliflower, broken into florets
1 tsp turmeric ( check you source to ensure it's free of lead)
1 large sweet potato, peeled and diced
1.8 pints/1 litre hot vegetable stock
Parsley or cilantro (coriander), or both, finely chopped to serve
Directions
Fry the onion gently in the coconut oil for about 5 minutes until beginning to soften. Add garlic and continue to fry until softened but not browning.
Add the cauliflower and turn in the oily onion. Add the turmeric and keep stirring, then stir in the potato. Cover and cook over a low heat for about 10 minutes.
Add stock and bring to boil. Lower heat until just simmering, cover and cook for a further 15 minutes.
Allow to cool enough to put in your blender or food processor and blend or process until smooth or leave a bit chunky if you like a soup with more texture. Place in serving bowls and sprinkle on the freshly chopped parsley or coriander.
Bieler's Broth
Ingredients (preferably all organic)                                                                                                                           
4 medium zucchinis (courgettes), chopped
3 cups green beans, trimmed
2 sticks celery, chopped
2 bunches parsley, stems removed
1 quart filtered water
sea salt to taste
ghee (clarified butter), optional
Directions
Place water, zucchini, beans, and celery in a stock pot.
Bring to a boil, lower heat and simmer for about 30 minutes until vegetables are softened but not over cooked.
Spoon the mixture into a blender, add a handful of parsley, and blend pulsing a few times to get it started. Add ghee if you like.
You can alter the ratio and the texture of the soup to suit your taste.
Hippocrates Soup (Gerson Therapy)
Ingredients (organic)
1 medium celery root (celeriac) Or if not in season, use 3-4 stalks celery
1 medium parsley root
2 small leeks
2 medium onions
Little parsley
1½ lbs. tomatoes or more
1 lb. white potatoes
several cloves garlic (optional)
Wash and scrub all the vegetables keeping the peel on. Chop up coarsely, place in a 2-quart pot, cover with filtered water, bring to the boil and simmer slowly for 3 hours.
Cool enough to put into a blender and blend in batches until smooth.
Vary the amount of water used for cooking according to taste and desired consistency. Add garlic if liked.
Can be stored in the fridge for 2 days but no longer. Reheat as needed.
Raw Green Veggie Soup with Avocado & Cilantro
Makes 4 servings
Ingredients (preferably organic)
1 avocado
1 small zucchini ( courgette), chopped
2 stalks celery, chopped
2 cups raw spinach
1/4 cup fresh parsley
1/2 cup fresh cilantro (coriander)
2 slices green pepper
1/8 cup raw onion, chopped
1 small clove garlic
1/4 cup raw almonds, preferably soaked over night and rinsed
1/4 tsp sea salt to taste
1 1/2 cups filtered water
juice of 1/2 – 1 lemon
1 small radish for garnish, diced small
Directions
Place all the ingredients in the blender except the sea salt and process to desired consistency and warmth if you have a Vitamix.
If you have a regular blender you can pour into a sauce pan and gently warm over very low heat. Adjust seasoning and add a squeeze of lime juice or more lemon juice to brighten the flavour if you wish. Garnish with radish and enjoy!
You can get some more detox soup recipes from some of my previous blog posts:
Sweet Watercress Detox Soup
Watercress belongs to the same family as cabbage and broccoli so is good for enhancing the liver detox enzymes. It makes a good addition to smoothies, juices, salads and soups.
Get the recipe HERE
Vegetable Broth with Chestnuts
I included this in some winter detox recipes but you can get tinned or frozen chestnuts all year round.

Get the recipe HERE
Cabbage Soup Detox Diet Plan
This soup is made from fresh healthy ingredients and is a far cry from the original cabbage soup diet.
Get the recipe HERE
Detox Soups for Winter Cleansing
There are a number of detox soup recipes  in this post  that can be used for the 3 day soup cleanse. Don't be put off by the winter cleansing title as you will find soups here that are quite suitable for spring and summer including a couple of raw soups.
Get the recipes HERE
You've got a lot of recipes here at your fingertips so you can't possibly get bored drinking the same soup all day!
So, what do you think about doing a soup cleanse? Will you give souping a try or have you tried it already? Just put your answer in the comments below. I'd love to hear from you.
Zucchini & beans image by Berkeley Blue