Browsing through the magazine section in the supermarket the other day to see what health news they were writing about I spotted that Zest magazine included a 3 page piece devoted to the lowdown on the Green Revolution.
They say that Green Smoothies are the hottest A-List accessory right now.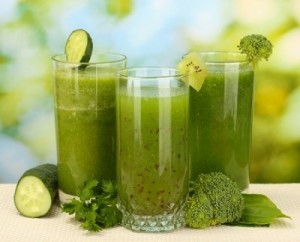 It's true that many health concious celebrities such as Nicole Richie, Emily Blunt, Heidi Klum, Reese Witherspoon, Alessandra Ambrosio, Drew Barrymore, Ben Stiller, Gwyneth Paltrow, and Kim Cattrall have all been spotted out and about sipping on healthy green smoothies but some of us have been drinking them for years.
Green juices were the in thing at one time but it seems that Green Smoothies have got the edge now.  I recovered from chronic fatigue with a lot of green juicing but I got into  Green Smoothies when I had my melanoma and did another major body cleansing detox.
I'm not  surprised that Green Smoothies are going mainstream as although they may not always look that appealing and smell like lawnmower pulp  to some, they taste amazing and give you an incredible boost.
"A green smoothie before breakfast can help balance blood sugar, reduce appetite and help maintain energy levels throughout the day by increasing the levels of nutrients the body takes in without increasing calories." says Nadia Brydon, a nutritionist and medical herbalist currently researching this at Westminster University.
"Try a pre breakfast smoothie made with a few slices of cucumber, a bunch of spinach, a banana and a small handful each of raspberries and blueberries,' she suggests.
To increase the antioxidant content even further, add a teaspoonful or two of Green Organics  5 Alive Green Vitality Superfood which contains chlorophyll and an alkalizing blend of nutrient-dense live vegetables, sprouts, grass juice and herbs. If you are in the EU you can get it from the new EU warehouse here:
Adding Five Alive Green Vitality to your daily diet not only helps to detox your body, but gives you those powerful nutrients at a cellular level for whole body support. By providing what your body needs, natural healing can take place.
If you have a busy and stressful day or have done a lot of exercise, especially a resistance or weights session, add some oomph to your smoothie and help your muscles recover by adding a heaped scoop of Smooth Vitality, a broad-spectrum, plant-based protein blend complete with all the essential amino acids your body needs.
The Micro Greens Salad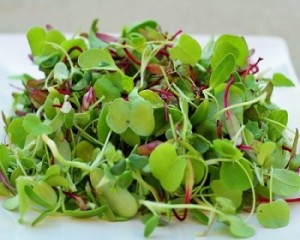 The Green Revoution is not only about green smoothies. The latest green craze is micro greens packed with four to six times the vitamins, minerals and antioxidants in mature leaves of the same plants.
Mix together a handful of whatever micro green such as coriander, basil, spinach, pea shoots, oriental lettuce, radish, mustard. Add some thinly sliced radishes and mangetout cut into thin strips. Add a healthy dressing and serve.
They can be expensive to buy in the supermarket but are so easy to grow at home on the window sill.
Here's a recipe for a green smoothie with micro greens
Micro Greens Detox Smoothie
2 fresh pineapple slices,
Wedge of green or yellow melon,
½ cup seedless grapes
handful leafy greens to taste
handful of micro greens
Directions
Put fruit into your blender first
followed by the greens.
Add enough water to make blades turn
if neccesary. Blend until smooth.
Enjoy!
The Green Revolution Power Dip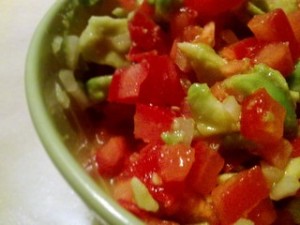 Here's the recipe for the Power Dip that was included in the article.
Green Power Guacamole
Serves 4
2 avocados, stones removed
juice of 1 lime (organic preferably)
1 clove garlic roughly chopped
1 spring onion, finely sliced
1 handful coriander leaves.
1 tomato diced.
2 tsp green powder such as GO Green Vitality
Himalyan salt
Freshly ground black pepper
Directions
Put all ingredients except tomato in a blender or use a hand blender to blitz until smooth.
Stir in chopped tomatoes and season with a little Himalayan salt and black pepper to taste.
Green smoothies are an ideal way to get in your 9 servings of fruit and veg a day. Yes, you read that right. 5 a day is not enough according to the latest research.
Researchers made these recommendations after studying the research that show fruits and vegetables can help reduce the risk for heart disease, type 2 diabetes, some cancers, and high blood pressure.
Nine servings is about 2 cups of fruit and 2 1/2 cups of vegetables every day. If you have a hard time getting in even five a day try adding Green Smoothies to your diet.
September is organic month so why not make a pledge to add one new organic fruit or vegetable to your diet. Your body will thank you for it.
Do you drink Green Smoothies?  How many a day do you have? How do they make you feel? Show me you're alive and leave me a comment. And, if you like this post please share it using the share buttons below. Thanks. 🙂