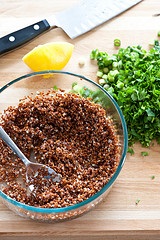 I'm bit behind the times as I've only just read that the United Nations has declared 2013 the 'International Year of Quinoa'.
While the likes of Gwyneth Paltrow, model Miranda Kerr and celebrity vegan Moby wax lyrical about quinoa many people in the Western world have never have heard of this highly nutritious grain-like crop. It is often recommended on detox diets as a replacement for gluten grains which are best avoided when you detox.
Quinoa (pronounced keen wah) is actually a seed, related to the spinach family, which is native to South America. It was known as the "gold of the incas" because they believed it could boost up the stamina of their warriors.
Quinoa as a Superfood
It's hardly surprising because quinoa contains double the protein of brown rice along with greater fiber content and a lower glycemic load. Not only is quinoa high in protein but it contains all essential amino acids, the building blocks of protein that cannot be made in the body and have to be obtained from food.
That is one of the reasons why quinoa is so good to include on a detox diet when you are avoiding animal protein. Amino acids are used by the liver detox system.
In addition to protein quinoa contains a host of other health boosting nutrients including magnesium, calcium, manganese, iron, copper & Vitamin B2. All of which are needed in the detox process.
Quinoa is also high in natural phytochemicals which have antioxidant properties that are needed for detox and help prevent chronic diseases such as cancer and heart disease.
Bolivian farmer Carmelo Flores, who turned 123 a month ago, attributes his longevity to the traditional Andean diet of fish, quinoa and beans. No wonder it is getting a reputation as a superfood!
Donna Gates of Body Ecology recommends quinoa because it is easy to digest and does not feed bacterial or fungal infections in your body like candida.  Quinoa acts as a prebiotic that feeds the microflora (good bacteria) in your intestines.
Last week I wrote a post about Coconut Kefir, another superfood that also helps to put the good bacteria in your gut.
The outer coating of the quinoa seeds contain saponins, a natural defense of the plant that protects it from insect and fungal attacks, which give it a bitter taste. Most quinoa sold commercially in North America has been processed by washing to remove this coating.
If you are not sure if they have been processed rinsing prior to cooking also removes the bitter taste. I always rinse mine first anyway and it is light, nutty and delicious. As well as the familiar white Quinoa there are red and black varieties the same as rice.
Quinoa is easy to prepare, cooks faster than many other grains and is incredibly versatile. It can be used as a side dish, in salads, in soups, stews,  or casseroles, or as a breakfast dish. Quinoa flour makes delicious gluten free pancakes and muffins.
Adding lots of herbs and spices while it's cooking helps to bring it to life as well as increasing the nutrients of the dish.
Here are a few recipes for you to try.
Quinoa & Chickpea Pilaf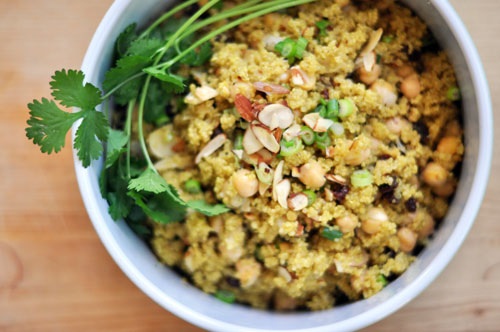 Ingredients
2 tbsp olive oil
1 small onion
2 cloves garlic
1/2 tsp ground cumin
1 tbsp crushed coriander seed
Freshly ground black pepper
1/2 tsp Himalayan Salt
1 tbsp tomato paste
1 cup quinoa, washed
2 cups cooked chickpeas (garbanzos) 1 cup dried chickpeas soaked over night & boiled in water until teneder)
500 ml vegetable stock
Fresh chopped parsley or cilantro (coriander)
Directions
Saute onion gently in olive oil for about 8 minutes
Add garlic & cook 2 minutes more
Add tomato paste, coriander, cumin, blck pepper and salt and saute for another minute
Add quinoa, saute for 2 minutes.
Add cooked chick peas & stock & bring to the boil
Lower heat to a simmer, cover and cook until the quinoa has absorbed all the water, stirring occasionally.
Fluff with a fork and sprinkle with chopped parsley or cilantro (coriander).
Serve.
Red Quinoa & Blueberry Breakfast Parfait
(adapted from a "Cinch" recipe by Cynthia Sass)
Ingredients
1/2 teaspoon ground cinnamon
6 ounces plain organic Greek style yogurt
1 cup fresh blueberries
1/2 cup cooked red quinoa, chilled
2 tablespoons sliced almonds
Directions
Fold cinnamon into yogurt.
In a dish, alternately layer quinoa, blueberries and yogurt
Garnish with almonds and serve.
Asian Quinoa Salad
This recipe is from Maria & Josh of Two Peas And Their Pod.
Maria says " Last week I was in the mood for a quinoa salad, but wanted to try something new, so I mixed up an Asian Quinoa Salad and my oh my it's amazing! This one tops the charts! You've gotta try it!"
Here's Gwyneth Paltrow's recipe for leftover Quinoa.  This is ideal for a detox diet.
Garlic, Kale, olive oil and eggs are all good detox foods. Did you know that you could eat eggs on a detox? They contain good protein and are a good source of sulfur amino acids that are needed for the liver detoxification pathways.
Other foods rich in sulfur include legumes, whole grains, garlic, onions, Brussels sprouts and cabbage. All foods recommended for a detox diet. Without sulfur, the body cannot properly detoxify pharmaceuticals, environmental toxins or heavy metals.
Leftover Quinoa with Egg, Kale and Scallion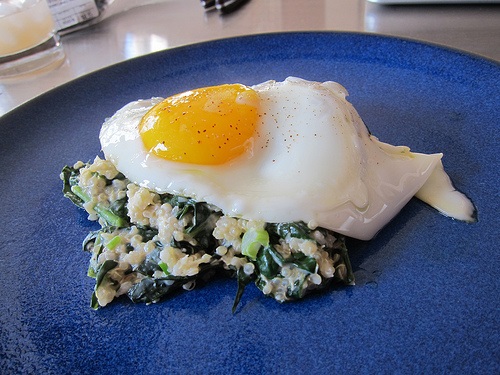 Cooked quinoa is a great, useful staple to have on hand at all times, especially in the morning.
Ingredients
2 tablespoons extra virgin olive oil
1 garlic clove, finely minced
2 large leaves of kale (stems discarded), finely shredded
½ cup cooked quinoa
Coarse sea salt
Freshly ground black pepper
A poached egg or olive oil fried egg
1 scallion, white and light green parts only, very finely sliced
Directions
Heat the oil and garlic over medium heat in a small skillet until the garlic begins to soften, just 1 minute.
Add the shredded kale and cook, stirring now and then, until the kale is wilted, 2 to 3 minutes.
Add the quinoa and cook, stirring until warmed through, another 2 minutes.
Season the mixture to taste with salt and pepper.
Place the mixture in a shallow bowl or on a plate, top with the egg, and sprinkle with the scallions.
Add a final grind of black pepper if you like.
Serves 1.
Of course you don't have to be on a detox diet to benefit from this amazing little seed. You can use it for any recipe that calls for rice or pasta. Have you tried it yet?
What is your favorite way of using it?
Show me you are alive and let me know in the comments. And, don't forget to like and share this post using the share buttons below if you think others would benefit from it. Thanks 🙂
Image Credits: Quinoa Pilaf, Quinoa with egg