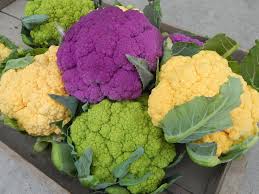 According to food experts cauliflower is making a comeback this year and will become the new Kale.  Well, I don't know about that but I do know that cauliflower is a good detox food and if the thought of soggy, boiled, white cauliflower leaves you cold then why not try out the tasty cauliflower detox recipes below.
Years ago the only way I ever served cauliflower was with cheese sauce as the majority of people did.  The cheese sauce helped to counteract it's slightly sulfurous and bitter taste which is much more noticeable when the curds are yellow and old. Really fresh white heads are much sweeter tasting.
Recently scientists have bred (not genetically engineered) bright orange, purple and green cauliflowers which  some scientists claim are healthier for you.  They certainly look more colorful and apparently taste the same.
It is good to eat from a wide variety of colored vegetables and fruit for detox and optimum health but white veg do play a part.
A Good Detox Food
The sulfur in it is one of the things that makes it such a good detox food. The liver uses sulfur to eliminate toxins in one of the Phase 2 detox pathways.
Cauliflower, like other cruciferous vegetables, also contains important phytonutrients called glucosinolates that can help to activate detoxification enzymes and regulate their activity. They also help to protect you against cancer.
According to some authorities cauliflower contains about 70% as much glucosinolates as kale so from that point of view Kale is still king.
It contains antioxidants which are needed to mop up free radicals created during the Phase 1 detox process.
A 100 gms cauliflower contains about 3g of  fiber, which helps to keep your digestive system moving. This is very important when you are detoxing so those toxins that the liver has worked so hard to neutralize are not left hanging around in your gut to be re-absorbed.
Very Versatile
Cauliflower is actually a very versatile veg. It can be mashed in place of potato, "riced" in place of the the grain,  grilled, broiled, cut in "steaks" and roasted or barbecued, served in a salad, curried, covered with a tomato based sauce or tossed with herbs, vinegars and oils.
Did you realise how versatile it is? I've even seen recipes using it as a pizza crust if you want to avoid gluten or wheat.
Here are some tasty cauliflower detox recipes for you to try.
Pea and Cauliflower Frittata
(A Waitrose love life recipe)
You can make this for the whole family. Simply cut out your portion before adding the goat's cheese.
Serves 4
Ingredients
1 cauliflower broken into small florets
100 gms fresh or frozen peas  (or other veg)
6 large organic eggs
Bunch salad onions thinly sliced
1 tsp toasted cumin seeds
50 gms goats cheese (optional)
Directions
Steam  cauliflower until just tender
Add peas (or other vegetables) for last few minutes
Drain well
Meanwhile beat eggs and stir in the cumin seeds and salad onions
Stir in cauliflower and peas
Lightly grease frying pan with coconut oil or ghee.
Pour in egg mixture and cook on low for 12 minutes or more until set.
Put under a pre-heated grill to set the top if necessary.
Optional – Scatter a little chopped goat's cheese on the top and put under a prheated grill to melt.
Slide out of pan onto a board and cut into wedges.
Serve with a large mixed salad.
Roast Cauliflower Steaks with Lentils
(from Waitrose Kitchen Magazine)
Serves 2
Ingredients
150 gms Puy Lentils, rinsed
2 carrots, peeled & diced
1 small head cauliflower ( 800 gms)
2 tbsp extra virgin oilive oil
3 tbsp white wine vinegar
handful flat leaf parsley, finely chopped
4 small cornichons, thinly sliced
1 tbsp wholegrain mustard
Directions
Pre-heat oven to 190C/375F/Gas 5
Simmer lentils, carrots in pan of water for 10 – 15 minutes until tender. Drain & set aside.
Meanwhile heat 1/2 tbs oil in a large, non-stick frying pan.
Slice cauliflower lengthways into 2.5cm steaks. ( sides will fall into florets)
Fry over medium heat for 3 minutes each side.
Place in roasting tin with florets and and pour over 1/2 tbsp olive oil.
Season with a little celtic or Himalyan salt and black pepper and sprinkle with vinegar.
Roast for 10 minutes approx.
In a small bowl mix parsley, cornichons & mustard with remaining tbspoon of oil and 2 tbsp vinegar.
Serve cauliflower steaks on top of lentils with salsa verde poured over the top.
The Raw Terminator Salad
( from Frederic Patenaude)
This makes a very  tasty filling raw detox salad
Ingredients
1 small cauliflower head, shredded
1 ripe avocado, mashed
15 sun-dried, black olives, pitted and chopped
1 organic red pepper, diced small
1/2 organic lemon, juice of
1/4 cup chopped parsley
1 clove garlic, crushed
Directions
Shred the cauliflower in a food processor, or by hand. Then mix with the other ingredients.
Cauliflower & Butternut Squash Curry

(from the gourmettraveller.com)
Serves 4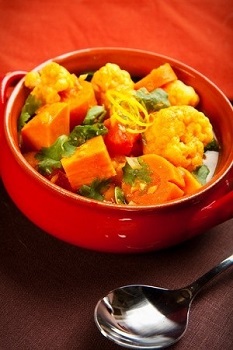 Ingredients

1 onion, finely chopped
2 garlic cloves, sliced
2 tbsp olive oil
1cm (½in) piece of ginger, finely chopped
2tsp ground coriander
1tsp ground cumin
1tsp ground turmeric
½tsp ground chilli
1tsp garam masala
500ml (16fl oz) vegetable stock
400g (13oz) tinned chopped tomatoes
½ medium butternut squash, peeled and cut into 1cm (½in) dice
½ cauliflower, cut into florets
Bunch fresh cilantro (coriander), chopped
2-3 tbsp Greek-style yoghurt (optional) plus extra to serve
You can use 1½ tsp, or more to taste, medium curry powder in place of all the spices if you prefer.
Directions
Sauté the onion and garlic in the oil in a lidded saucepan until soft.
Add the ginger and spices. Cook, stirring, for 2 mins.
Add the stock, tomato and butternut squash, and simmer uncovered for 15 mins.
Add the cauliflower, cover and simmer for 10 mins, or until tender.
To serve, stir in the fresh cilantro (coriander) and Yogurt if using.
Serve hot.
You can serve it for the rest of the family with naan bread and extra yogurt.
Good Substitute For Starchy Foods
Cauliflower can make a good substitute for starchy food like mashed potato or rice.
For an alternative to mashed potato, simply steam some cauliflower until tender.  Process, blend or mash until smooth. Mix in some extra virgin olive oil, celtic or Himalyan salt, black pepper and some herbs or chopped chives. Delicious!
To "rice" cauliflower all you do is process some well washed but very dry cauliflower until it looks like rice. You can add all sorts of finely chopped raw veg and herbs if you want a raw dish or saute gently in a little coconut oil or ghee until warmed through if you want a hot dish.
You need never think of cauliflower as that boring white vegetable again. Try these healthy cauliflower detox recipes any time whether you are on a detox diet or not.
Do you often eat cauliflower? If so how do you like to eat it? Let me know in the comments.