It's that time of the year when it's easy to get stressed so why not give these anti-stress Green Smoothies a try?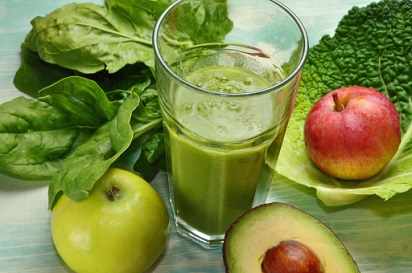 There are many things you can do to help relieve stress from deep breathing and relaxation exercises but you also need to feed your body the right nutrients.
Green smoothies are a fantastic way to get these nutrients into your body quickly and easily. When you drink a freshly made green smoothie you get an instant dose of energy. They are digested quickly and your body receives the nutrition and benefits almost instantly.
Stress causes junk food cravings
Stress causes cravings for quick junk food, and sugary fixes which only make matters worse. Many people who start drinking green smoothies notice that their cravings for junk foods, unhealthy sweets and fats are greatly reduced and they actually begin to crave healthy food instead!
Stress depletes your body of magnesium, a mineral needed for at least 300 biological functions in your body including the production of energy and blood sugar control. Few people get enough magnesium in their diet these days.
Stress relieving nutrients
Green leaves are an excellent source of magnesium. Other high magnesium foods include green vegetables, nuts, seeds, beans, whole grains, avocados, yogurt, bananas, dried fruit and dark chocolate.
Coconut water contains minerals that help rebalance electrolyte levels to help keep you calm.
Bananas are high in potassium, another mineral depleted by stress, as well as the amino acid tryptophan and vitamin B6. Tryptophan gets converted with the help of B6 to serotonin, the brain chemical that helps boost your mood and aids sleep.
So you can see why combining these foods in a green smoothie can help bust stress.
Instead of grabbing a quick cup of coffee in the mornings to get you going try these anti-stress Green smoothies instead.
Talking of coffee,  don't be fooled by anti-stress smoothie recipes that include cacao. It is addictive and a stimulant and if you are stressed the last thing you want to do to your poor adrenals is stimulate them to produce more adrenaline. This just depletes them even more.
Contrary to what some would have you believe it is toxic to the liver and not the superfood it is made out to be.
Here's what Paul Nison has to say about Cacao.
Anti-Stress Green Smoothies Recipes
Blueberry Stress Buster Smoothie
Serves 2
Ingredients
1 cup organic blueberries
1 small ripe organic banana
1 1/2 cups coconut water
2 teaspoons ground flaxseeds
pinch of cinnamon
2 tablespoons organic plant protein powder such as GO Smooth Vitality
1/2 tsp vanilla extract
Directions
Put all ingredients into a high powered blender. Blend until very smooth. Drink slowly.Enjoy.
Energy Green Smoothie
by  Nutritionist Jacqueline Alwill
Ingredients
2 large handfuls organic kale, stems trimmed
1 tsp powdered spirulina or your favorite green powder
Juice of 1 fresh young coconut
½ small avocado
2 scoops of flesh from the coconut
½ tsp cinnamon
½ organic banana OR ½ cup mixed berries (you can use frozen)
1tbsp chia seeds
1tsp flaxseed oil
5 fresh mint leaves
Directions
Blend kale, spirulina and coconut water together until liquefied, then add remaining ingredients until combined. Enjoy!
Anti-Stress Banana Smoothie                                                                                                                                                    
By Carly Fraser of Live Love Fruit
Ingredients
2 ripe organic bananas
1 cup ripe mango, chopped
1 cup young thai coconut water
3 pitted medjool dates
1/2 tsp. vanilla bean powder
1 cup cucumber, chopped
3 celery stalks, chopped
Directions
Blend the above ingredients in a high-speed blender such as a Vitamix. Pour into your serving glass and drink slowly. Enjoy!
If you are short of time in the mornings you can get all the ingredients for your green smoothie ready the night before and place in your fridge. Just dump them into your blender the next morning, whizz up,  and rinse your the jug and you have the best anti-stress solution there is.
If you are stressed out give these anti-stress green smoothie recipes a try and let me know which one you like best.