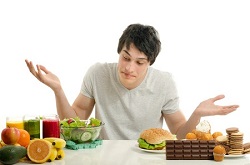 "I ate my way to illness on healthy foods". That was a newspaper headline that caught my eye recently".
How could that be?
It turned out that Damon Gameau, an Australian actor who, after three years on a sugar detox diet, decided to eat foods perceived as healthy but contained hidden sugar as an experiment.
He decided on doing this experiment when he was approached by a film production company about making a feature film following his success with a short film he made that won a large competition in Australia.
For the previous three years he had changed his diet considerably after he met his girlfriend who was into "kale smoothies and avocado on chia seed bread".
He went from smoking a pack of cigarettes a day, drinking cans of vanilla coke and eating Tim Tams (chocolate cookies) to eating pounds of organic vegetables and other healthy food cutting at least 30 teaspoons of sugar from his diet.
Benefits of a Sugar Detox
As he went about the sugar detox he noticed a lot of changes in his health. He lost weight and experienced great improvements in his mental state, feeling more balanced and focused. His friends commented on his improved skin and brighter eyes.
Around the time he was approached by the film production company he had noticed a lot of contradictory information appearing in the press. Some articles labelled sugar as toxic and a poison while others were saying you need sugar for energy.
He decided that he would find out the truth by experimenting on himself. With doctors, scientists and nutritionists monitoring his health he consumed the equivalent of 40 teaspoons of sugar a day for 2 months.
If this sounds like a lot to you he says, "this is sadly what most people between the ages of 19 and 30 are doing". The 40 teaspoons of sugar came from foods that people often perceive to be healthy such as fruit juices, low fat yoghurts, muesli bars, cereals, sports drinks and assorted condiments.
Fructose causes a fatty liver
Damon was shocked to discover, when he started to closely examine labels, that sauces such as hoisin, barbecue and sweet chilli sauces contained as much sugar per serving than chocolate sauce.
Often the sugar is in fact corn syrup or high-fructose corn syrup which some experts are saying is worse than sugar (sucrose) or glucose. Fructose cannot be turned into energy by your cells like sugar can. It is metabolized by the liver instead and if you eat a diet high in calories and high in fructose your liver gets overloaded and starts turning the fructose into fat.
The shocking result was that in spite of the fact that he had no junk food, soft drinks, chocolate, ice-cream or candy, he put on 3 kilos (6.6 pounds) in 12 days and even worse, developed a fatty liver and was on the verge of cirrhosis in just 18 days.
Here's a great infographic that shows you where fructose is found.
By the end of the 60 day experiment he had put on 8.5 kilos (18.7 pounds), developed pre-diabetes type 2, risks for heart disease, added 10 cm of visceral fat (the dangerous kind), around his middle and suffered mental instability.
Aren't you shocked at how quickly that happened? I certainly was!
The results have been documented in a documentary film for the whole family called "That Sugar Film" which proved to be a great success and a book called "That Sugar Book
".
After the end of the experiment and shocking effects on his health he went about repairing and cleansing his liver with the help of nutritionists involved in the film and his girlfriend's healthy cooking.
A key part of the liver detox was drinking the warm lemon detox drink first thing every morning. The lemon is a great way to detox the liver.
It's important to drink at least 2 liters of water to help flush the toxins released from the liver. Don't like plain water? Get recipes for detox waters here.
When going on a sugar detox Damon suggests eating something, if only a snack of almonds, every 2 hours to keep your blood sugar levels stable and prevent cravings.
For the afternoon snack he suggests a banana and avocado smoothie or a veggie juice made with carrots, cucumber and beet (beetroot).
Bananacado Smoothie
1/2 organic banana
1/2 avocado
1 tbsp chia seeds ( well rinsed)
1 cup pure water
Chia seeds are best soaked for 10 – 15 minutes in pure water then drained before blending.
Blend all ingredients together until very smooth.
Veggie Juice
3 organic carrots
2 organic cucumbers
1 organic beetroot
Put all ingredients through your juicer. Mix well.
Eggs fix fatty liver
Eggs figure a lot in the meals he ate which might surprise you. Eggs have been maligned for many years but recently, as new research is published, we find that they are really very healthy and good for your liver.
Egg yolks are rich in choline and lecithin, which can be converted to choline in the body. Choline is essential for the production of a substance called phosphatidylcholine, an essential component of the VLDL (very low density lipoprotein) which our bodies need to move fat out of the liver.
Surprisingly enough the superfood quinoa contains choline and this is why Damon included quinoa in his liver detox meals. You can find out more about a liver cleansing diet for fatty liver here.  For more about sugar detox read this post.
My question  for you this week is are you surprised and shocked by the speed that Damon's  liver became fatty?  Do you avoid sugar and hidden sugar? Do you scrutinize labels for hidden sugar?  Okay, that's more than one question but do leave your answers or tips in the comments below. And, please don't forget to share this post if you like it and think others might benefit from a sugar detox.