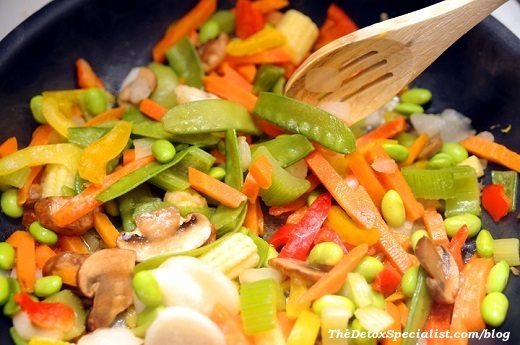 I'm sure I don't have to tell how important it is to eat plenty of vegetables.  Vegetables, especially a wide variety of different colors, a rainbow if you like, provide many nutrients that are essential for good health,  the prevention of disease and the optimal function of the liver detox system.  If you are having trouble eating your 5 – 9 a day then this detox stir fry recipe is ideal. It's a dish that you can serve up for the whole family and no one would know it's a detox recipe.
Related reading: The Extraordinary Detox & Healing Properties of Fruits and Vegetables
This detox stir fry recipe is based on one by Chef Stephen Harris who writes a cooking column in a popular English newspaper every Saturday.
If you grow your own vegetables it's an ideal recipe for using small amounts of many different vegetables. If not then you can probably find young, new season's baby veg at your local farmer's market or good supermarkets.
This recipe involves "slow" or gentle stir-frying using the hardest vegetables first. You can use a frying pan with a lid or make one from some foil to keep some of the heat in.
Vegetables such as peas, which cook quickly, can be added at the end. The idea of this dish is that everything is cooked "al dente". Because the vegetables are young, you do not have to worry quite so much about timings as most vegetables, apart from potatoes, will taste good raw. You are just gently warming through. You can change the ingredients according to what is in season. Choose the very freshest for optimum nutrition.
You can finish the dish with a tasty dressing at the end of either grass-fed butter or extra virgin olive oil, a pinch of Himalayan salt and a quick squeeze of organic lemon, lime or a little apple cider vinegar. You can add fresh herbs at the end as well. It is more of a general technique so you can adapt it to your needs.
Summer Vegetable Detox Stir Fry Recipe
Ingredients
Serves 4 as a side dish
4 large spring onions (scallions) or 1 normal onion
Approx 50g organic grass-fed butter
8 baby carrots
16 tiny potatoes
8 small zucchini (courgettes)
8 stalks of asparagus
16 fine beans
160g freshly podded broad beans
160g fresh peas
16 sungold tomatoes, halved, or quartered if large
Pinch or two of fresh curry powder, to taste
Juice of ½ organic lemon or lime
Herbs to serve, such as chives, parsley, fennel fronds, thyme, basil
Directions
1. Slice the onions very finely. Leave the other vegetables whole if they are very young and small. Slice potatoes if needed and halve carrots and zucchini (courgettes).
2. Gently heat 25g of the butter in a sauté pan. Add the onion and cook gently until softened, about two minutes, then add a tablespoon of filtered water.
3. Add the hardest vegetables first, starting with the potatoes, and cook for about three minutes before adding the carrots.
4. Cook together for at least five minutes before adding the next vegetables – starting with the zucchini, then asparagus, beans and peas.
Most of the vegetables – except the potato – will taste good "al dente", almost raw, because they are young and fresh, so they just need a gentle heat.
5. As the water evaporates, just add a splash more as needed to create a moist cooking environment. I also make a lid using tin foil to keep some of the heat in.
6. When you have all of the vegetables in the pan and lightly cooked (this could take around 15 minutes in total), add the tomatoes, curry powder, lime juice to taste and the remaining butter.
7. Season well and toss the vegetables, making sure they are coated in the butter and lime juice. Divide between four warm plates.
8. Garnish, with some  fresh herbs or flowers if you have any from the garden.
Enjoy!
Here are some more articles about getting more vegetables into your diet that you might like:
5 Tasty Ways To Sneak Detox Veg Into Your Die
5 Tasty Ways to Get Green Foods Into Your Detox Diet