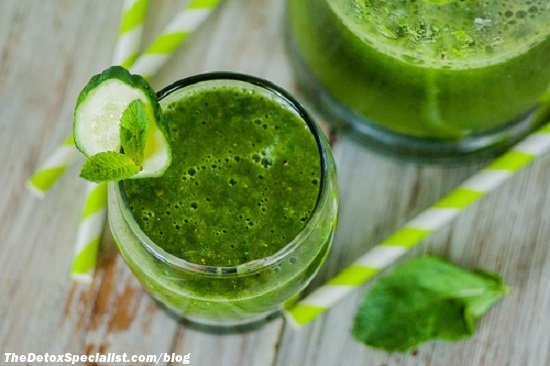 Nothing has me looking forward to hitting up the kitchen as much as smoothies.
Don't get me wrong, I love cooking, but something about creating a laboratory environment for my smoothie-making gets me excited.
From peanut butter packed protein fuel, to summery almond and berry drinks, there's just so much variety available when you have a pile of ingredients and a blender.
And while the notion of detoxing through smoothies is sometimes disputed, there's still a lot to be said for taking on a densely packed concoction of nutrients and vitamins in one go. Smoothies also have their place as an adequate low-fat (usually) meal substitute if you're on the move and low on time.
They're a great way to pack in maximum nutrition, all with minimum effort.
Its combination of kale, cucumber, celery, hemp seeds and mango (to name but a few) make this smoothie a complete meal in a glass. It's creamy, it's sweet, and it's filling.
Here's a breakdown of some of its key ingredients and their health benefits:
Kale
Where do we begin with kale? I won't lie, I'm not a huge fan of kale in its raw form. However, when mixed in as part of a salad or smoothie it really goes up another level.
Kale is famous for being rich in iron, but it also contains calcium, vitamin C, folate and even omega-3.
It can act as an anti-inflammatory, a digestion booster, and even a hormone balancer. No wonder it's enjoyed such a recent resurgence as a superfood.
Cucumber
Just like kale, cucumber is rich in vitamin C and K, but further to this its electrolyte content helps regulate your breathing while also prevent muscle fatigue.
More importantly though, cucumber has a long history of being linked with weight loss and lowering of blood-sugar levels.
Grapefruit
One of the world's best known metabolism-boosters, grapefruit's high enzyme and water content has very strong links to weight loss.
Not only this though, it's rich in vitamin C and has even been linked to lowering stress levels.
Hemp Seed
A slightly unusual addition to this smoothie, hemp seeds are actually a brilliant source of protein and fibre.
Further to this though, hemp seeds have been proven to help prevent skin disorders, largely owing to its high omega-6 and omega-3 content.
I have seen similar recipes using coconut oil, but with the some of the health claims linked to coconut oil now under some dispute I thought I'd steer clear and just stick to simple fruit, veg and hemp! If you do wish to add some, then 1 teaspoon should do the trick.
Green Warrior Protein Smoothie                               
Serves: 2 medium glasses
Time needed: 10 minutes
Ingredients:
1 red grapefruit
½ cup grapefruit juice
1 cup baby spinach
1 large apple, cored and chopped
1 cup cucumber, chopped
1 stick celery, chopped
3 tbsp hemp hearts, or to taste
⅓ cup frozen mango
2 tbsp packed fresh mint leaves
Ice cubes
Directions:
Cut the grapefruit in half and juice into a blender.
Add the ½ cup of grapefruit juice and add all the remaining ingredients.
Blend on a high speed until very smooth.
Serve immediately by pouring into a glass. Enjoy!
About the author
Ben is a former semi-pro cyclist and big eater. Now he is just a big eater. He writes about food and drink for lazy chefs at The Online Grill.