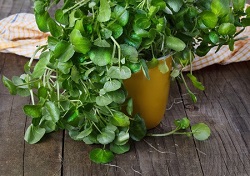 Watercress is probably not the first thing you would think of as one of the best detox foods for body cleansing but according to research it is one of the healthiest foods on the planet.
Researchers recently tested 47 different types of fruit and vegetables for their levels of 17 nutrients considered to be important to our health and surprisingly watercress came out top.
Watercress is one of the oldest known leaf vegetables consumed by humans. It's said that Hippocrates grew wild watercress in the natural springs and used it to treat blood disorders at his first hospital.
Watercress soup, became very popular in the 17th century when it was claimed to cleanse the blood. This is probably because the peppery tasting leaves are packed with many nutrients vital for the detox system, including several B vitamins, zinc, potassium, vitamin E , vitamin C and antioxidants.
Watercress stimulates detox enzymes
It is also classified as a cruciferous veg which means it can boost your detox system so is one of the best detox foods for body cleansing. Cruciferous veg contain phytochemicals that can stimulate enzymes in the body that detoxify cancer causing chemicals before they damage cells.
It is even claimed that it can help prevent lung diseases, such as emphysema and cancer. This is because watercress contains gluconasturtin, a substance only released when the leaves are chopped or chewed, which helps neutralize a carcinogen in tobacco.
Watercress Soup Diet
Liz Hurley is said to drink a cup of watercress soup every time she gets hunger pangs when she is cutting down on food. It's been reported that she followed the watercress soup diet at one time which is supposed to help you lose 10 lbs in seven days.
The watercress soup diet worked mainly because it limits calories but the watercress would also have helped with body cleansing and detoxing chemicals that interfere with the weight control system and keep you fat.
The watercress soup recipe used for that diet contains milk so is no good for body cleansing detox diet as you should avoid milk. It also calls for white potato which can raise blood sugar levels as it is high on the glycemic index. This recipe uses sweet potato which is much lower on the GI scale.
Here's a Watercress soup recipe that is good for body cleansing.
Sweet Watercress Detox Soup
Serves 3
Ingredients
1 tbsp coconut oil
1 small onion, finely chopped
2 small organic sweet potatoes, scrubbed and diced
1 litre/35oz vegetable stock
225g/8oz fresh watercress,
Celtic or Himalayan salt and black pepper, to taste
Bunch of fresh chives (approx 75gms/2.6oz, optional)
Directions
Heat the oil in a large saucepan and gently sauté the onions until soft.
Add the cubes of potatoes, stir to coat and cook for 5 minutes
Add the stock and stir well.
Bring to boil, cover and simmer for 10 – 15 minutes, or until potatoes are cooked.
Add the watercress, and stir in until it has just about wilted.
Allow to cool enough to put into a blender. Do it in batches if necessary.
Put back in pan, add the salt and pepper to taste and heat through until it starts to bubble.
Add chopped chives if using.
If you like the peppery taste of watercress try this spicy soup recipe.
Spicy Watercress & Squash Soup                                                                                                                

Ingredients
1 tbsp coconut oil
1 onion, chopped
900 g butternut squash, peeled, de-seeded and cut into small chunks
½ tsp dried chili flakes
600 ml vegetable stock
100 g organic watercress, roughly chopped
Celtic or Himalayan salt and black pepper, to taste
Directions
Heat the oil in a large pan, add the onion and sauté for 2 mins.
Add the squash, stir well then cover with a lid. Cook gently for 2 mins.
Stir in the chili flakes and stock, then bring to the boil.
Cover and simmer for 20 mins or until the butternut squash is tender.
Remove from heat and When cool enough transfer to a blender and whizz until smooth.
Return the soup to the saucepan and add the watercress.
Season to taste.
Gently reheat before serving
Here's an unusual recipe for a Watercress Salad wrap.
Watercress, Arugula, & Spinach Salad Wrap
Serves 2
Ingredients
3/4 cups watercress
1/3 cup organic tahini
1/4 cup freshly squeezed organic lemon juice
2 green onions,(spring onions) coarsley chopped
1 tablespoon miso
1 tablespoon pure water
1 garlic clove
4 cups baby spinach
4 cups organic arugula (rocket)
1 cup organic watercress
1 cup thinly sliced red cabbage
1 cup thinly sliced green cabbage
1 small organic cucumber, cut into 1/2-inch cubes
2 organic carrots, peeled and shredded
1 organic beet, peeled and shredded
Directions
Blend the first 7 ingredients together in a food processor or blender until smooth.
Fold in remaining ingredients
Carefully place in corn tortillas or gluten and sugar free wraps or large lettuce leaves and fold up.
Another good body cleansing recipe is this Watercress Detox Smoothie
Tropical Watercress Detox Smoothie
Serves 1-2
Ingredients
1 cup fresh or frozen mango cubes
3/4 cup fresh pineapple
1 small handful of organic watercress
1 large handful of organic baby spinach
1 cup filtered water approx. Use less or more according to how thick you like your smoothie
1/2 teaspoon stevia powder (optional)
Directions
Put all ingredients into the blender with the frozen ingredients on top and whizz up until very smooth.
Chiropractor Dr. Victor Dolan says "The Green Smoothie works to detox your body and help relieve joint pain, back pain and neck pain by introducing into your bloodstream the vast array of vitamins, minerals and vital trace nutrients found in highly alkalizing fruits and vegetables, especially dark green leafy vegetables"
So, don't forget to add a handful of superfood watercress to your smoothies, juices, salads and soups when you next follow a body cleansing diet.