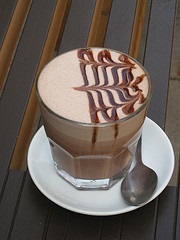 I was surprised to read  a few days ago that Gwyneth Paltrow detoxes with hot chocolate. Surely that can't be true!
On reading more I discovered they were talking about  her winter detox diet recipe for Peppermint Hot Chocolate made with warm almond milk. The "chocolate" is Raw Cacao Powder
with the optional addition of Chocolate Protein Powder
.
Not exactly what I would call a detox drink but I was heartened to read that both she and Dr.Alejandro Junger, her detox guru, prefer "warming detox recipes that won't leave you feeling cold and hungry during the winter months".
My sentiments exactly. If you have been reading this blog or my subscriber emails you will know that I don't recommend a cold, restrictive body detox in January if you live in a cold climate.
After the indulgences of the festive season many people feel the need of a cleanse but it does not have to be cold or restrictive. You can still detox with hearty wholefoods based on healthy grains, pulses and of course plenty of vegetables. They contain the nutrients that are known to support the detox system.
Governments have got it wrong when they tell us to eat 5 serving of fruit and vegetables a day. Researchers are now saying that we need seven if we want good health. That's about 80g a day of fruit and vegetables. Only a very small percentage of people manage that amount.
So, I was pleased to find that the latest Waitrose Harvest Recipe Magazine contains some healthy winter vegetable recipes that double as excellent detox diet recipes.
Green Vegetables with Italian Dressing
Serves 6 or less depending on appetite.
Ingredients
200g green beans, trimmed
125g Tenderstem broccoli tips
25g fresh mint
200g baby courgettes (zucchini) halved lengthways
1 unwaxed lemon (organic is best)
A large red chilli, deseeded and finely chopped
150 ml Italian Extra Virgin Olive Oil
Directions
1. Bring  large pan of water to the boil. Plunge the beans, broccoli and mint into the water and bring back to the boil and cook for 3 minutes or steam. Add courgettes, bring back to boil again ( or steam) and cook for a further minute.
2. Remove from the heat and drain immediately then tip into a large bowl. Finely grate the zest from the lemon and set aside. Squeeze juice over vegetables then add chilli, olive oil and season to taste. ( I recommend using Celtic or Hymalyan salt). Stir well to mix and coat the vegetables.
3. Set aside, uncovered at room temperature for 30 minutes to marinate. Sprinkle with reserved zest and more freshly ground black pepper before serving.
Aubergine ( Eggplant) & Pepper Curry with Chick Peas
Serves 4
Ingredients
500g potatoes, peeled and diced
1 tbsp olive oil or coconut oil
1 onion, chopped
1 aubergine ( eggplant), diced
1 red pepper, diced
1 tbsp medium madras curry powder
400g can chopped tomatoes
400g chick peas, drained and rinsed
Chopped fresh coriander (cilantro) to garnish
Directions
1. Cook the potatoes in boiling water for 5 – 8 minutes until just tender then drain.
2. Meanwhile heat oil in frying pan and stir-fry the onion, aubergine ( eggplant) and pepper for 8 – 10 minutes. Add curry powder and cook for 1 minute more.
3. Stir in chopped tomatoes, 300 ml pure water, chick peas and potatoes. Cook for 10 minutes. Season to taste with celtic or Hyma;ayan salt and freshly ground black pepper, and garnish with chopped coriander (cilantro) .
Serve with brown rice.
Savoy Cabbage & Sweet Potato Cakes           
Serves 4 or less depending on appetite.
Ingredients
600g sweet potatoes, diced
1/2 Savoy Cabbage, shredded
1 tbsp extra virgin Olive oil or coconut oil
1 tsp fennel seed, lightly crushed
1 clove garlic, crushed
1 tsp paprika
Directions
1. Preheat oven to 200C, 390F Gas 6. Boil the sweet potatoes in water for 10 minutes or steam until tender. Then remove with slotted spoon. Add cabbage to the water or steamer and cook for 3 minutes, drain.
2. Heat oil gently in frying pan and cook fennel seeds, garlic and paprika for a few seconds. Add sweet potato and cook for 30 seconds. Stir in cabbage.
3. When cool enough to handle mould into 4 patties and place on lighlty oiled baking tray. Bake for 15 minutes.
Vegetable Broth with Chestnuts
Serves 4.
Ingredients
2 parsnips, cut into chunks
300g potatoes, cut into chunks
400g celeriac ( celery root) peeled and cut into chunks
2 carrots cut into chunks
1 tbsp fresh rosemary
500 ml vegetable stock
240g can whole chestnuts
Directions
1. Place all the ingedients except chestnuts, in a large saucepan and bring to the boil. Simmer, covered for 10 minutes until the vegetables are just tender, then add the chestnuts for last 5 minutes.
Want more winter detox diet recipes? Try Detox Soups for Winter Cleansing  and Spice Up Your Healthy Diet To Detox Gently In Winter
Discover more about detox in my 14 Day Recharge & Energize Detox Program.
If you enjoyed this post it would be fantastic if you would share it by "Liking" it on Facebook, "Tweeting" it to your Twitter followers and "Pinning" it to your Pinterest boards and leave a comment 🙂
Picture credits:
Sweet potato cakes
Eggplant & Chick Pea Curry
Hot Chocolate