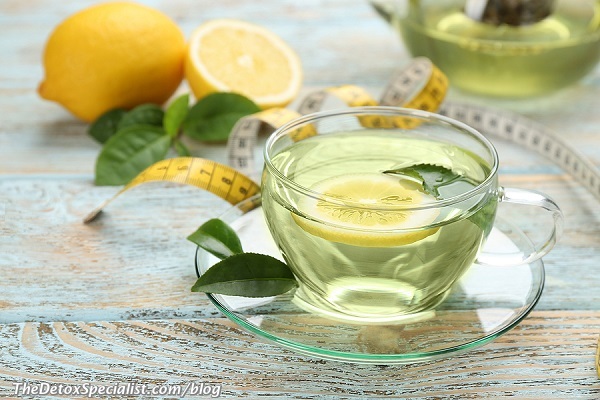 Green tea has been in use in Asia for ages, if not as a tea then more sort of an herbal medicine. This reflects green tea leaves have some therapeutic value.
Recently, with rise of awareness and efforts to become fit, in the face of growing obesity problem in the West, or due to a general interest for healthy lifestyle; where herbs and diets from other parts of world found a marketplace here, green tea too has become a much talked-about beverage.
There is certainly some evidence to back that green tea has pro-health elements such as antioxidants, but the argument that it is effective to counter serious diseases such as cancer, yet needs an authentic study to prove it true.
Nonetheless, green tea has caught attention of fitness lovers in the west, even more so of women, who want to try out anything to everything to become super-fit and sustain a healthy life.
Many of them speak very high an impact that green tea has had on their bodies.
An important question, however, is whether green tea is more effective along with a fitness program, especially when you work on some fitness training equipment? Or it can prove its wonders in weight loss and body slimming efforts on its own, as a standalone product.
To find out this, here we are listing some pros and cons of green tea picked from scientific insights and people's experiences, who have already consumed green tea, and say it does have inherent weight loss knack.
1.   What is green tea, and how is it different from other tea?
Remember one thing! All tea varieties – green, black, white and oolong – come from same tea plant: Camellia sinensis.
Only difference is when green tea is manufactured it does not let through same intense fermentation process as other tea verities.
This advantage enables green tea to contain a higher quantity of antioxidants and nutrients, which others tea variants don't.
All studies and experts point out at that antioxidants in all forms especially catechins are very effective in promoting healthy cells in human body by eliminating bad cells called radicals.
2.   Higher antioxidants in green tea benefit your body
Antioxidants are compounds that can help your body waste harmful molecules called radicals. Since green tea contains higher quantity of antioxidants, it helps your body in the process.
Antioxidants also help in promoting healthy cells in your body.
Presence of antioxidants in your blood efficiently breaks down fat cells and let them pass through your bloodstreams.
One of those antioxidants is catechins, and epigallocatechin gallate (EGCG), which provides a great boost to your metabolism.
While antioxidants help you cleanse your body of bad cells and promote healthy cells, green tea's inherit caffeine compound works as stimulant to boost your energy level.
An added energy benefit then helps your body sustain intense and longer workouts, especially those that involve extensive fitness training equipment.
More efficiency in workouts means you are able to achieve maximum results from your fitness efforts.
3. Green tea can boost your body's fat-burning process 
As said earlier said green tea contains compounds such as Epigallocatechin gallate.
Epigallocatechin gallate or EGCG, which helps the inhibition of a starch digesting enzyme in the body, boosts the process of breaking down a fat hormone called norepinephrine.
Those fat cells, which enzymes break down into smaller cells are moved to your bloodstreams. They become a source of energy for your muscular cells.
An extra amount of energy that your muscles get in form of small fat cells, can help you in more enduring exercises.
This becomes a cycle of increasing clean energy in your body and wasting fat effectively quicker.
4.  Green tea caffeine element stimulates your fitness efforts
Green tea affects your weight loss efforts two ways. One directly; that its inherit caffeine compound works as stimulant to boost your energy.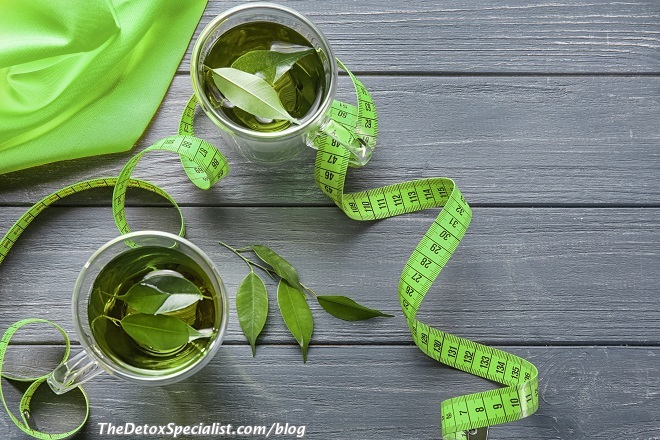 Without a stimulant your body might not endure as much longer, especially when you work with a heavier fitness training equipment.
Two, green tea contains catechins, which with or without exercise continuously burn fat in your body, even when you are inactive or idle.
Two to three cups of green tea in a day continues your fat-burning process and it does it at a quicker pace. Some studies suggest its fat-burning impact is 17 % faster, some even claim a higher pace.
It is why many fat-burning supplements available on the shelves have green tea as an essential ingredient in their makeup.
5. Your metabolism gets boost
Metabolism is at core of your body's function, especially in extraction of nutritional and energy value from foods you eat. If your metabolic system functions properly, it effectively converts all you eat into energy for your body; and if it does not, it produces counter-productive results.
Metabolic problems are very common with overweight people, especially those with stress challenges. Green tea effectively helps tackle those problems.
On one hand, higher number of antioxidants, which aid building of healthy cells in your body by eliminating radicals, have a direct impact on metabolic system.
On the other, green tea aids calories burning process. When you take green tea before an exercise or without an exercise, just in normal routine, you are likely to lose about 8 percent more weight than you do in a normal course.
However, some discipline has to be observed here, as consumption of too much caffeine in can have a negative effect on your body. You would not be losing weight, but your health.
Some precautions in green tea consumption
From 2 to 3 cups of green tea is enough for your weight loss ambition, with or without an exercise effort.
Don't over boil water while preparing your green tea, as otherwise it would kill antioxidants like catechins, and it would not produce desired or timely results.
There are many processed variants and flavors. You had better stick to less processed and simple green tea to get more benefits.
Take it regularly. Green tea helps retain a proper level of fluid in your body and aids fat-burning process even when you are idle.
Don't drink green tea on empty stomach. It can kill your hunger. Instead you should have proper food that would give you much needed energy, especially in the morning. It can also cause allergies problems.
This is even truer for water and any other fluid; don't drink green tea soon after finishing your meal. Allow at least half hour before you drink it.
Also stay away from it, when you are late into night, whether you wake up all of sudden or are late to go to bed.
Avoid green tea or caffeine in another form if you are advised so by your doctor.
There are no major side effects, since green tea is an herb and goes through less fermentation process. Still, if you notice any unusual changes in your body, which you suspect could be an effect of green tea, stop it immediately, and get yourself examined by your doctor.
Author Bio:
Sophie Jh0n is a fitness instructor and therapist. She also does consultancy on health, fitness and diet plans for individuals. She is currently associated with Xn8 Sports, who specialize in designing, manufacturing and selling Boxing, MMA & Fitness gear and accessories.