Summer is just about here so why not get yourself beach ready with this 48 Hour Green Smoothie Detox Diet.
This green smoothie detox plan is based on green smoothies and raw soup. It might sound tough but it can make you feel on top of the world!
Add it to your 7 Day Detox Diet plan to boost weight loss or simply try it on it's own after a period of over indulgence to kick start healthy eating.
Do this detox over the weekend when you can chill out and let your body and mind rest to get the most out of it.
Daily Timetable
8 am             Morning Lemon Detox Drink
8.15am         Skin brushing for 15 minutes to boost circulation.
Follow with some stretchng exercises
9 am             Green Smoothie
10 am           Mug of herbal or green tea
10.30            Chill out
11.30am       Green Smoothie
1.30 pm        Raw soup
2pm – 3 pm   Get some gentle exercise
3.30 pm        Green Smoothie
4.30 pm        Mug of herbal or green tea
6 pm             Green Smoothie
7 pm             Raw soup
8 pm             Green Smoothie if hungry.
9pm              Cup of camomile tea followed by bath and bed.
Green Smoothies
Green smoothies are made in a blender from a combination of fresh fruit, green leaves, which can include herbs, and water. Some people like to use nut milks such as almond milk or coconut milk instead of water.
Green Smoothies are extremely nutritious. The blending process releases vital nutrients from the cells of the plants so they are easily absorbed into your body.
They are great for detox as they contain many nutrients that are needed by the detox system and fiber which helps to keep your bowels moving to get the toxins out of your body as quickly as possible.
If you have never tried them before it's best to start off with 60 % fruit and 40% leaves. As you become accostomed to the taste you can increase the ratio of greens to fruit.
Spinach, all kinds of lettuce, kale, chard, bok choy, Collards, watercress, arugula, (rocket), beet greens, turnip greens, micro greens, parsley, basil, cilantro (fresh coriander), are all great in green smoothies.  The darker the leaf the better it is for you.
Micro greens are the latest foodie trend ( a healthy one for a change) and they are ideal to add to your Green Detox Smoothie.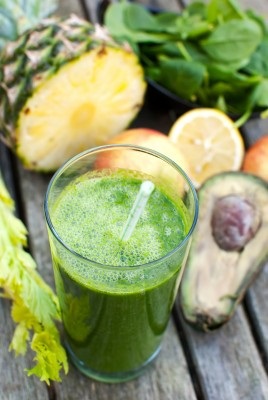 Micro Greens Detox Smoothie
2 fresh pineapple slices,
Wedge of green or yellow melon,
½ cup seedless grapes
handful leafy greens to taste
handful of Micro Greens
Directions
Put fruit into your blender first
followed by the greens.
Add enough water to make blades turn
if necessary.
Blend until very smooth.
Enjoy!
Green Mist
Serves 1
4 ripe pears, cored
4-5 leaves of kale coarsely cut into ribbons
½ bunch of mint leaves
Water, enough to cover blades.
Directions
Blend all together and adjust water for consistency.
Drink slowly.
Crazy Gazpacho Raw Soup
Serves 4
350g (12oz) raw beet (beetroot) peeled and chopped into small pieces
750g (26oz) ripe tomatoes, skinned
1 green pepper, seeded and sliced
30ml (1oz/2 tbsp) onion chopped
¾ large cucumber, peeled and roughly sliced
2 cloves garlic, crushed
30ml (1oz/2 tbsp) apple cider vinegar
Black pepper
Drizzle of olive oil (optional)
Directions
Put all vegetables in strong blender or food processor and puree until smooth.
Season soup with vinegar and black pepper.
Refrigerate until chilled for 2 hours or serve at room temperature.
Check seasoning adding more vinegar and pepper to taste.
Drizzle with a little olive oil.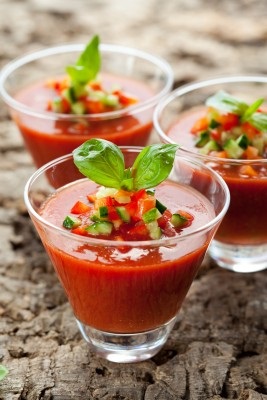 Prepare for the detox
To avoid withdrawal symptoms while on this cleanse it's best if you can start to cut down on junk food, sugar, fatty foods, red meat, regular tea, coffee and alcohol for 2 weeks before starting it.
Hopefully you will feel so good after this 48 hour Green Smoothie Detox is over that it will motivate you to take more control over your diet and inspire you to continue eating healthily.