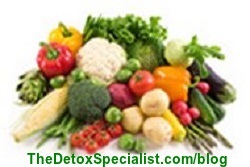 There are so many tasty ways to get healthy detox veg into your diet that it's hard to believe that only 30% of people hit the 5 a day fruit and vegetable target.
And researchers are now saying that the 25 year old, 5 a day recommendations by The World Health Organization is out of date and at least 7 or even 9 a day is more effective at preventing disease.
Almost all fruit and veg will count but your liver will thank you if you eat more vegetables that help boost liver detox enzymes. The liver works in concert with the colon, lungs, kidneys and skin,  but it is Numero Uno for protection against toxins.
The vegetables that help to induce liver detox enzymes are classed as brassicas, a plant species that includes many common vegetables such as cabbage, broccoli, cauliflower, kale, Brussels sprouts, collards, watercress, arugula (rocket), mustard greens, rutabaga (swede), kohlrabi, parsnips, radish and turnips. (not an exhustive list)
Gentle Way To Detox
A good way to start gently detoxing your body is by sneaking some of these detox veg into your diet. This will help your body eliminate the chemicals that interfere with the weight loss system. It's the cruciferous veg that helps your liver eliminate the hormone mimics that mess with your own hormonal system.
Vegetables, including leafy greens are the stars of your daily quota because they are packed with beneficial nutrients such as Vitamin C, folate, Vitamin K, carotenoids, calcium, magnesium, iron, fiber and phytochemicals (natural plant chemicals) which help to boost the detox system and protect us against a host of health problems.
So if you're struggling to even get your 5 a day here are some suggestions for sneaking some detox veg into your diet.
1. Green smoothies
No easier way of getting leafy greens into to your diet than blitzing them in a blender with some juicy fruit to make a green smoothie. If you don't like the taste of greens try them this way and you'll be surprised that they don't taste like greens at all.
Start with mild tasting leaves like Romaine or Little Gem lettuce or baby spinach and blend them with a peach, pear or mango and some blueberries. Start with more fruit than greens to start with until you get used to the taste then start to add more greens and less fruit. Try some stronger tasting greens like kale or chard.
2. Get souped up
Souping is the new juicing! If you have a blender is quick and easy to make a raw soup. You can find a recipe for a tasty raw green veggie soup on this post.
If you don't have time to make a soup from scratch then add some extra veg to your bought soup. Make sure it's a healthy one though! So many of them contain sugar which plays havoc with your metabolism and contributes to all sorts of diseases.
Just lightly steam or quickly stir fry some thinly sliced cabbage and/or small broccoli florets, place in a bowl and pour your soup over them.
Learn more about souping with a 3 day soup cleanse here.
3. Do The Mash
Potatoes, which don't count as one of your five a day, aren't the only veg you can mash. Try mashing steamed cauliflower and swede together for a change. Add a little butter from grass fed cows and season well with some Celtic or Himalayan salt and freshly gound black pepper. Yummy!
Mix in some cooked carrots or sweet potato for a sweeter taste. Mash white potato and parsnips together or simply mash parsnips on their own.
4. Salad days
Salads don't have to consist of boring lettuce, tomato and cucumber. Load up your salad with as many detox veg as you can. Spiralized veg are fun if you are into the latest gadget. I've included some recipes for spiralized veg here.
Broccoli florets can be lightly steamed if you don't like them raw. Watercress and arugula add a peppery taste. Top salads with thinly sliced radishes and salad onions.
Onions and garlic contain sulfur which the liver uses for detox so use them in your salads too.
Bought cole slaw is usually loaded with sugar so it's best to make your own. You can quickly make it if you have a food processor with a shredding blade. You can even make it in a blender but it will chop the cabbage rather than slice it.
5. Stir Fry                                                                                                                                                    
It's easy to get three portions of detox vegetables into a stir fry. When you next make a stir fry meal just add some thinly sliced Bok Choy or de-stemmed kale leaves, green cabbage, onion, chopped garlic or broccoli florets. Add color with sliced red and yellow peppers.
For a change you can simply stir fry a mixture of vegetables and serve with brown rice or quinoa. You could even eat them with your breakfast eggs or fold into an omelette. You can make extra the night before so it's quick and easy to put together in the morning.
There are so many more ways to get in your detox veg but I'll leave those for another time.
The trick to getting your 5 or more portion of fruit and vegetables a day is to start early in the day.  Try to have different vegetables every day because you will get a wider variety of nutrients.  Try to eat a rainbow of fruit and veg for good health.
My question this week is do you get your 5 a day?  What about 7 a day? Let me know in the comments.
Stir Fry image by David Billingham