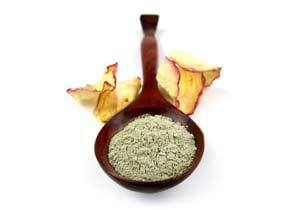 There is evidence that humans have been eating green clay for thousands of years. The healing powers of clay, together with plants, herbs & other natural substances, were vital to ancient man.
There are many different clays, all with their own unique properties, but French Green Clay is considered to be the most effective for detox by many health professionals. The therapeutic use of clay in France is now quite common and substantial numbers of users have testified to its success in treating a wide range of disorders.
Green Clay is beneficial for all digestive disorders. It can be used for detox in the treatment of food allergies, colitis, viral and bacterial food poisoning, and parasites which are unable to reproduce in the presence of clay. It has also been used in the treatment of arthritis, diabetic neuropathy, stomach ulcers, acne, pain treatment, hemorrhoids, diarrhea and many others. It was reputed to have been used during the Balkan war of 1910 to reduce mortality from cholera among the soldiers from sixty to three percent.
High mineral content
You might be wondering how a clay can be useful in treating all these things. As well as being able to detox poisons French Green Clay, also known as illite, contains a wealth of healing minerals adsorbed from the plant kingdom including  Calcium, Magnesium,  Zinc, Selenium, Silica, Iron, Potassium, Cobalt, Manganese,Copper, Phosphorous, & Sodium, micro-algaes, algae, and phyto-nutrients.  The algaes  give it its green color. It's extracted from pollution free, high mineral content sites in France and carefully sun dried absorbing energy from the sun.
Like Bentonite, a Montmorillonite clay, the French Green Clay is used for detox because the molecules carry a negative electrical charge while toxins carry a positive charge. The positively charged toxic ions are attracted to the negatively charged surfaces of the clay molecule which hold onto it until both can be eliminated by the body.  As the impurities are drawn out like a magnet the minerals it contains are released and absorbed by the body restoring health & vigor.
Skin detox beauty treatments
Many face masks, bath and spa products contain green clay as a main ingredient. It stimulates the blood and lymph circulation while adsorbing the toxins and removing dead skin cells leaving the skin smooth and radiant.
How to detox with French Green Clay?
Mix a teaspoon of green clay in a 8 oz glass of pure water using a non-metal spoon. Allow to stand overnight. Next morning before eating anything mix well with a wooden spoon and drink the clay and the water.You can add some lemon juice or cider vinegar to improve the taste if you like. Wait about 30 minutes before eating anything. Of course it goes without saying that you should follow a healthy eating or detox plan while doing this. You can have this detox drink everyday for 21 days then wait one week before repeating.
If you don't have the time to do this in the mornings you can take it at night before you go to bed after mixing it up in the morning. You can take it both morning and evening.
Everyone responds differently so if this is your first experience with detox or Green Clay then you might like to introduce it more gradually. Mix the clay as above and take for three days. Miss the next 4 days then take for 4 days and miss the next 4 days. Continue like this until your body adjusts. Generally it takes 2 – 4 weeks for the body to get used to it. Many people increase the dose until they are taking 1 tbsp a day.
Although it is less likely to cause constipation than Bentonite because it is a "non swelling" type clay some people find that it does. The manufacturers claim that healing clays in themselves do not cause digestive or elimination problems and this side effect is caused by a digestive system that is functioning far below ideal levels.
It may also be  because not enough water is taken during the detox. If you do get constipated then you can take 1 tsp of psyllium husk powder diluted in 200 ml of water or juice after the clay mix and again later in the day if necessary.
Benefits of Detox with French Green Clay
Helps in the removal of heavy metals and other toxic substances in the digestive system.
Natural remedy for food poisoning ( research shows it kills deadly bacteria)
Cleanses the colon and promotes proper bacterial balance in the intestines
Has anti-fungal properties so can be used for candida overgrowth
Improves immune system function ( can increase T cell count)
Stimulates liver function
Helps to supply beneficial minerals to the body.
Not all clays are equal.
As clays become a popular detox treatment some that are less than pure are coming onto the market. Make sure the manufacturer provides a mineral analysis and a certified laboratory microbial test. Argiletz French Green clay is pure and available in Australia, the UK and USA.
Learn more about detox in my 9 Simple Steps To Slenderness Book.
Image credit:  Mountain Rose Herbs
Save
Save