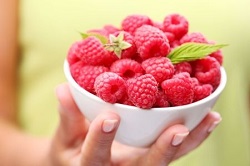 So, you want to burn fat fast and have heard about Raspberry ketones. You've probably also heard that you can lose weight with an alkaline diet. But, did you know that combining the two is the hottest way to burn fat fast?
Let's take a look at Raspberry Ketones first
They have certainly been receiving a flurry of media attention lately. Recent findings suggest that raspberry ketones are the latest armament in the arsenal against excess fat.
Fitness experts say that raspberry ketones effectively shrink fat cells in the body, the way liquid nitrogen shrinks balloons. But, a word of warning. Don't expect it to work if you continue to eat junk and don't exercise!
Raspberry ketone is a compound derived from raspberries. This compound is responsible for giving red raspberries their familiar delicious smell.
Scientific breakthroughs have enabled scientists to extract raspberry ketone compounds in the laboratory which are then put into supplements.  Raspberry ketones in supplement form contain higher quantities of compounds than you could ever get from eating fresh raspberries and are completely free of typical weight loss side effects.
How do they work?
Ketones extracted from red raspberries increase the secretion of two of the body hormones norepinephrine and adiponectin.
Norepinephrine helps speed up metabolism and ultimately breaks down the fat inside the fat cells known as adipocytes.
Adiponectin is a protein, created by fat cells, which helps to break down fat, regulates sugar levels and regulates metabolism.
Low levels of adiponectin are found in people who are obese, so by increasing adiponectin, you can decrease your weight.
Raspberry ketones also help suppress appetite, which can help with quick weight loss.
What about an Alkaline Diet?
Health experts also know that you can lose weight with an Alkaline diet. Combining an alkaline diet with raspberry ketones is the hottest way to burn fat fast and bring about extraordinary changes to your health.
It's a known fact that our cells and tissues need alkalinity for optimum function but our body processes produce acid. Maintaining the delicate balance betwen the two is critical and is vital to our health.
Generally foods are either acid or alkaline forming. Unfortunately, with modern food processing, the majority of people eat a very acidifying diet leading to a depletion of celluar energy needed to clear acid wastes.
Only about 20 percent of the diet should be taken from acid forming food. Ordinarily, these acid-forming foods can be properly digested and utilized by the body to maintain our health. However, excessive acid-forming diets will eventually acidify the body tissues.
Acidified body cells become weak, leading to various health concerns such as nutrient deficiencies, arthritis, bone diseases, muscular weakness, a host of digestive problems and obesity.
When cells are weak, the metabolic process of the body also deteriorates. With a deteriorated metabolic function, the body's ability to burn fat and turn it into energy for physical activities also weakens.
Excess fat starts to build up. Our bodies store these toxic acids in fat cells to keep tham away from harming our vital organs.
Alkaline Diet and Raspberry Ketones
The combination of an alkaline diet and raspberry ketones has been found to dramatically burn fat fast. It forces the body to burn its own fat for fuel, resulting in more rapid and substantial weight loss.
Eating a diet high in fruits and vegetables has a strong alkalizing effect on the body but changing the balance of our regular diets to 80% alkalizing foods is hard to achieve in todays fast paced and stressful lives.
One of the best ways of alkalizing the body fast is to add green foods rich in plant based alkalizing minerals your body needs and craves.
Green Organics Five Alive Green Superfood together with Green Organics Raspberry Ketones will give you that extra push you need to get past mediocre results. In a few short weeks friends and family will be admiring your new shape and asking you how you've gotten so slim.
With 5 green leaves, 5 grass juices, 5 vegetable and seed sprouts, 5 superfood vegetables and 5 healing herbs Green Organics Five alive is the purest, highest potency green superfood drink there is.
How to burn fat fast with alkalizing GO Five Alive & Go Slim Raspberry Ketones
Simply mix 2-4 grams of GO Slim Raspberry Ketone powder into 240 ml of water 2 to 4 times per day before a meal and add 1 -2 scoops Green Vitality to a litre of water (or your morning green smoothie), shake and drink within 2 hours while it's at its freshest. Or, simply add a scoop of the raspberry ketones to your Green Vitality drink.
If you live in Europe you can get them here:  GO Five Alive Green Vitality & GO Raspberry Ketone Powder
Every day people using Go Slim Raspberry Ketones and GO Five Alive Green Vitality are seeing real results.  Time for you to get in on the action!
Have you tried Raspberry Ketones to lose weight? What's been your experience?  Let me know in the comments.
If you enjoyed this post it would be fantastic if you would share it using the share button below, by "Liking" it on Facebook, "Tweeting" it to your Twitter followers and "Pinning" it to your Pinterest boards and leave a comment 🙂