The Ayurveda is one of the oldest systems of medicine there is and is thought to be over 5, 000 years old. The word Ayurveda means "science of life" and the doctors recommend that all adults practice regular Ayurvedic detox.
Although the system is based on treating people according to their different constitutions or "doshas" we can take a few of their general detox ideas and some of their detox diet recipes.
Toxic Ama
In Ayurvedic medicine anything that is harmful or not useful to the body is considered a toxin.  Both Ayurveda and Western medicine agree that pollutants, chemicals, heavy metals and additives are harmful. Ayurveda also recognizes another toxin in the form of what they call Ama.
Ama, which means undigested, is formed when food is not digested properly and is considered to be the root of all disease. They also believe that ama is caused by negative thoughts and emotions.
The build up of toxins is often the underlying cause of fatigue, general feelings of unwellness, headaches, weight gain, skin problems and eventually serious disease.
Ayurveda believes that if you give the digestive system a rest the body will have enough energy to clear out the toxins. This is exactly the same as Western detox experts believe.
The 2 Day Detox Diet
When you follow this 2 day detox diet you give your digestive system a rest. The detox diet consists of lemon water, juices, light vegetable soup and a detox tea. You can follow this detox diet for 1 or 2 days a month.
Ayurvedic Detox Diet Recipes
Lemon Water detox drink
Start the day with a cup of hot water with 1 tablespoon freshly squeezed lemon juice. Add a little raw honey to sweeten if you like but let the water cool for 5 minutes before adding it.
Green Mung Bean Detox Soup
Green mung beans are better for for cleansing than the yellow split mung as they are richer in minerals. This soup is very effective for cleansing and calming the digestive system and helps with weight loss too.
Make this soup fresh every day and have it for breakfast, lunch and dinner for 2 days. Eat only when hungry. Space meals at least 3 hours apart to make sure each one is fully digested.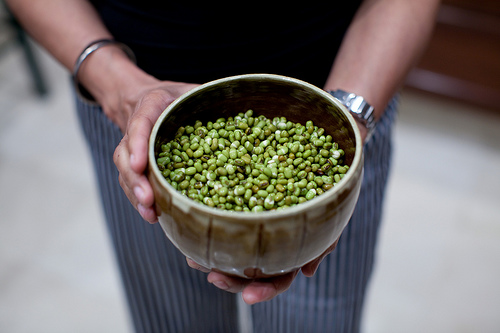 Ingredients
Makes 2 – 3 bowls.
1/2 cup green mung beans (whole green mung beans are best for cleansing)
4 cups water
½ tsp. turmeric powder
1 tsp mixed cumin and coriander powder
1/4 tsp asafoetida or Hing (from Indian stores, health shops or large supermarkets)
1 rounded tablespoon chopped Cilantro (coriander)
Directions
Wash the mung beans in several changes of water and then soak them for at least 4 hours or overnight before cooking. Drain.
Put into saucepan with 4 cups of fresh water, add the turmeric and asafoetida and bring to the boil.
Turn down heat so the soup simmers gently for 30 – 40 minutes or until the beans are soft adding more water if necessary.
Add the cumin and coriander powder and simmer for a few minutes more.
Add some vegetables such as spinach, other greens, grated carrot or zucchini ( courgette) to vary the soup and if you get very hungry.  Cool a little and blend.
Detox Tea
4 cups of water
3/4 tsp cumin seeds
1 tsp coriander seeds
1 tsp fennel seeds
2 ginger slices
1/2 tsp black peppercorns
3 cloves
1 shard of cinnamon
Boil all ingredients for 5 minutes and let stand for another 5 minutes
Strain the spices and pour into a jug, teapot or thermos flask.
Add some no added sugar pomegranate juice or apple juice if you like.
Drink this detox tea throughout the day.
(Recipes are taken  from Anum Anand's Eat Right For Your Body Type)
For detox to be effective as well as resting your digestive system you need to rest your body and still your mind.
Before you start following these detox diet recipes it's best if you can take some time to reduce tea, coffee, sugar, fatty, refined and junk food in your diet if you have a lot of these things to avoid detox symptoms.
Here's some more Ayurvedic detox diet recipes: Ayurvedic Mini Detox