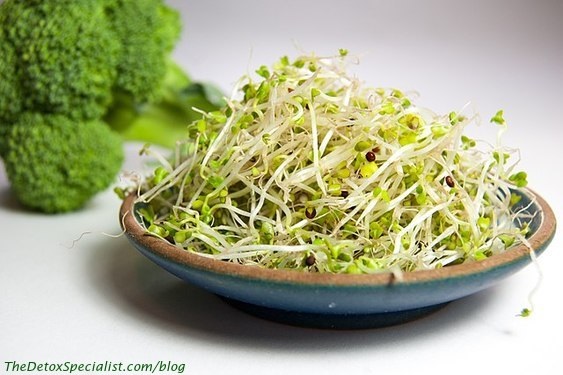 Researchers have shown that you can detox your body from environmental pollutants with superfood broccoli sprouts.
I hope that this latest published, scientific piece of research will satisfy the the detox detractors who say that detox diets do not work or that there is no evidence they can get rid of toxins.
Scientists from John Hopkins in the US and the Qidong Liver Cancer Institute in China found that a drink made from broccoli sprouts helped people detox the harmful chemicals benzene and acrolein.
The 12 week study was done on 291 Chinese men and women aged from 21 – 65, living in a heavily polluted part of the Jiangsu Province.
One group of participants drank half a cup of a sterilized water, pineapple, lime juice and freeze-dried broccoli sprout powder concoction every day while another group drank the same mixture but without the broccoli sprout powder.
The study looked at the amount of the two toxins, benzene and acrolein, the participants eliminated in their urine. They found that the people who drank the broccoli sprout mixture excreted, on average, a whopping 61% more benzene from the very first day, and 23% more acrolein than the others.
Benzene, a toxin that can cause cancer, is found in outdoor air and comes from tobacco smoke, gas stations, motor vehicle exhaust, and industrial emissions.
You may be surprised to learn that indoor air generally contains higher levels of benzene. It comes from products that contain benzene such as glues, paints, furniture wax, and detergents.
According to the EPA acrolein "may be formed from the breakdown of certain pollutants in outdoor air or from the burning of organic matter including tobacco, or fuels such as gasoline or oil. It is toxic to humans following inhalation"
Thomas Kensler, the lead researcher, said "This study points to a frugal, simple, and safe means that can be taken by individuals to possibly reduce some of the long-term health risks associated with air pollution,"
We are all breathing in these two toxic environmental pollutants so it's good to know that you can detox your body from them.
So what's so special about broccoli sprouts?
It's already known that cruciferous vegetables, such as broccoli, kale, cabbage and Brussels sprouts contain phytochemicals that stimulate both the Phase 1 and Phase 2 detox enzymes. This results in protection against cancer causing toxins.
Just 1oz of broccoli sprouts contains as much of the phytochemical, sulforaphane, as 1½ lbs of broccoli.
Sulforaphane is formed when fresh broccoli is chopped or chewed, releasing and bringing its precursor glucoraphanin and the enzyme myrosinase into contact with each other.
Detox your body from pollutants with Broccoli Sprout Green Smoothies
There are plans for more clinical trials to find out what quantity of broccoli sprouts you need to eat to get the biggest benefit but if you want to detox your body from harmful pullutants there's no reason why you shouldn't be eating them now.
Broccoli sprouts are easy to grow at home. You can add them to your detox salads, juices and green smoothies.
Try adding a handful of broccoli sprouts to this simple pineapple based green smoothie recipe from Tracy Russell
Pineapple-Mango Smoothie
Ingredients
1 cup fresh pineapple, cubed
1 large mango flesh
2 cups fresh organic baby spinach (or other leafy green)
1/2 – 1 cup pure water
1 large handful broccoli sprouts
Whizz up in your blender until very smooth.
Green Strawberry Kiwi Lemonade
Ingredients
1 kiwi (peeled)
¾ cup of frozen or fresh organic strawberries
¼- ½ cup of frozen or fresh pineapple
½ organic lemon (peeled and seeds removed)
2 cups of organic spinach
1-1 ½ cups of water or coconut water (unpasteurized)
1 handful broccoli sprouts
Put all ingredients into yoour blender and whizz up until very smooth.
Here's a more complicated recipe for a tasty dessert smoothie from Carrie Forrest
Broccoli Sprout Dessert Smoothie                                                                                              

Makes 4 servings
Ingredients
3 cups filtered water
1/2 cup raw almonds, soaked overnight and rinsed
2 cups broccoli sprouts, rinsed well
1 banana, frozen
1 cup frozen cherries
1 cup frozen mango chunks
2 tablespoons flax meal
1 tablespoon maca powder (optional)
1 tablespoon organic cacao powder
1 teaspoon carob powder
1/2 teaspoon natural vanilla extract
4 Medjool dates or 20 drops liquid stevia
Directions
Combine water and almonds in a high-speed blender and process for about a minute. Add remaining ingredients and process until smooth.
Have you eaten broccoli sprouts to detox your body? If so what's your favorite way of eating them? Do let me know in the comments. I would love to hear from you.
If you like this article please don't forget to share it so others can benefit from it.
Image credits:
Broccoli Sprouts by  KatLevPhoto
Dessert Smoothie by Vega Team