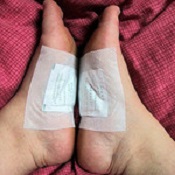 Detox foot pads are one of the most popular detoxification products promoted by unscrupulous manufacturers. These have been heavily marketed online and on television. According to manufacturers, foot pads will draw out the toxins from the bottom of your feet.
When you place the pads on your feet at night, special ingredients in the pad can draw out toxins and other harmful elements from the body …or at least that's what manufacturers claim!
How Do Detox Foot Pads Work?
The foot pads work using the principles of reflexology. According to reflexology, there are points on the bottom of your feet that correspond to all of your major body systems. When you treat the bottom of your feet, you can supposedly treat the rest of your body as well. The pads cover the soles of the feet and cover the portions of the foot that correspond to major bodily systems.
If you've seen the commercials for foot detox pads or detox foot patches or watched videos of the detox pads, you'll notice that after using the pads the surface of the pads turn dark. This is supposed to be an indicator that they are working to remove toxins from the body.
Most are made from Tourmaline, which is a stone that produces negative ions and bamboo vinegar which is supposedly going to help your body eliminate toxins through the skin.
The color change that is seen after wearing the patches is a result of the ingredients themselves. The bamboo vinegar is dried and placed into the foot pad along with all of the other ingredients. When the bamboo vinegar is exposed to moisture, like the sweat from your feet at night, it returns back to its liquid form.
When your feet sweat at night, the vinegar changes colors and as a result, the pads appear dark when you take them off in the morning.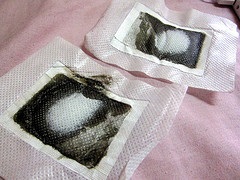 If you haven't done your research it might seem like the foot pads are doing their job.
When I tried them I got no change of color at all. I put this down to the fact that as I had already done a lot of detoxing and perhaps I had no more toxins to get rid of. I thought that this was highly unlikely and after a bit of research I realized that it was because I have cold feet and they do not sweat.
Here are three of the most popular types of detoxifying foot pads that are available:
Kinoki Detox Foot Pads 

These foot pads have been heavily advertised on television and online but Kinoki foot pads have been the object of a lot of media scrutiny and online discussion. They were even featured on an episode of the American television show "20/20."
How they work
The manufacturer of Kinoki foot pads claim that they work by pulling toxins and other harmful ingredients out of your body through your feet. According to their marketing materials, the pads use "Ions" in order to make your body healthy.
At night time, you are supposed to place a pad on each of your feet. You should rest for 8 to 10 hours for best results. In the morning, you remove them. You are supposed to use them for at least a week in order to completely remove toxins from your body. Kinoki foot pads are supposed to also remove parasites, mucous, chemicals and cellulite.
There are several ingredients in the Kinoki foot pad that are supposed to be good for detoxifying your body. The ingredients included are bamboo vinegar, chitin, tourmaline and assorted Chinese herbs. These ingredients have not been scientifically proven to have any benefit when it comes to detoxification.
Do Kinoki Foot Pads work?
The official website of the Kinoki food pads seems to have been taken off the web if that gives you any indication of their effectiveness. If you search online for reviews, you'll find scores of people who were ripped off by this company and who wasted their money on a product that does not work.
In the "20/20" report, they were exposed to be a scam with clinical tests that showed that there were no heavy metals or toxins in the pads after wearing them. The foot detoxification pads basically amount to an expensive vinegar patches.
Dr. Group's Detox Foot Pads
Dr. Group's Detox Foot Pads may be less well known than Kinoki food pads but they operate by much of the same principles. The manufacturers claim that when you use the foot pads they will remove harmful chemicals and heavy metals from your system.
How do they work?
Dr. Group's foot pads differ from other foot pads in that they use organic ingredients. According to their website, they are the world's only detox pads that are designed for chemical, toxin and heavy metal ions.
Like other detox pads, Dr. Group's pads claim to use reflexology points to draw out toxins from your system. The pads stimulate the surface of the bottom of your skin to release toxins. In addition to wearing the foot pads, you can also increase your detoxification benefits from the pads by stimulating acupressure points on the bottom of your feet before applying the pads.
To use the pads, you need to remove the backing sheet from the pad. Apply the pads to the bottom of both feet just before going to bed. Leave the foot pads on while you sleep (preferably for 8 to 10 hours). In the morning, you'll see that the pads have turned darker. According to the manufacturer, the more you use the pad, the lighter they will be in the morning. This is evidence of the pads taking toxins out of your body.
You should use the pads once per week for the whole night. Make sure to drink lots of purified water throughout the day to help your body eliminate toxins. The pads may need to be worn for up to 12 months depending on the level of toxins in your body.
Do they  work?
Although there certainly is a lot less bad press about Dr. Group's foot patches than Kinoki foot pads, the results aren't exactly outstanding. Although some people claim that they do see results after continued use, there is no scientific evidence that they are actually eliminating toxins from their body. At $35.95 for a five night supply, it will cost you a bit to test these pads out for yourself.
Cleanse Patch
How do they work?
Like the other types of foot detox pads, Cleanse Patches promise to remove heavy metals and toxins from your body when you wear them on your feet at night. According to the product description, you are supposed to wear the pads each night for five days in a row. Each box of the pads comes with 10 pads, a 5 night supply, for $49.99.
The active ingredients in Cleanse Patches are organic Agaricus mushroom, organic tourmaline and organic eucalyptus sap powder. These ingredients combine together without fillers in order to have a deep cleansing experience, according to the product's website.
Do they work?
Although the manufacturers of cleanse patches claim that only their product has this unique blend of detox ingredients, these patches offer no better results than any other foot patches or detox foot pads on the market. The claims made on the product's website are quickly refuted by learning about the science of detox and the truth about how the detox works.
Dr. Mercola says " Certain foot pads may still offer some value – just not necessarily what they're advertising. And, you're not likely to get it from most brands."
Detox expert Dr. Klinghardt said "I did not see any significant triggering of detoxification—we just saw improvements in the autonomic nervous system, depending on where you put the foot pad."
In short, detox has its benefits and you have the power within your hands to get those benefits. Your body already has a good detoxification system in place but it gets overwealmed with all the chemical toxins that get thrown at it every day.
Certain foods and drinks are known to wreak havoc on your system and make you gain weight. Fast food, artificial sweeteners, caffeine and high fat foods and chemical toxins from personal care products are all clogging your system.
You just have to support your body by giving it the right food and nutrients to boost the detox system and get the detoxification you need.