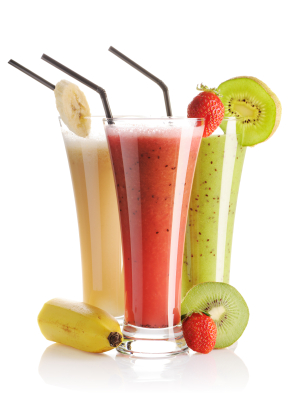 I came across this cool smoothie recipes infographic which I share below the other day and although it gives some good recipes for detox smoothies  not all the items listed make for healthy smoothies.
Their definition of a smoothie is not strictly true. Although yogurt is a popular addition to a smoothie to give it a thick creamy texture original smoothies contained only fruit.
Smoothies have come a long way over the years as people and manufactureres experimented with adding other ingredients. Many of them very unhealthy!
Yogurt, unless made from organic milk, is not that healthy because it could contain hormones and antibiotic residues. Much better to use almond milk, coconut water or Coconut Kefir instead. Most store bought coconut Kefir has been pasteurized which destoyes some of it's benefits. CocoKefir is organic, non pasteurized and raw.
The best and healthiest smoothies to use for detoxing are green ones, a combination of fruit and green leaves made popular by Victoria Boutenko.
Until you are used to the taste of green leaves in green smoothies you can use a higher percentage of fruit. Fruit is sweet so it should not be necessary to add maple syrup or honey. It just perpetuates the cravings for sweet unhealthy food.
Honey you buy in the supermarkets and grocery stores is not honey at all. Most of it has been heated and filtered so all it's health benefits are lost.
As for making your smoothie creamy forget the peanut butter. Store bought peanut butter may contain sugar and often contains aflatoxins, cancer causing molds commonly found in peanuts and cashews.
Much better to add chia seeds or flax seeds.
If you feel the need for adding that morning jolt of coffee to your smoothie then you need to make sure you are not addicted to caffeine.
Green smoothies will set you up for the day once you start to nourish your body with the vital nutrients they supply.
And ice cream? Forget it! Ice cream is not a healthy option unless you make your own banana or mango ice cream which is basically frozen fruit and coconut milk.
Beware of protein powders. Consumer Reports found that some cheap and medium priced protein powders contained contaminants such as cadmium, arsenic, lead and mercury.
Better to use an organic protein powder like Green Organics Smooth Vitality.
If you use carton orange or apple juice for the Weight Loss Green Smoothie, the Pineapple Green Smoothie or the Tripple Berry Super Smoothie make sure it has no added sugar. Better to make your own fresh juice if you can.
As you can see there are plenty of unhealthy smoothie recipes but many possibilites to make some very healthy smoothies for everyday drinking as well as detox smoothies.