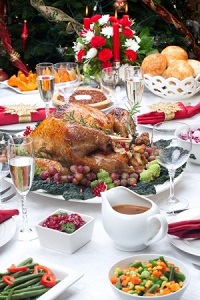 "Why do we always celebrate with toxic food?"  This is what Dr Daniel Amen said when he was interviewed for the Gluten Summit a couple of months ago.  He's so right. Have you ever stopped to think about that?  Are you going to celebrate with unhealthy food or are you going to eat healthy over the holidays?
Many people think of Thanksgiving and Christmas as a time for overindulging in unhealthy food.  Festive favourites like egg nog, mashed potato, pumpkin pie, mince pies, yule log, Christmas cake, Christmas pudding, sugared almonds, chocolates and Christmas cookies are loaded with calories, unhealthy fats and sugar.
On the other hand many foods such as turkey, Brussels sprouts, green beans, parsnips, dates, chestnuts, cranberries, satsumas, almonds, Brazil nuts, pomegranates and fresh figs are healthy and nutritious so it's not hard or impossible to eat healthy.  A quick internet search brings up many recipes for no added sugar versions of traditional desserts.  Why not try a raw dessert for a change?
If you have been on one of the many detox diets that have been on offer this year and don't want to ruin your healthy eating plan or put on weight here are my tips about How to Beat the Party Season Weight Gain.
Stress & Weight Gain
Talking of weight gain, did you know that cortisol, the hormone that's released from your adrenal glands when you are under stress, can prevent you losing weight?
Dr Alan Christianson is just about to launch his book called the Adrenal Reset Diet which introduces us to a brand new perspective on why people gain weight. If you are quick you can download his cookbook for free here.
Prolonged stress can affect your whole body and is very damaging to your health. Your digestion, your immune system and detox system are all affected.
Here are a my tips to help you cope with the holiday stress.  Anti-Stress Green Smoothies are great to help restore the nutrients lost through stress. Get the recipes here.
Avoid Toxic Chemicals
Toxic food is one thing but have you ever stopped to consider all the toxic chemicals that could pollute your home over Christmas? Indoor air is normally 2 to 5 times more polluted than outdoor air. Detox is all about reducing your total toxic load.  As well as eating healthily it's important to avoid as many environmental chemicals as possible.
Can you guess what toxic chemicals could invade your home over Christmas? Check them out here.
Healthy Eating Tips
When it comes to the Christmas meal eating healthily is more of a challenge if you aren't doing the cooking but it's not impossible.
If you eat sensibly you can still enjoy your meal without feeling guilty and without ruining the detox.  These are my Healthy Eating Tips for Christmas Dinner
I hope that these articles about how to eat healthy over the festive season will help you find the right mix of enjoying Christmas without falling off the wagon or being an insufferable healthy bore!