Superbowl Sunday is looming up and coming so soon after the festive season and perhaps your New Year detox you might be looking for healthier dishes in line with your New Year healthy eating resolutions. Let's face it, Superbowl party food is notoriously unhealthy.
The majority of food eaten is junk food laden with unhealthy fat, salt, preservatives, and sugar all washed down with excessive amounts of alcohol.
Fortunately, if you are wanting to avoid all that, there are many healthy alternatives that don't take an age to prepare. Check out these recipes below which I've discovered for you.
Healthy Superbowl Party Appetizers
Roasted Red Pepper Dip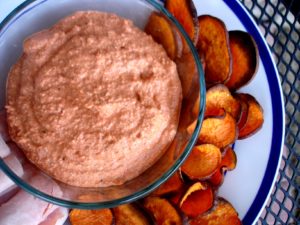 Dips are always popular and I've found some that don't resort to the ubiquitous guacamole.
This Roasted Red Pepper Dip recipe from Juli Bauer is quick and easy to prepare and very tasty. Serve it with sweet potato chips and raw veg sticks.
Roasted Cauliflower Poppers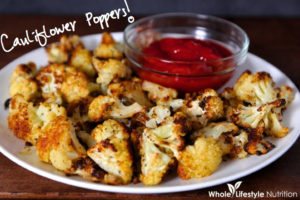 If you hate cauliflower because you think it's dull and boring or just hate the taste then you just have to try these poppers. Cauliflower is a cruciferous veg so it's good for you as it helps to support the detox system. (there, I just had to get that in!)
Roasting it changes it into something deliciously nutty and buttery and the texture becomes crunchy. Get Halle Cottis' delicious recipe here but use coconut oil or avocado oil for roasting and not olive oil as it loses it's health benefits of it's cooked at the temperature in this recipe. In fact many health experts are now saying olive oil should not be heated at all.
Chipotle Butternut Squash and White Bean Dip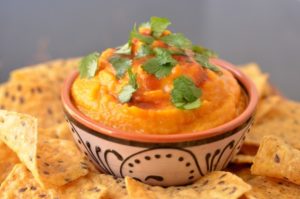 This makes a colorful and spicy change from the ubiquitous hummus dip. It's very easy to put together so long as you have pre-prepared some roasted butternut squash. Get Erica's recipe here.
Healthy Superbowl Party Mains
Sweet Potato Ground Turkey Chili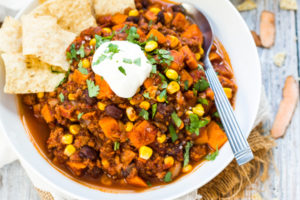 A turkey chili with sweet potato and black beans is a healthy and quick gluten free dinner recipe that is bound to go down well with the chilli lovers. Make sure you buy good quality turkey mince.
Get London Brazil's recipe here.
3 Pea Chilli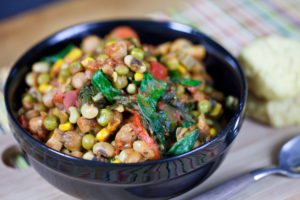 If you would prefer a delicious vegetarian chilli then Kristi Turner's 3 pea chilli would fit the bill. It's loaded with veggies, three types of "peas," with a smoky sweet heat coming from a Sriracha-laced sauce. Personally I'd leave out the liquid smoke because of harmful compounds found in it. While researchers say you may have to drink several bottles of the stuff to do any harm I prefer to be cautious.
Get the recipe here.
Pulled Butternut Squash Tacos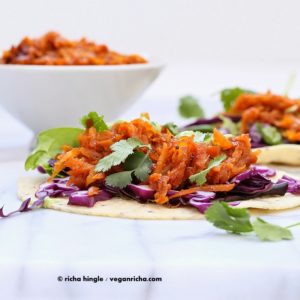 Here's another tasty idea from award winning recipe developer, Richa Hingle, for a veggie main course or filling snack. Serve up the tasty butternut squash mixture on soft gluten free tacos with greens, red cabbage, jalapenos, salsa, cilantro. What could be healthier?
Get the recipe here.
Healthy Superbowl Sunday Desserts
Black Bean Brownies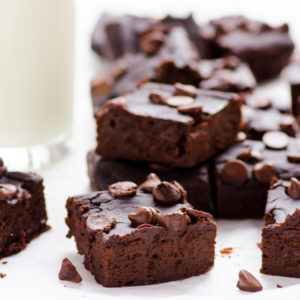 Brownies always go down well but they are usually full of wheat flour and sugar so no good if you are avoiding wheat and sugar. These fudgy, moist and chocolaty brownies are sweetened with applesauce and Medjool dates and of course are full of fiber.
Almond and Dark Chocolate Yogurt Fruit Dip
This is super quick and easy to make.
Ingredients ( makes 8 servings)
1 cup plain Greek yogurt
1/2 cup sugar free Almond and Dark Chocolate Spread such as Nutrilight
A variety of fresh fruit for dipping
Directions
Mix yogurt and spread together in a bowl until well combined. Cover and keep in fridge until ready to serve. Enjoy with fresh fruit.
Two Berry Pie With Pecan Crust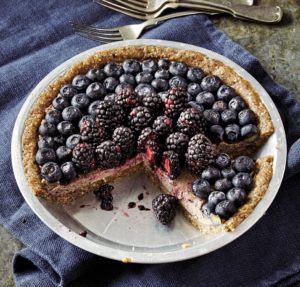 This recipe is taken from the recipes printed in the UK's Daily Mail from Michael Greger's book How Not To Die Cookbook.
The base is made from 3 ingredients with a creamy layer of filling and a fresh berry topping. Blueberries have been shown to almost double levels of virus-killer cells in our immune systems.
Ingredients   (Serves 8)
For the crust
115g pecans or walnuts
98g sunflower seeds
88g soft, pitted Medjool dates
For the filling
112g cashews, soaked for 3 hours in hot water, then drained
2 tbsp date sugar or Date Syrup
½ tsp blended peeled lemon
2.5-4cm piece vanilla pod, split and scraped (or ½tsp extract)
½ a ripe banana
125g fresh blueberries, or thawed frozen ones
125g fresh blackberries, or thawed frozen ones
Directions
Place the crust ingredients in a food processor and process until coarsely ground. If it doesn't hold together when pinched, add 1-2tbsp water. Press into a 23cm diameter pie dish lined with non-toxic parchment paper, or a springform tin, and chill while you prepare the filling.
For the filling, blend the cashews, date sugar or Date Syrup, lemon and vanilla until smooth. Add the banana and 50g of the blueberries, and blend until smooth and creamy. Spread the filling evenly on top of the crust. Arrange the blackberries and remaining blueberries in circles on top. Chill for 4 hours before serving. For the best results, serve on the day you make it.
So no need to give up on your New year's healthy eating plan. If you've been invited to a party where you know the food will be mostly unhealthy why not take along a healthy dish and let people see that healthy food can be just as tasty. Take your pick from these Healthy Superbowl Sunday Recipes or search the internet for plenty more.