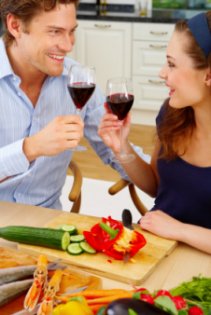 If you are having trouble giving up alcohol for your detox maybe you are more addicted to it than you thought. Many people rely on a glass of wine or beer before dinner to unwind from the stresses of the day be it work or home. And many couples enjoy a bottle of wine every evening with dinner.
Some people start with one glass a day to help them feel good but they find their tolerance increases and they need more and more to get the same feeling. If you feel you need a drink to change the way you feel then you may be addicted. According to David Smallwood, an addiction expert, alcoholics are made not born.
Social drinking can cause liver disease
People drink socially not knowing how much they are damaging their livers. You may remember the tragic story of Emma Pycroft who died last year at the age of 33 from liver disease that she did not know she had. Although she did not drink excessively she drank regularly as she attended many social events as part of her job as a publicist.
Recovery from hepatitis
This brings me to another story I heard recently about alcohol that has a happier ending. It's about Gary who did drink a lot. In fact, he drank 18 cans of beer a day for many years but amazingly he is still here to tell us about his remarkable and inspiring story about how he beat his alcohol addiction.
Gary ended up in hospital 4 times with Jaundice. The fourth time was January last year. He also had hepatitis and it was feared he might not recover. Fortunately he did and he has not touched a drop of alcohol since.
I read his incredible story and am amazed at how he has made such a remarkable recovery and is so well in such a short space of time. His powers of regeneration are almost beyond belief but he puts it down to a well structured program that he followed.
A step -by -step plan to beat alcohol addiction
Update: Unfortunately Gary's book this is no longer available but the article link below may be of interest:
Related reading: How To Detox Your Liver After Too Much Alcohol
He vowed that when he recovered he would write a short eBook showing sufferers what he did and this is exactly what he has done. Gary has produced the step by step plan that he used in his recovery. It includes all the tools (such as CD's etc) that he used & still uses to this day so that anyone can just copy what he did & still does to beat his illness. What's more this book is completely free. ( no longer available)
Gary goes into the importance of eating the right foods although he mentions a few things that I don't recommend like deep frying,  microwaving food, eating margarine and boiling vegetables. I have already written a post about the right foods to eat to correct a fatty liver here.
He also talks about the importance of relaxation, exercise and retraining your mind.  I was intrigued and impressed by the way he speeded up the whole process of recovery with a very powerful technique he uses called a Video Vision Board.
Whether you are addicted to alcohol or not it is an inspiring story to read. It shows what can be done once you make up your mind you want to do something.
Related reading: How a Plant-Based Diet Can Aid in Sobriety