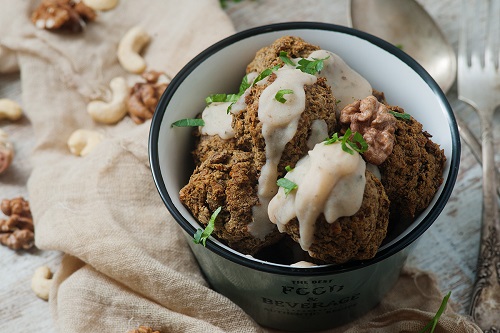 If you're looking for a tasty, filling dish for your body cleanse diet then this delicious recipe from Ben Isham-Smith for gluten free and vegan lentil meatballs will surely fit the bill.
Lentils make an excellent addition to your body cleanse diet because they are filling but still easy on your digestion,  very alkalizing, rich in insoluble fiber and low in calories.
The resistant starch in them provides many health benefits for your gut. It gets fermented to short chain fatty acids (SCFA) by bowel bacteria which helps to inhibit the growth of pathogenic (bad) bacteria. As well as this these SCFAs help us to absorb minerals from our diet and prevent the absorption of toxins. All good for your cleansing diet plan.
Also, resistant starch helps people burn fat. It helps the body maintain a healthy balance of bacteria so can help with weight loss.
Lentils are high in plant protein but low in the amino acid methionine which contains sulfur used by the liver detox system but this can be supplied by the addition of oats in the dish.  In this way the lentil meatball dish is ideal for a body cleanse diet.
Well enough from me. I'll let Ben explain how to make these amazing lentil meatballs.
Lentil Meatballs for your Body Cleanse Diet
These lentil meatballs are not only gluten-free, but completely vegan. Topped with a beautiful cashew gravy, they're a beautiful alternative to their meat counterparts.
I am not a full-time vegetarian or vegan by any means, but I have become increasingly mindful of the meat and dairy that I do have.
And as I've been slowly transitioning away from meat-heavy dishes, what has really helped me is the proof that plant-based versions of meat classics really can be just as good as the original while remaining healthy.
I've been able to do it with mushroom burgers, fennel hot dogs, vegan sausage jambalaya… I've even been able to do it with tacos.
These vegan lentil meatballs are the perfect example of that.
They're so good that even dinner table skeptics (let's face it, I mainly mean kids here) will be on side.
I think the biggest compliment you can give a vegetable dish is if meat lovers like it just as much as they would a meat dish, and these have gone down as a hit with my family.
If you're new to veganism (and the arguments are pretty compelling), or are just looking for healthy meat alternatives, then lentils are a great way to provide you with your daily hit of protein.
Lentils are sometimes overlooked in favor of other plant-based protein sources, like tofu or nuts, but they can be made up of up to about 25% protein, and so loaded with nutrients that they're worth anyone's time. Furthermore they boast plenty of B vitamins, iron, magnesium, zinc and potassium.
And if you think lentils only go well in soups or curries, then trust me when I say I've seen go beautifully as burgers, risotto… even pizza crust.
A few notes:
For the nut gravy, I use cashews. To ensure that they combine well for the sauce, I soak them for an hour prior to cooking. This will help just soften them a bit, helping to create a sauce-like texture.
I've used cornstarch in this recipe for the gravy as a thickening agent, but if you'd prefer not to use that then arrowroot powder can make for a great alternative.
Lentil Meatballs                                                                           
Ingredients
Yield: 6 meatballs
½ cup dried lentils
1 green onion, finely chopped
2 cloves garlic, minced
1 tsp parsley
¼ tsp dried thyme
¼ tsp paprika
2 cups vegetable broth
1 cup walnuts, finely chopped
2 tbsp oat flour
½ tsp salt
Creamy Cashew Gravy
½ cup cashews, soaked and drained
2 cups water
1 tsp onion powder
1 clove garlic, chopped
1 tbsp cornstarch
½ tsp dried thyme
½ tsp paprika
For garnish:
Cayenne pepper, to taste
Parsley, chopped
Instructions
Heat up a saucepan over a medium heat and add your choice of cooking oil.
Add the chopped green onion and heat in the pan. Stir continuously and cook for about 2-3 minutes, until it starts to tender.
Add the lentils, garlic, thyme, parsley and paprika. Stir in well and then add vegetable broth. Increase heat under the pan to bring the mix to a boil, and then reduce heat to a simmer. Cover pot. Allow to simmer for up to 30 minutes, or until lentils have tendered and broth has completely evaporated.
Remove pan from heat and pour mix into a large bowl. Leave to one side.
Add walnuts to food processor and pulse until finely chopped. Transfer walnuts to lentil mix and stir in well.
Stir in oat flour, flaxseed and salt.
Preheat your oven to 400°F/200°C. Line a baking tray with parchment paper and lightly grease it either with coconut oil, or butter.
Create a ball from the mixture, no larger than what you normally expect a meatball to be (using 2 tablespoons maximum). Carefully place on line baking tray. Repeat with the remainder of the mix, filling the sheet. Be sure not to let any of the balls touch, allowing at least half an inch of space between each one.
Bake for 25-30 minutes, or until crispy and slightly browned on the outside.
For the gravy, add water, cashews, onion powder, garlic, and cornstarch to a blender. Pulse and process until smooth. Transfer the mix to a small saucepan. Heat over a medium heat and allow to simmer, stirring continuously. While the sauce begins to heat up, add the thyme and paprika.
Once the sauce starts to thicken, remove from heat while continuing to stir. If the sauce turns too thick, add a little water to balance it out and help thin it.
Serve up meat balls, and pour gravy over top of them. Garnish with chopped parsley and cayenne pepper.
Bet you didn't think your body cleanse diet could be as delicious as this! Do let Ben and me know how you like these by leaving a comment below.
About the author:
Ben is a former semi-pro cyclist and big eater. Now he is just a big eater. He writes about food and drink for lazy chefs at The Eat Down.