By Anthia Koullouros
BHSC ND DBM DH MATMS
Naturopath, Herbalist, Homoeopath, Organic Health, Food & Lifestyle Educator
Reconnect and flow with the changing seasons, climate, environment, long or short days and changes in type of foods and food supply on offer. These cycles or rhythms directly impact our own 24 hour circadian rhythm and women in particularly, their monthly menstrual cycle.
Seasonal Cleansing is also a process of re grouping and taking stock when life feels overwhelming, confusing, fast paced and just all too exhausting and stressful.
It will keep you healthy and well and contribute to clear choices rather than live out of reaction or by default, to choose what you want out of your life and to stay true to your goals and purpose.
It is a top up on your education that keeps you well informed and help you discern through the overwhelming amount of information about health, food, nutrition, and lifestyle.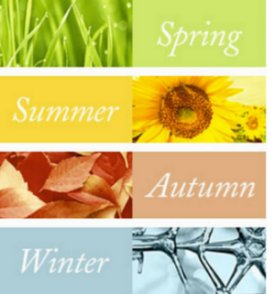 Seasonal Cleansing will help prevent illness as you are able to focus on and address the underlying causes of ill health rather than wait until you break and need to take a forced rest.
It will allow your body to heal and repair more effectively and eliminate addictions to any form of stimulants, relaxants or pain relievers and identify and remove toxins from the body.
Seasonal Cleansing eliminates parasites, Candida and other opportunistic bugs which become infections in the body such as found in the Respiratory, Urinary, Digestive or Reproductive Systems eg UTI, Thrush, Colds, Helicobacter, Worms etc.
Specifically assisting in creating a healthy baby, feel free, light, lean and invigorated, repair digestive imbalance and create healthy hormones, eliminate inflammation and address immune disorders, provide an excellent and healthy foundation for baby making, address any chronic, ongoing disorder, detox heavy medication, post surgery, pre and or post dental appointments.
It is recommended to do a body cleanse diet 2 weeks prior to each change in Season.
In Australia:
Spring: Commence mid August for September, October, November
Summer: Commence mid November for December, January, February
Autumn: Commence mid February for March, April, May
Winter: Commence mid May for June, July, August
The Winter Cleanse Program specifically focuses on nutrition, warmth, sunlight, rest, weeding bad bugs & strengthening the immune.
This first step to Seasonal Cleansing is creating time and space to cleanse well, to buy, create, prepare and eat meals, to hydrate well, to read, and get informed about health and lifestyle, to connect with nature, get creative or be still.
Get into presence by meditating, creativity such as singing, drawing, journaling, painting, dancing, walking, tai chi or yoga. This stimulates the parasympathetic nervous system, which allows you to cleanse, heal and repair more effectively.
When your body is stressed no matter what the cause: physical, emotional, chemical, electromagnetic, nutritional, the sympathetic nervous system is stimulated to release stress hormones which can decrease immunity, repair, healing, digestion and create an imbalance in blood sugar levels and hormone health. It's not so easy to cleanse in this state and feels like another chore or burden for an already unhealthy and stressed out body.
Specifically:
•    Cut out processed foods, caffeine, alcohol, sugar, take out, refined salt, vegetables oils, soy, tap water, milk powder, gluten, additives, flour, cereals, soft drinks, juices, chemically leavened bread and supplements and over the counter medications.
•    Choose quality, local, whole fresh foods, nutrient dense, organic and pastured animals: dairy, eggs, meat, vegetables, fruit, traditionally prepared nuts & seeds, minimal or no grains. Eat what we are designed to eat for a healthy human. A great focus is eating very low carbohydrate, starchy, sugary type foods.
•    Source, prepare and cook own food.
•    Chew food well and eat in a relaxed state.
•    Support the cleansing of additives, chemicals and simply aid digestion with an OVViO Organic Tea or Herbal Tincture.
•    Move your body and breathe well. The intensity of movement depends on how intensely you are going to cleanse. Become aware of breathing, factors that affect healthy breathing such as blocked nasal passages and the chemicals that you are breathing in your environment.
•    Remove the chemicals in your environment as found in cleaning, beauty or home products. Learn what to use as alternatives.
•    Declutter or clean your environment: remove, give away, donate, recycle, and sell items you don't use anymore.
To find out more about this simple process: Seasonal Cleansing.
OVViO The Organic Lifestyle Store
38B Gurner Street Paddington NSW 2021
T 02 9380 7863 F 02 9380 7879
anthia@ovvioorganics.com.au
www.ovvioorganics.com.au