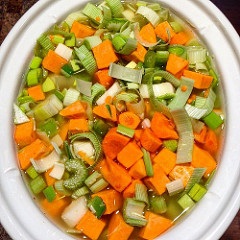 Finding it time-consuming preparing detox food? Have you thought of using your slow cooker?
There is nothing easier than throwing a bunch of veg and beans or lentils or even some organic chicken (think Paleo Detox) into your slow cooker (crockpot) with some flavorful stock or broth and switching it on.
No need to slave over a hot stove. Your kitchen stays cool in hot weather too. By using a slow cooker you can go out for the day and have your detox diet food ready to eat when you return.
Food cooked in a slow cooker is easily digested so you get the nutrients that are needed by the detox system.
What's more if there's any left over you can freeze some in individual portions for eating at another time.
The detox recipes that follow are gluten free, dairy free and sugar free. It's best to use as many organic ingredients as possible to avoid chemical pollutants used in commercial farming. The whole family can eat them too. Try them!
Bean & Vegetable Detox Soup Recipe

makes 4 servings approx
Ingredients
1 medium sweet potato, peeled and cut into 1″ cubes
1 large or 2 small carrots, peeled and sliced
1/2 stalk celery, diced
1 small yellow onion, diced
1 clove garlic, crushed and finely chopped
1 (15 ounce) can black beans, drained and rinsed (optional, navy beans)
Celtic or Himalayan salt to taste
1/2 teaspoon freshly ground black pepper
1/2 teaspoon turmeric
1 teaspoon paprika
1 bay leaf
2 cups organic vegetable broth
1 (14.5 oz.) can organic chopped tomatoes
2 cups organic baby spinach, loosely packed
Organic extra-virgin olive oil or avocado oil for serving
Directions
Place all ingredients, except spinach and olive oil, into your slow cooker.
Cover and cook on low for 6 – 8 hours, or until the vegetables are tender.
Stir in spinach, and continue cooking for about 5 minutes until wilted.
Ladle into serving bowls and drizzle with a little olive or avocado oil.
Enjoy with a green leaf salad or some brown rice.
For a thicker soup, after about 5 hours of cooking, remove 1 cup of mixture and mash, blend or process and return to the slow cooker, stir and continue to cook for the remainder of the time.
Indian Dhal
Below is a tasty recipe for Indian Dhal using lentils. The word dhal, dal or daal originates from the Sanskrit "to split", and refers to split pulses. Dhal is an everyday dish in India and can be made from dried split peas, beans, or lentils.
The recipe below uses whole lentils. You sometimes see recipes for it using garbanzo beans (chickpeas). Dhal is healthy, delicious and fantastically cheap. It's an ideal bowl food dish.
Slow Cooker Detox Lentil Dhal Recipe                                                                     

serves 6 approx.
Ingredients
2 cups plain lentils
1 x 15oz can of diced organic tomatoes
10oz approx fresh organic spinach
1 onion, chopped
4 cups organic chicken or vegtable stock
2 large cloves garlic, chopped
1 tbsp fresh ginger, chopped
1 1/2 tbsp good quality curry paste
1/2 tsp ground cumin
1/2 tsp ground coriander
1 tbsp organic lemon juice
1 handful cilantro (fresh coriander), chopped
Directions
Place all ingredients, except for the cilantro and lemon juice, into your slow cooker
Cook on high for 3-4 hours or on low for 7-8 hours.
Stir in chopped cilantro and lemon juice 1 hour before end of cooking time.
Add a little Celtic or Himalayan salt to taste if you want.
Serve in a bowl with brown rice and top with more cilantro if you like.
Cold Detox Soup
No need to have a hot dish either. You can cook a cold detox soup in a slow cooker too!
Onions and leeks contain sulfur, an important substance for detox. It can bond with toxic substances like mercury, aluminum, barium and strontium helping remove them safely from the body.
Sulfur makes cell membranes more pliable allowing nutrents to be transported into the cell and toxins out.
Cold Slow Cooked Vichyssoise (Leek and Potato Soup)
Serves 4 approx
Ingredients
200g onions, finely sliced
500g trimmed washed leeks, finely sliced
300g organic potatoes, scrubbed well and finely sliced
2 litres of hot organic vegetable or chicken stock
Celtic or Himalayan salt to taste
Freshly ground black pepper to taste
Chopped parsley to garnish
Directions
Put the prepared leeks, onions and potatoes into your slow cooker with 2 litres of boiling stock. Alternatively use 3 organic or vegetable stock cubes.
Cover and switch the slow cooker to high. Once the vegetables are simmering (about 20 minutes) switch to low.
Leave to cook for about 2 1/2hours.
When all vegetables are soft, blend with a stick blender and chill.
When ready to serve add salt and pepper to taste and sprinkle with chopped parsley.
You don't have to stick to vegetarian meals to detox. Paleo meals can detox you too.
Slow Cooker Chicken and Vegetable Detox Soup
Ingredients
Serves 4 – 5
1 small onion, diced
2 stalks celery, sliced
2 carrots, thinly sliced
1 yellow bell pepper, diced
2 cloves garlic, finely chopped or minced
3 cups organic chicken broth
1 zucchini (courgette), quartered lengthways and chopped into small pieces
1 cup small cauliflower florets
1 large can diced organic tomatoes
2 boneless, skinless, organic chicken breasts
Celtic or Himalayan salt to taste
Freshly ground black pepper to taste
2 packed cups chopped fresh organic spinach
Directions
Put all ingredients except spinach into your slow cooker.
Cook on low for 8 hours.
Remove chicken and slice thinly, return to the pot, add spinach and stir.
Replace lid and cook for a further 5 minutes until spinach is wilted.
Eat with some quinoa or brown rice and a salad.
You can omit the chicken if you prefer and use garbanzo beans (chickpeas) instead.
Breakfast Porridge
You can use your slow cooker for making a gluten free, dairy free, detox porridge too.
Quick and easy to prepare the night before your delicious breakfast will be ready waiting for you in the morning.
Slow Cooker Quinoa & Millet Porridge
Serves: 6
250g quinoa*  ( find out more about quinoa here)
250g millet*
1 liter water
1 liter unsweetened almond milk
1/2 cup raisins
1 tsp ground ginger (optional)
1 cinnamon stick, broken in two
4 cardamom pods
4 star anise
* Include some buckwheat groats as part of these measurements for a different flavor if you like.
Directions
Rinse the quinoa and millet well with pure water and drain.
Put into slow cooker.
Bring the water to the boil and pour this into the slow-cooker with almond milk and spices. Stir well.
Put on lid and set the slow-cooker to low and cook overnight (roughly 8-9 hours).
By morning the porridge should be rich and creamy.
Ladle into a bowl and add some berries or chopped fresh fruit of your choice, chopped nuts, chia seeds or freshly ground flax seeds.
If you have to you can add a little stevia or raw honey to sweeten.
Haven't got a slow cooker? Great choice at the Slow Cookers Mart.
Give these recipes a try and tell me what you think in the comments section below. I'd love to hear from you!
Save
Save
Save
Save