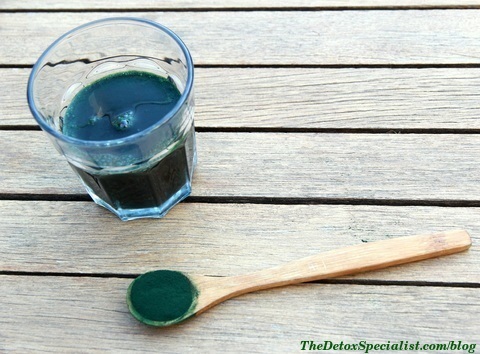 Seems you are in good company if you are drinking spirulina detox smoothies. It was reported after Catherine, the Duchess of Cambridge, had her baby that she had been drinking spirulina smoothies twice a day throughout her pregnancy.
Spirulina is known as the pregnancy superfood as it is high in protein and iron and contains many other beneficial nutrients. If there is a more perfect superfood in relation to health benefits, it has not yet been found. The Aztecs knew how good it was for them and frequently ate it when they needed to do physical tasks.
What is Spirulina?
Spirulina is a blue-green algae form of bacteria called cyanobacteria  that grows in both fresh and salt water.
When taken in either powder or tablet form, a 7-gram dose provides the following nutrition:
·   4 grams of protein
·   1 gram of fat
·   Vitamins B1, B2 and B3
·   Copper
·   Iron
·    Magnesium, potassium, manganese and trace amounts of almost every other nutrient we need
At 20 calories per serving and 1.7 grams of complex carbohydrates, gram for gram it is the single most nutritionally complete food known to man today.
Health Benefits
One of the largest benefits of taking spirulina is its antioxidant and anti-inflammatory response. Free radicals are formed as result of the production of energy in your cells and can contribute to  many health issues including cancer, diabetes, and various cardiovascular, pulmonary and neurological diseases. Spirulina neutralizes free radicals lowering your risk for these diseases.
Spirulina can bind with heavy metals, especially arsenic, in the body and helps to remove them. Because it can bind with toxic metals it is important that any spirulina you buy comes from unpolluted waters. Check with the manufacturer or supplier.
It is also high in chlorophyll which is a potent blood detoxifer.
Heart Disease
One of the ways spirulina helps prevent heart disease is by lowering the so called "bad" LDL cholesterol and raising the good HDL type. Free radicals can cause LDL lipoproteins in the blood to oxidize, called lipid peroxidation, which can lead to heart disease. But numerous studies have shown the antioxidant properties of this superfood keep oxidation in the blood at bay.
Oral Cancer
Some studies have shown that spirulina can fight some types of cancer. Just 1 gram per day reduced lesions in the mouths of participants by 45%. Within one year of not using spirulina, 55% had lesions back in their mouths.
Muscle Strength and Endurance
Athletes are discovering what superfood spirulina can do for them too. Exercise-induced oxidative damage is a major cause of muscle fatigue. When taken as a supplement in two different studies, spirulina enabled athlete participants to go significantly longer and further before the onset of muscle fatigue.
Health Benefits for Women
Spirulina has shown to be effective in reducing some of the unique health issues in women. With it being one of the leading sources of gamma-linolenic acid (GLA), it has proven itself to reduce the symptoms of pre-menstrual syndrome.
And with 26-times the calcium of milk, its high density of iron, and gram-for-gram more protein than beef, poultry or fish, it is a food of choice for women who are pregnant.
The health benefits of spirulina go on and on; enough to fill a book. What is encouraging about this food is that it is all natural with no known side effects, yet beneficial in so many ways.
How to take it?
The main ways of taking spirulina is in powder form or as tablets. As a dietary supplement, the recommended minimum amount is 3 grams daily – one teaspoon of powder or six 500 mg tablets. Since it is a pure and natural food, you may safely take more to suit your personal health program.
The taste of spirulina is quite strong so can take time to get used to. The taste varies depending on where it comes from and can vary from producer to producer. The majority of people prefer the taste of the spirulina that has been grown in fresh water as it tastes less like sea water.
Since spirulina can result in some detox and cleansing effects such as headache or digestive discomfort, it's best to start with a low dose and increase gradually. About 2% of people report experiencing slight changes in their digestive systems for the first few days when taking it. These changes are usually short lived, and after a few days these people are back to normal and usually report feeling better than ever due to all the positive benefits of spirulina.
Here are some spirulina detox recipes 
Spirulina Detox Smoothie Recipe
1/2 – 1 tsp – 1 tbsp* spirulina
1 cup fresh baby spinach
1 cup baby kale
1/2 cup organic blueberries
1 organic banana
1 cup filtered water or coconut water
Few drops liquid Stevia (optional)
Place all the ingredients into your blender with enough liquid to allow the blades to turn.
Blend until very smooth adding more liquid to achieve the consistency you prefer.
Add a few drops of liquid stevia to sweeten if necessary.
* Start with a small amount of spirulina as it's a bit of an acquired taste and increase gradually as you get used to it.
Think of the good it is doing for you and enjoy!
Spirulina Snack Balls
Ingredients
Makes 5
1 cup of cashews
2 tablespoons of coconut oil, melted
1 tablespoon of almond butter
Pinch of Himalayan  salt
1 tablespoon of spirulina powder
Desiccated coconut for coating
Directions
Add the cashews your food processor and blend until you have a coarse flour.
Add the spirulina and salt and pulse to combine.
Add the melted coconut oil and almond butter and blitz until combined.
Use your hands to squeeze and roll the mixture tightly into balls.
Scatter some desiccated coconut out on a flat surface and roll the balls in it to coat
Spirulina Chia Detox Smoothie Bowl
Ingredients
Makes 1 bowlful
3 tablespoons of chia seeds
½ to 1 teaspoon of spirulina powder*
1 medjool date, chopped
1 organic banana
1 small avocado, flesh
200ml of almond or other nut milk
Stevia liquid to sweeten (optional)
Toppings
Blueberries, sliced banana, sunflower seeds, desiccated coconut
Directions
Add spirulina powder, banana, avocado, date and milk to the blender. Blend until very smooth.
Pour the blended mixture into a bowl and add the chia seeds. Mix well.
Leave for ½ hour or overnight in the fridge.
Allow to come to room temperature if stored overnight in fridge.
Stir and taste. Add a few drops good quality stevia if necessary to sweeten.
Add toppings of your choice such as sliced banana, blueberries, sunflower seeds, and desiccated coconut.
Note
* If you haven't tried spirulina before try using ½ teaspoon of the powder first and see how you like the taste.
Enjoy!
Have you tried spirulina yet? What do you think of the taste and the detox recipes? Let me know in the comments and share any tips you have with my readers.