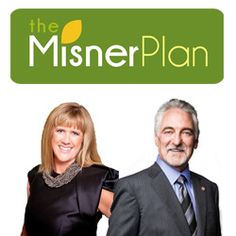 I've just read the incredible story of Ivan Misner who beat prostate cancer with a detox diet plan that started with a 7 day cleanse. (It was actually 8 but I have called it a 7 day cleanse as that is what people seem to be searching for.)
Ivan Misner, a high powered, no nonsense, business man who jetted around the world, took his health pretty much for granted until he was diagnosed with prostate cancer two years ago.
I was amazed to read that he thought he was healthy even though he was overweight, had high blood pressure and suffered wth frequent colds. Talk about being in denial!
Ivan, who calls anything that is not immediately practical as woo woo, researched all the available treatments for prostate cancer but didn't like the outcome of many of them.
Fortunately for him his wife, Beth, a certified sports nutritionist, became interested in nutrition when she discovered she could could keep her migraines under control with a low sugar and low fat diet. She set about guiding him with a new diet that he thought would give him a better chance if he ended up having surgery or chemo.
The Misner Protocol, as it is now called, started off with a 7 Day Cleanse (actually 8) during which he lost an amazing 12 pounds in weight. He lost a total of 40 pounds over the first three months of following the detox diet plan.
Although the "allowed foods" were not restricted people doing the cleanse have averaged a weight loss of 18 pounds. It is important when doing this cleanse that you eat enough to get the nutrients needed to support the detox pathways and push the toxins out. It is not a starvation diet.
The 7 Day Cleanse
During the cleanse he drank alkaline water and ate only vegetable soup, non-starchy vegetables and whole grain rice.  I do wonder about the advisability of eating brown rice these days since it has been shown to contain higher levels of inorganic arsenic than white rice and other foods.  Washing it well in water before cooking and cooking in as much pure water as possible helps to remove up to 45% of the arsenic.
The cruciferous vegetables Brussel sprouts, cauliflower, cabbage, bok choy and broccoli are particularly good to eat on a detox diet plan like this. They contain substances that stimulate the Phase 2 detox system and would help to detox arsenic as well as other heavy metals. Garlic supplies sulfur which the liver uses to detox heavy metals.
Phase 2
For the next 4 weeks he enlarged his diet to include organic chicken, turkey, salmon and shrimp and organic vegetables. I was surprised about the inclusion of shrimp as they can be toxic, especially if they come from Asia, as they are raised in contaminated water.
He stayed off fruit (only lemon juice was allowed) and high starch vegetables and gluten grains. The sugars in these foods feed the bad bacteria, fungus and yeast in the gut. Starving them for the first 8 days gives the beneficial bacteria a chance to flourish.
I was very surprised to read that he drank alcohol even though he kept it to a minimum. Alcohol is usually taboo on a detox program because of the extra burden it places on the liver – another substance to be detoxified.
You can find the complete food list here.
During the second phase he took a nutritional supplement of phytonutrients, shown to have anti-cancer effects, as part of a research study. Other supplements are suggested on the plan.
Cancer just faded away
Soon after starting the supplement Ivan went for an ultrasound scan and much to the surprise of the radiologist the cancer was already fading. Four months into the detox diet plan the cancer had gone. Just goes to show that the body will heal itself given the right conditions.  He no longer suffers with frequent colds now either.
After this amazing result Ivan & Beth wanted to help others and have written a book, The Misner Plan
, that's available on Kindle.
Here's a recipe for a detox soup that you can use on the 7 day cleanse
Green Detox Soup                                                                                                                   

Serves 4
Ingredients – All organic
4 cups purified water
1/4 red onion, chopped
1 clove garlic, chopped
1 cup broccoli tops, chopped
1 – 2 handfuls kale, chopped
8 Brussels sprouts, quartered
1/2 cup green beans, chopped into 1/2 inch lengths
1 -2 tbsp virgin olive oil
1 tsp Celtic or Himalayan salt
1/4 tsp cayenne pepper
1 inch piece fresh ginger, peeled and finely chopped
Juice 1/2 lemon
Small bunch fresh parsley or cilantro (coriander), chopped (optional)
Directions
Place the vegetables in a large pan with water and bring to the boil, omitting oil, ginger, salt and cayenne papper and lemon juice. Simmer for 40 minutes with lid on. Add salt, cayenne pepper, ginger and lemon juice, bring back to the boil and simmer for a few more minutes. Place in serving bowls and garnich with chpped parsely or cilantro if liked. Pour a little olive oil over top of each bowl when cooled a little.
You can find more detox soup recipes here for winter cleansing although they do include root vegetables and would not be suitable if you are following the Misner Plan.
Have you ever followed a detox or cleanse like this? If so I would love to hear of your experiences in the comments.  Also, if you enjoyed this post, it would be great if you would share it using the share buttons below.  Thanks so much.
Green Soup Image by Debs
Save