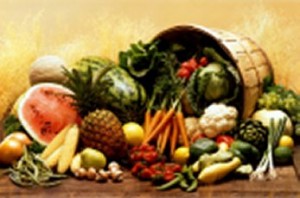 Many different substances are needed for good detox function. Nutrients like vitamins, minerals, amino acids and phytochemicals (natural plant chemicals) all play a role in the intricate processes that make up your detox system. They can be found in a wide variety of foods. Some contain more than others so here are my top 10 detox foods.
Much research has found that the key to a decrease in cancer and degenerative diseases lies in a diet high in plant foods. In fact, you have probably read that Bill Clinton went on a vegan plant based diet to help reverse his heart disease. He lost 24 lbs as a side effect although that was not his main aim.
Plant foods vary in the nutrients they contain so eating a wide variety of them is important. There has been an abundance of published research into the benefits of cruciferous vegetables on the detox pathways. Some times they are referred to as superfoods because they are loaded with substances that help detoxify those nasty toxic chemicals that damage your cells.
Top 10 Detox Foods
1. Cruciferous vegetables
Broccoli, cabbage, cauliflower, swede, turnips, kale, watercress all contain important phytochemicals that are released when they are chopped, chewed, fermented, cooked or digested. The substances released then break down into sulphorophanes, indole-3-carbinol and D-glucarate which all have a specific effect on Phase 1 and phase 2 detox.
Broccoli is good but broccoli sprouts are even better as they contain 20 times more sulfurophane. They are becoming easier to find in the supermarkets. Add them to your salads.
2. Spinach
Everyone who remembers Popeye knows that spinach makes you strong but that was supposed to be down to the iron it contains. Many people turn their noses up at cooked spinach because of the bad reputation it got for its strong taste and grittiness if not washed well enough. Modern spinach is much milder tasting and raw baby spinach leaves are altogether different.
Spinach is rich in a number of minerals, vitamins, chlorophyll and flavonoids which are essential to good detoxification.
Put a handful of baby spinach leaves in your daily green smoothie and add to salads. Fold well washed baby leaves into cooked dishes until just wilted.
3. Onions and garlic
Onions, garlic and leeks contain many important sulfur compounds that increase detox. It's these compounds that give them their strong odor.
They can increase glutathione, a substance that is used by the liver to detox many chemical toxins.  Eat them raw in salads and add to cooked dishes.
4. Carrots
Carrots have been used for years in detox juices. People doing the Gerson Therapy, for cancer, which detoxes the body, use pounds and pounds of carrots. They eat so many carrots that their skin often turns orange from all the carotenoids they contain. Carrots can add just the right of sweetness to green vegetable juices to make them more palatable.
As well as carotenoids carrots contain flavonoids which act as powerful antioxidants that are essential in the detox system. The detox process ends up creating free radicals so plenty of antioxidants are needed to neutralize them.
5. Blueberries
Blueberries are simply bursting with anthocyanidins, antioxidant compounds that give blue, purple and red colors to fruits and vegetables. They also contain ellagic acid, another phytochemical that has been shown to prevent cell damage.
According to scientists blueberries top the list of  fruit and vegetables for antioxidant strength. Antioxidants neutralize free radicals which are produced by toxins that enter your body and by normal detoxification.
6. Watermelons
Watermelons are a rich source of the important antioxidant lycopene. The flesh contains citrulline, an amino acid, and is one reason why watermelons have been used for many years by Naturopaths for detox.
Citrulline plays an important part in the body's urea cycle preventing the build up of a lethal level of ammonia in the blood.
Watermelon also contains valuable nutrients such as chlorophyll, beta carotene, Vitamin C, potassium, magnesium, silicon, lycopene and glutathione which is used by the liver for detox.
7. Oranges & tangerines
These citrus fruits contain flavonoids, D-glucarate and vitamins and minerals that help with Phase 1 & II detox. Limonene, a substance found in the peel of citrus fruit can stimulate Phase 2 detoxification. It's a good idea to add a little peel from organic fruit to a smoothie mixture or a juice.
Grapefruit contains naringenin which inhibits Phase 1 detox. It's not a good idea to eat grapefruits or drink grapefruit juice if you are exposed to a lot of toxins or are taking drugs.
Citrus fruit juice have a strong detox action and are not tolerated well by many people so go easy with them if you have not done much detoxing before.
8. Apples
Apples are full of wonderful nutrients. You get fibre, vitamins, minerals and many beneficial phytochemicals such as D-Glucarate, flavanoids, terpenoids when you eat apples. All these substances are used in the detox process.
One flavonoid Phlorizidin (phlorizin) is thought to help stimulate bile production which helps with detox as the liver gets rid of some toxins through the bile.
Apple is a good source of the soluble fiber pectin which can help detox metals and food additives from your body. It's no wonder that Naturopaths often prescribe the 2 day apple detox.
It's best to eat only organic apples as the non organic ones are among the top 12 foods that have been found to contain the most pesticide residues. (Environmental Working Group's 2010 report Shoppers Guide to Pesticides)
9. Whole grains
Whole grains are an excellent source of fiber which is needed for good bowel function. One way your liver gets rid of toxins is in the bile which makes it's way into the digestive system. It has to be eliminated quickly. If it stays there too long toxins can get reabsorbed back into the body where they will eventually get taken to the liver again making it more work.
Whole grains contain important vitamins, minerals and antioxidants that are lost when grains are processed.
Non gluten grains such as brown rice, millet, quinoa, buckwheat and amaranth are preferred for detox diets.
10. Turmeric
Curcumin is the active ingredient in the spice turmeric which gives it its yellow color. Curcumin inhibits Phase 1 detox while stimulating Phase II. This helps to prevent cancer as Phase 1 can make a toxin more dangerous if not immediately dealt with by Phase II.
The rate at which your detox pathways function depends on your genes, your age, lifestyle and a good supply of nutrients involved in the detox process.
Curcumin is used a lot in Ayurvedic Medicine to treat liver and digestive disorders.
You can read more about using turmeric for liver detox in a previous post here:  Spice Up Your Liver Detox With Turmeric

It was hard to choose the top 10 detox foods because there are many other foods that are excellent to eat on a detox diet.  Other lists include green tea and water but although they are important for a detox diet they are not strictly foods.
Learn more about detox in The Definitive Detox Diet