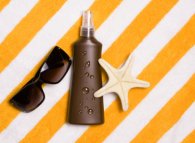 For years we have been told that we should apply plenty of chemical sunscreen before any exposure to sunlight. We are urged to slather our children with it too.
Cosmetic manufacturers and doctors have warned us that we could get skin cancer unless we used sun cream  despite any adequate safety testing of the chemicals used in them. So it will probably come as a shock to you to learn that if you use sunscreen you are applying toxic chemicals that are absorbed into your body and could in fact cause cancer.
Some research from the US shows that 97% of all Americans are contaminated with benzophenone-3 (BP-3), a toxic chemical that is used in sunscreens. The toxic ingredient that absorbs UV radiation is widely used in sunscreen products worldwide so people in the UK and other countries are very likely to have the same problem.
You may have assumed that you do not absorb significant amounts of chemicals from applying products to your skin but studies have shown that BP-3 goes on being excreted long after the last use of the sunscreen indicating that it accumulates in the body.
Estrogen mimic
The chemical and a derivative called oxybenzone are  linked to a number of adverse health effects. Studies show it is an estrogen mimic and can disrupt several hormone systems resulting in weight problems, and damage cells as well cause allergic reactions to sunlight. It can also increase absorption of other chemicals.
The estrogenic effect has been found to change testosterone levels in both healthy men and women. It can also effect adrenal hormones. The estrogenic effects are worrying as it could make certain cancer cell multiply faster. In fact other chemicals widely used in sunscreens also had this effect.
It may even affect the development of unborn babies if the mother uses sunscreen containing it during pregnancy. It's worrying that BP-3 is also used in lipsticks, lip balms and facial moisturizers.
It causes free radicals to form when it reacts with UV light. Free radicals damage cells and have been linked with causing cancer. So while you apply sunscreen to prevent skin cancer you may ironically be promoting it as well as causing premature aging of the skin.
In fact, sunscreen products actually promote cancer by blocking your body's absorption of ultraviolet radiation, and therefore blocking the production of vitamin D in your skin which is thought to protect against some cancers.
Update:
Since I wrote this article I've learned that some scientists have developed a sunscreen that allows the body to produce vitamin D while still blocking harmful rays.
Vitamin D, actually a hormone, has a wide range of health benefits that include the normal formation and growth of healthy bones and teeth and a protective effect against multiple diseases and conditions such as heart disease, cancer, Type 1 diabetes and multiple sclerosis.
Fears of skin cancer have resulted in worried parents applying increasing amounts of sunscreen leading to an estimated 40% of children and 60% of adults becoming deficient in the this vital nutrient.
Update: And since the Covid-19 pandemic it's been noted that people who are deficient in vitamin D are more likely to have a worse outcome if they get the virus.
A typical sun sunscreen with a sun protection factor (SPF) of 30 is said to reduce the production of vitamin D by almost 98%. But the Solar D lotion, developed by an Australian company allows the body to produce up to 50% more vitamin D than a sunscreen with the same SPF which is good news.
We can of course get some vitamin D from a small number of foods – oily fish such as salmon, sardines and mackerel, egg yolks, cheese and mushrooms ( the only vegan food source) as well as some foods that have been fortified with it.  Not that I am recommending the fortified foods! They are fortified because they have been processed.
Nanoparticles
In an effort to avoid toxic materials in sunscreens and to please consumers manufacturers have been adding nanoparticles. Too tiny to imagine they are apparently 100 times smaller than a virus and may be dangerous to your health.
Although cosmetic companies claim that nanoparticles only penetrate as far as the epidermis, the top layer of the skin,  there is concern that the particles can reach all parts of our bodies. They may accumulate and affect our complex biochemistry and body controls with who knows what effect to our health.
Studies have already shown that nanoparticles of the size now being used in sunscreen have gone through the skin and ended up in the lymphatic system where they can cause inflammation. Most problematic are zinc oxide and titanium dioxide nanoparticles, used in sunscreens to make them transparent.
When possible, look for sunscreens containing particles of these ingredients larger than 100 nanometers. You'll most likely need to call companies to confirm sizes, but a few manufacturers have started advertising their lack of nanoparticle-sized ingredients on labels.
Update:
Scientists at Yale University in Connecticut have developed the new sunscreen that doesn't sink into the skin, eliminating sunscreen health concerns.
The new formula includes a new nanoparticle which sticks to the outer skin layer and stops it from being absorbed into the skin, while still reflecting, absorbing and scattering light.
They found that although their sunscreen containing a significantly smaller amount of the active ingredient than other sunscreens, the new formula protected just as well against sunburn.
Natural Sun Protection
Avoid prolonged exposure especially between 11 am & 3 pm
Berries and microalgae such as spirulina, astaxanthin, and blue-green algae can make the body naturally resistant to sunburn.  Astaxanthin has extraordinary antioxidant powers to protect your skin against sunburn.
The mineral selenium and Vitamins C & E are antioxidants that can help protect you.
Pycnogenol from pine bark or grape seed extract contain flavonoids that can help protect against the damaging effects of UV light.
Learn the right way and how often to apply sunscreen in this very informative sunscreen guide.
Update:

Hugh Jackman, the Australian actor who starred in the X-Men film series, recently posted a picture of himself on Instagram with a bandaid on his nose after the removal of his 5th basal cell skin cancer lesion since 2013.
He told his fans "An example of what happens when you don't wear sunscreen. Basal Cell. The mildest form of cancer but serious, nonetheless. PLEASE USE SUNSCREEN and get regular check-ups."
Melanoma is a more serious form of skin cancer and it's been reported that Americans are being diagnosed with it at steadily increasing rates.
The effect of sunscreen in connection with melanoma is not clear. A number of studies from the 1990s reported higher, not lower, incidence of melanoma among frequent sunscreen users but other studies suggest that sunscreens protect against melanoma.
Last year, an estimated 76,000 Americans were diagnosed with melanoma and 9,700  died from it (NCI 2015). White Americans have much higher melanoma rates than people of other races which is thought to be due to the fact that their ancestors adapted to a dry and dark climate..  It is expected that almost 13,000 Australians will have been diagnosed with melanoma in 2015.
In its new guidelines, The National Institute for Health and Care Excellence (NICE) said "there is no safe or healthy way to get a tan from sunlight", adding that "a tan provides little protection against further exposure to the sun". Experts agree that short but frequent periods of sunlight exposure that do not result in red or burned skin are best for vitamin D production.
What do you do to prevent sunburn?