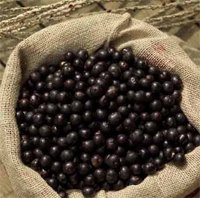 Since Oprah Winfrey started raving about the benefits of  Acai Berries that she included in her detox and weight loss regime many companies have rushed to launch their own products. There are sites all over the internet offering free trial bottles and these are some of the outrageous things that they claim this latest superfood can do for you:
Break Up and Remove Harmful Toxins!
Have More Energy! Fight Fatigue!
Reduce Gas & Boating, while Flattering your Tummy!
Wow! Sounds like a miracle to me. I was intrigued to know how a few capsules filled with an extract of Acai Berries (pronounced ah-sigh-ee) could do all this or is it just another elaborate scam?  What is it about this little berry that has suddenly got the media into a frenzy?
Here are some facts:
The Acai Berry grows in the rainforests of the Amazon and has been known for it's health benefits by the local people for thousand of years. The berries are said to contain twice as many antioxidants as blueberries, 10 times more than red grapes, are rich is fiber, minerals and omega 6 and 9 fatty acids.
Dermatologist and skin care expert Dr Perricone rates Acai berries as the number one superfood in his latest book overtaking both pomegranates and blueberries. There is no doubt that it's a great food if you can eat enough of it but here's the problem:
Many companies are claiming that it will help you lose weight without altering your diet or taking any exercise at all. Now that really would be a miracle!
Many products have been proven to be worthless. To preserve all the nutrients in the Acai Berry they have to be freeze dried as soon as they have been harvested. Many companies delay the processing and a lot of the nutrients are lost.
Some companies, it seems, are offering to send you a free trial bottle if you pay a postage charge but many people are complaining  that either the bottles do not arrive or that their credit cards are being charged $87 two weeks later for more product as they didn't cancel the free trial.  It pays to check the small print.
Others are offering an Acai Berry & colon cleansing combo which makes more sense. The benefits of a clean, healthy colon are endless. People are reporting weight loss and improved energy with this but that can come from colon cleansing on its own. You can lose weight by clearing out your colon but you won't lose any fat. Once your digestive system is working better your whole body can work better which could lead to fat loss if you detox chemicals, eat the right diet and do some exercise.
Acai Berry Detox or Scam?
Will Acai Berry supplements detox you? In a word NO. It's true that antioxidants are needed as part of the detox process as free radicals are created when the liver cells come into contact with toxins. The berries contain some amino acids and vitamins and minerals that are involved in the detox process but no more so than many other foods. If you have been reading about detox you will know that it takes more than taking a superfood supplement to detox.
Its great to add a high quality Acai product to your diet if you want to for its antioxidant benefits but don't expect the rapid weight loss effect that many are claiming. It just won't happen. Manufacturers have are using the latest buzzword "detox" to help their sales. So don't fall for the Acai Berry Detox & weight loss scam. If you really want to learn about effective detox to lose weight then get my Recharge and Energizing Detox eGuide.