We're always being told breakfast is the most important meal of the day so if you've decided to detox when the weather is cold you will probably be wanting some tasty breakfast detox recipes that don't chill you to the bone.
Time and time again researchers have found that eating a healthy breakfast every day plays a big part in losing weight and keeping it off. Studies have also shown that people who skip breakfast are more likely to be lethargic and less active during the morning.
Here's how to turn familiar healthy breakfast foods into detox food.
Detox Pancakes
Almond pancakes have become popular with the Paleo diet crowd but did you know that 1 cup of almond flour contains about 90 almonds? That's quite a lot of calories if you are detoxing to kick start weight loss.
If you miss your regular ration of pancakes why not try some garbanzo flour pancakes instead. Garbanzo flour (aka gram flour, chick pea flour and besan) is gluten free and higher in protein that most other flours. The fat and protein help to keep you feeling full as they don't trigger insulin or spike your blood sugar. You can mix in a little almond flour if you like.
Garbanzo Bean Pancakes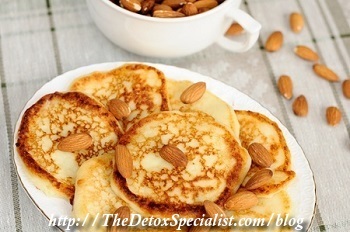 Makes 8 x 4 inch diameter pancakes
Ingredients
3/4 cup garbanzo bean flour (gram, chickpea flour)
1/4 cup almond flour (ground almonds)
1 teaspoon baking powder
1 cup coconut milk
1 large, organic egg
1 tablespoon coconut oil, melted
1 teaspoon pure vanilla extract
Pinch of Celtic or Himalayan salt
Extra coconut oil for the pan
Instructions
1. Preheat a frying pan or skillet over a medium heat.
2. Whisk together the flours, baking powder, and salt in a large bowl,
3. In another bowl whisk together the coconut milk, egg, melted coconut oil and vanilla.
4. Add the liquid ingredients to the dry and whisk well to combine.
5. Add a little coconut oil to the fryimg pan and when melted ladle about 1/4 cup of the batter into it and cook until air bubbles appear along the edge of the pancakes. Turn over carefully and cook until lightly brown the other side.
Eat the pancakes with some left over or freshly steamed veg.
You can add some ground cumin or fresh ginger or both to the mixture before cooking if you like a touch of spice.
Gluten Free Detox Porridge

Although we tend to think of porridge as being make with oats, porridge made with other grains have been eaten around the world for thousands of years. Rice porridge known as congee has long been a favorite breakfast in China.
Whole grains contain soluble fiber which helps to keep your bowels moving. It's so important when you are detoxing to get those toxins out of your body as quickly as possible. If they stay in your system long enough certain bacteria can release the toxins so they get re-absorbed into your body where your poor liver has to do the work all over again.  You don't want that to happen do you?
Crockpot (slow cooker) Gluten Free Porridge
Serves 6 – 8
Ingredients
1/2 cup short grain brown rice,
3/4 cup quinoa,
3/4 cup millet
1/2 cup buckwheat groats
2 tbsp flax seeds
2 handfuls raisins
½ teaspoon ground cinnamon
9 cups pure water
1 tsp natural vanilla extract
Instructions
1.Wash all grains well.
2. Stir grains, raisins and flax seeds together in large crockpot (5 – 6 quart)
3.Pour water over and cook overnight on low until grains are soft. (at least 5 – 6 hours)
4. Serve topped with a handful of fresh nuts and fresh fruit.
Experiment with different spices and combinations of gluten free grains.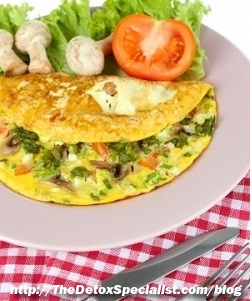 Detox Veggie Omelete
You may not think that eggs make good detox food but they contain amino acids that the liver uses to attach to toxins so that they can be excreted safely. Researchers believe that as well as having antioxidant properties turmeric may increase the liver detox system.
This omelet is really simple, quick, and very easy to make. The egg and veg combo will really help to keep you feeling full for longer.
Ingredients
Makes one omelet
2 organic eggs
1/4 tsp turmeric powder (make sure it is lead free)
1 handful of baby spinach
2 teaspoons fresh, finely chopped chives (or fresh tarragon, chervil or parsley)
¼ cup cherry tomatoes, quartered
Left over steamed asparagus or broccoli, chopped
coconut oil or ghee for cooking
Celtic or Himalayan salt
Black pepper
Instructions
1.Beat together the eggs, spinach, turmeric powder and chives or other herbs
2.In a small skillet melt some coconut oil or ghee over medium heat and swirl round pan, pour in the egg mixture and cook for about 2 to 3 minutes.
3.Flip with spatula and cook another 2 minutes.
4.Reduce heat to low and add cherry tomatoes and veg then fold omelet in half (one side over the other). Cook for another minute or so to allow veg to warm through and then serve.
5.Add salt and pepper to taste.
Detox Me Veggie Soup
It might seem a strange idea to have soup for breakfast if you are not used to it but you can make it the day before and just heat up what you want the next morning. It's tasty, slips down easily and is full of minerals and beneficial phytochemicals that support the detox system. You can experiment with different vegetables and in different amounts. Broccoli sprouts can help you detox environmental pollutants.
Makes 4 servings
Ingredients
1 zucchini (courgette) medium
4 large kale or cabbage leaves
1 small head broccoli
2 green onions, scallions, (spring onions)
1 large organic carrot
1 large celery stalk
1/2 pound green beans, fresh
3 medium tomatoes or 1/2 can organic chopped tomatoes
1 small bunch fresh parsley
1 handful cilantro (coriander)
1 clove garlic
1 tbsp tamari or coconut aminos ( optional)
2 cups ( 1/2ltr) vegetable stock
1 avocado, diced (for serving)
Handful broccoli sprouts for serving
Instructions
1.Wash & finely chop or process vegetables, reserving a little parsley for garnish.
2.Add to large pan with stock
3.Bring to a gentle boil, then lower the heat, cover, and simmer gently for 30 minutes.
4.Add the tamari or coconut aminos if using
5.Ladle into serving bowls, top with the reserved chopped parsley, some diced avocado and broccoli sprouts Enjoy!
So, what do you think of these detox recipes? Would you eat any of them for breakfast?  I'd love to know so please let me know in the comments.