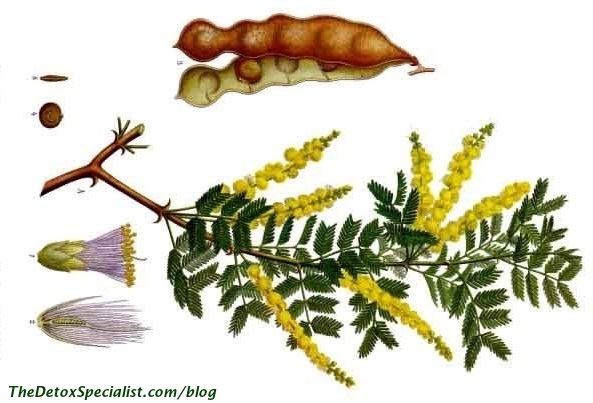 I've noticed that Acacia fiber has been discussed a lot recently in some of the online health groups so I thought it would be a good idea to write a post about it.
If you haven't heard of it that may be because it used to be (and still is in some cases) known as Gum Arabic. Doesn't quite have the same ring to it does it?
Acacia fiber is derived from the sap of the Acacia Senegal tree, a small thorny tree that's native to Africa, India, and Pakistan.
It's a complex polysaccharide which is indigestible to humans but rich in soluble fiber. This is the sort of fiber that absorbs water inside your digestive system. It softens the stool so it can travel through the digestive system more easily.  It has quite a few health benefits.
It usually comes in the form of a powder supplement like this one and can be consumed in various ways. In most cases, the powder is dissolved in liquid, sprinkled on foods, or added to various recipes.
When consumed, the fiber can help to increase the beneficial bacteria in your gut, which is why many believe that it's effective at detoxing your gut. Good bacteria do have a detox function. They can degrade pesticides in the gut and sequester toxic chemicals.  Read on to find out more about acacia fiber.
Related reading: The Return of the Fiber Trend is good for Bowel Cleansing
What is Acacia Fiber?
As mentioned, acacia fiber is derived from the Acacia Senegal tree. It's sometimes called the acacia gum or gum Arabic. The fiber is said to provide a number of health benefits, such as providing relief from IBS and it's also used for weight management.
Acacia fiber is usually found in the form of powder and can be mixed with water and taken as a beverage. People seem to prefer it over other types of fiber since it is not gritty and will not thicken. Overall, it produces a fairly mild taste, which is much easier to consume.
Health Benefits of Acacia Fiber
Although there have not been enough studies done on the effects of acacia fiber on health, there have been pieces of evidence showing that it may provide certain health benefits. Here are some of them:
Detoxing your Gut with Acacia Fiber
95% of acacia fiber is soluble fiber, which is responsible for the health benefits mentioned above. It's important to have regular bowel movements when you are following a detox diet plan so toxins processed by your liver can be eliminated from you body as fast as possible.
The toxins from the liver are put into bile and stored in the gall-bladder. The bile carrying the toxins is released from the gall-bladder when you eat fat so it's important not to restrict healthy fat in your diet. Then it travels through the digestive system where should get out as quickly as possible.
Related reading: Liver Detox: 10 Foods That Detox Your Liver Naturally
Acacia fiber is beneficial to the gut, not only because of the presence of soluble fiber but also because it's a rich source of prebiotics.
Prebiotics are responsible for feeding the beneficial bacteria in your gut and can also help combat the growth of unfriendly bacteria and yeasts. By promoting the growth of beneficial gut bacteria, your body's ability to absorb nutrients will be greatly improved. You'll get more nutrients out of the food that you eat.
How To Take Acacia Fiber
Acacia fiber is now widely available to buy online and is also being sold in natural food stores. These fiber supplements are usually being sold in powder form, although it can also be bought in capsule, tablet, or gum form.
Food manufacturers add acacia fiber to various food products, like cereals, baked goods, and grain-based bars but you are more likely to see it listed as gum arabic.
When bought in powder form, acacia powder can be mixed into water. It is then consumed like a beverage. A lot of people prefer acacia fiber to other types of fiber supplements since it is not gritty and does not thicken. Above all, it has a fairly mild taste. It can be easily added to food and drink and of course smoothies.
Here's a tasty acacia smoothie recipe that good for detoxing your gut.
Acacia  Super Smoothie
1 frozen banana
Handful spinach
1/2 cup frozen mixed berries
2 tbsp acacia fiber
1 tbs chia seeds
1 cup coconut water
Put all ingredients into your blender and blitz until very smooth. Drink slowly and enjoy!
Here's another recipe for  a tasty Acacia Chia Pudding
Ingredients
Serves 2
1 organic banana
3/4 cup organic almond milk, unsweetened
2 tbsp chia seeds
1/2 cup pineapple chunks or organic strawberries
1 tbsp organic Acacia Fiber Powder
Toppings
Desiccated coconut
Finely chopped nuts
Directions
1. Place all the ingredients except toppings into your blender and blitz until very smooth and well combined.
2. Place mixture into a lidded jar and put in the fridge overnight to allow the mixture to thicken.
3. When ready to make the puddings, spoon a little of the mixture into 2 glasses and layer with your chosen fruit.
4. Top with the remaining chia mixture and finish with some desiccated coconut or your favorite nuts. Enjoy!
Side effects
When taking fiber-rich supplements, such as acacia fiber, it's important that you drink enough fluids. That way, you can avoid any potential side effects, such as bloating, gas, and constipation. These side effects are common in people taking high doses of fiber.
Related reading: Delicious Detox Water Recipes Your Body Will Love!
Some users have also reported suffering from other side effects, such as mild diarrhea, early morning nausea, and bloating, especially during the first week of taking the supplement. If you start with a small amount and build it up gradually you can probably avoid any side effects.
Conclusion
Medical experts believe that further research is required in order to determine whether the acacia fiber is truly beneficial in detoxing your gut. Nevertheless, taking the acacia fiber is a great way to get enough soluble fiber into your diet. This helps to promote good health and keep you protected against certain diseases, including diabetes and heart diseases.
Have you tried acacia fiber yet? If you have why not share your results with my readers in the comments.