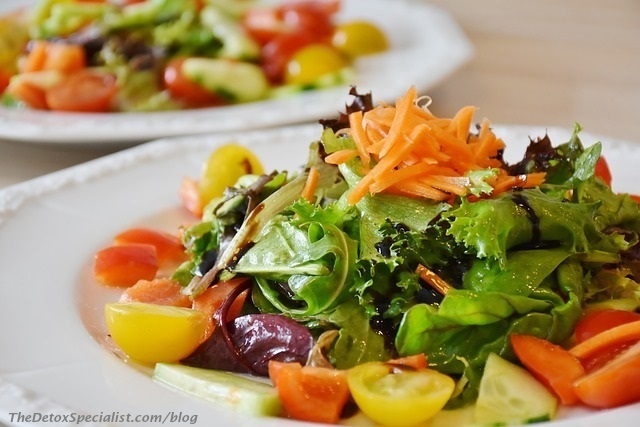 While it's common to embark on some sort of weight loss diet or healthy eating plan at the beginning of the year you would get much better results if you cleansed your digestive system first. When was last time you completed a digestive system cleanse? Chances are, not recently or worse – never!
You stand a much better chance of achieving your weight or health goals if your digestive system is working effectively. Naturopathic and Functional Medicine doctors invariably start with the digestive system when they see their clients. If you don't digest your food properly, absorb it and eliminate the wastes then you can't be healthy. It's as simple as that!
Ideally, digestive system cleanses should be done regularly. The truth is that most people will only complete one when they notice something is wrong with their body.  Now is the best time to start cleansing your system of residual toxins, and promote regularity.
Let's take a look first at some of the problems that can be associated with a poorly functioning digestive system.
Problems associated with poor digestion
Lack of energy – as a result of poor or malabsorption of nutrients in food as well as toxins leaking across the gut wall
Skin issues – including development of liver spots, dry skin,  discolorations, spots and rashes
Digestive anomalies – constipation, bloating, frequent heart burn, indigestion, irritable bowel
Food intolerance or allergies – you may find yourself intolerant to certain foods and sensitive to common environmental allergens.
With that in mind, there are various methods you can undertake to facilitate effective detox.
Effective Cleanses And Detox Methods For Your Digestive System
Exercise
An under-rated method of detoxing the digestive system is exercise.  Apart from the fact that exercise is extremely efficient at getting the blood and lymph circulating to the bowel to deliver nutrients to the cells and carry away wastes it promotes intestinal motility and subsequent bowel movements. Certain yoga poses can also help with digestive system cleansing.
Exercise also helps with eliminating toxins from the body via sweat and enhanced removal from blood to the liver where they undergo transformation to less harmful substances that can be eliminated via the bowel and kidneys.
Bentonite Clay
Did you ever imagine that clay is super effective as a digestive cleanse and detox?
Yes, clay is able to achieve detox in a way different from the typical "bowel movement" inducing effect of others; it is able to attract positively charged toxin molecules, since it is negatively charged itself. The cleanse results in removal of toxins that would not normally be affected by mere laxative based products.
Bentonite clay is also alkaline in pH, can relieve diarrhea and heartburn. It is sometimes used in a foot soak where it can also draw out toxins. Clay is quickly becoming one of the primary modes of detox, both for the digestive system and body as a whole.
P & B Shakes
You may have heard of P & B shakes that people use for bowel cleansing. P & B is short for Psyllium and Bentonite. Psyllium husks are soluble fiber which act as a bulking agent so is good for both constipation and normalizing for diarrhea.
Put 1 tbsp liquid Bentonite and 1 tbsp Psyllium Husks or 1 tsp Psyllium husk powder into a container that has a lid. Add 8 oz filtered water or diluted juice, put on the lid and shake up vigorously to mix. Drink it down right away or it will set into a sort of gel. It's best to take it on an empty stomach and don't eat for at least a hour afterwards. Don't forget to drink plenty of fluids during the day while you are doing the cleanse.
Related reading: Amazing Green Clay for DetoxRaw Food Detox
This method of digestive cleanse involves a period of eating only fresh, uncooked vegetables and fruits, in an effort to "fiber load" the intestines and expel toxic residue. This type of detox is also highly alkaline, which is good for normalizing gut bacteria (the good bacteria that make up your microbiome) and eliminating fungal colonization with candida. It's important to drink lots of pure water to facilitate the healthy transit of the raw foods out the colon.
Related reading: Raw Food Detox and Weight Loss
Liquid Detox
A very common method of detoxing the digestive system, liquid detox diets can be good ways to flush residual matter out of the colon, while enhancing energy levels and keeping the body nourished. It is a fact that liquid diets are nowhere as satisfying as solid food, but thanks to the high nutritional values of juices and smoothies consumed during this diet, chances of nutritional deficiency is low. After an initial drop in energy, your body quickly becomes accustomed and performs as normal.
I do recommend green smoothies over juices for a digestive system cleanse as they contain fiber whereas juices do not. Don't get me wrong, fresh vegetable juices have their place in detox diet plans but for this type of cleanse green smoothies will do a better job. I got myself well with 6 fresh vegetable juices a day with a special diet for 6 months when I had chronic fatigue so I value them. I only came across smoothies some years later.
Flax Seed Cleanse 
Flax seeds,  also known as linseeds in some countries, comes from the flax plant.  Flax seeds are high in fiber content so are excellent for cleansing the gut. They contain plant-based omega-3 fatty acids in the form of alpha-linolenic acid which can help calm down inflammation in the gut.
The seeds form a gel like substance when mixed with water or just eaten with food and can help bulk up stool and flush waste from the gastro-intestinal tract.  They also serve as a prebiotic for enhanced growth of the beneficial organisms in the gut.
You can find instructions for using these superfood seeds for gut cleansing in this blog article >  How To Do A Flaxseed Cleanse
Bottom Line
Try any of these digestive system cleanses to clean out your body and feel better today! Better still try my Easy 4 Week Digestive System Cleanse for tremendous improvement in your health.