The actress Joanna Lumley says she stays slim by eating lettuce, followed by lettuce with lettuce. Well, you don't have to go quite that far but making sure you eat some nourishing detox salads this winter will stop you piling on those pounds this festive season.
She apparently also said that people get fat by foolishly gorging themselves on treats and because they eat everything in front of them. She so rightly says that people don't need dieting books, they just need to stop eating so much.
There is a lot of truth in that but you do need to be eating the right things if you want to stay healthy. It's no good thinking that you can eat and drink to excess over the festive season and repair the damage with a New Year Detox. It doesn't work like that.
If you have already done some detoxing this year then good for you. Don't spoil it now by being tempted with all the unhealthy, calorie laden food that the festive season brings. It takes a lifelong commitment of healthy eating to keep the detox system running at peak efficiency.
If you haven't done any detoxing at all before then a good way to start is by introducing some nourishing detox soups and detox salads into your diet this season.
Here are a few Winter Detox Salad Recipes to tempt you.
Red Rice & Beet (Beetroot) Salad
Serves 4
Ingredients
½ Kg cooked beets, peeled
150g Red Rice (Camargue Rice)
1 orange, grated zest & juice
1½ tbsp extra virgin olive Oil
50g pistachio nuts shelled
4 green onions ( spring onions) chopped
Small bunch mint, roughly chopped
A little Celtic or Himalayan salt
Black pepper
Directions
Cook rice in pan of boiling water for 30 minutes until tender.
Drain well and cool.
Quarter and slice beets neatly and place in large bowl.
Mix olive oil, orange zest & juice together and pour over beets.
Add rice, pistachios, green onions and mint and gently mix together.
Season with a little Celtic or Himalayan salt and black pepper to taste
Celeriac ( Celery Root) Special
Serves 4
Ingredients
3 medium celeriac, peeled and grated
2 large carrots, well scrubbed, grated
½ red pepper, seeded and chopped
½ green pepper, seeded and chopped
4 oz chopped pecans
12 black olives, stoned
A few large lettuce leaves to serve
Directions
Mix all ingredients except olives together well
Add some of the mustard dressing and mix well
Arrange some large lettuce leaves on a plate.
Pile on the salad and decorate with olives.
Tangy Mustard Dressing
Ingredients
2 tablespoon grain mustard
2 tablespoons apple cider vinegar
6 tablespoons extra virgin olive oil
1 little honey or agave nectar to taste
A little Celtic salt and black pepper
Directions
Whisk vinegar, mustard, honey, salt and pepper in a small bowl.
Slowly whisk in oil.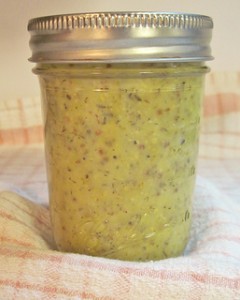 Chick Pea Salad
Serves 6 – 8
Ingredients
225g chick peas
450g mixed vegetables such as sugar snap peas, green beans, carrots, peppers, celery.
Directions
Wash and slice, dice or chop the vegetables into small pieces.
Steam lightly for 5 minutes.
When cool place all ingredients in a bowl and add some healthy herb dressing.
Mix well and serve.
Healthy Herb Dressing
4 tbsp extra virgin olive oil
4 tsp apple cider vinegar
½ – 1 tsp honey ( optional)
1 tbsp chopped parsley
1 tsp chopped fresh marjoram or ½ tsp dried
1 tsp chopped fresh thyme or ½ tsp dried
Pinch Celtic salt
Directions
Mix the vinegar,malt or honey and salt then slowly add oil using a fork, or food processor.
Mix in the herbs.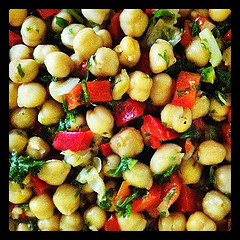 Eat the detox salads for lunch, as a starter before your main meal or as a snack between meals to support your detox system for radiant health. Enjoy!
Picture Credits:
Mustard dressing
Chick pea salad