3 Day Detox Diet
I came across these wonderful infographics on Pinterest recently and though it would be a good idea to share them here.
This first 3 day detox diet is based on Green Smoothies and I recognised it as part of Dr Oz's 3 Day cleanse.   The website the infographic came from claims that it will transform your life inside and out.
Let's get real here for a moment. A 3 day detox will certainly help to start detoxing your body but let's face it, a detox cleanse as short as this is not going to get rid of years of toxins that have accumulated in your body.
Dr Oz says you can "reset" your body with it.  A short detox like this is good to do to get you started on a healthy eating plan or to do when you have overdone it during the festive  season or other occasions.
Some people who have tried it have said that the green tea helps to prevent the headaches you can get when you stop coffee if that is what you normally drink.  His version includes 1 tsp stevia in the tea which a lot of people have said is too much. Personally I don't like anything in my green tea as I think it spoils the taste.
There is more to it than shown here. Dr Oz's plan includes some supplements and an Epsom salt bath in the evening.
You may lose a few pounds while doing the detox but it's likely you will put it back once you start eating again. I hope though that it will help to "reset" your body and you will stick to a healthy diet and continue to drink at least one green smoothie every day.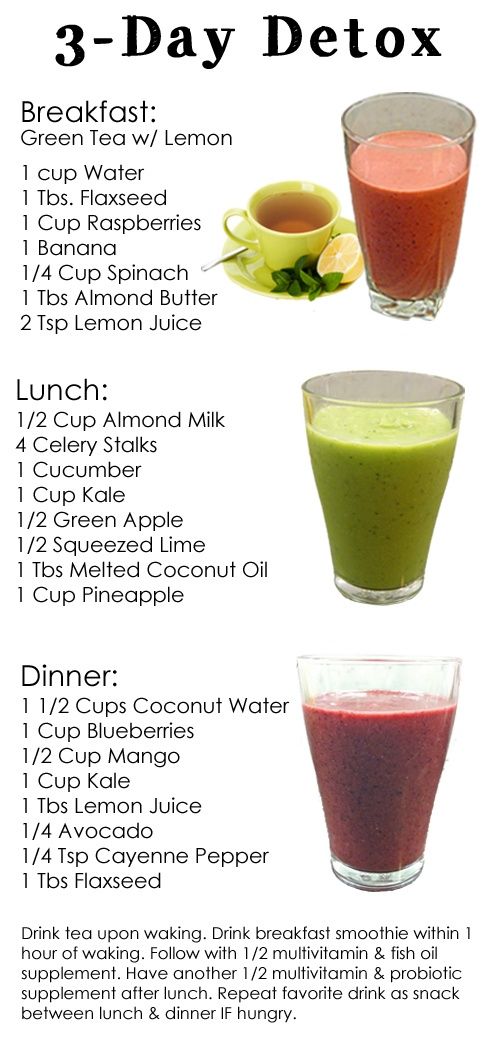 If you don't feel up to living on nothing but green smoothies for 3 days then why not try this second 3 Day Detox Diet Plan which includes food?
The first two mornings start off with fruit smoothies but Day 3 shockingly suggests oatmeal with brown sugar and skim milk!   Not good in my view at all.  Sweeten the oatmeal instead with a little fruit juice, coconut sugar, raw honey, organic blackstrap molasses, organic maple syrup or pureed dates.
Instead of dairy milk, unless you can find raw goats or cow's milk, you can use some coconut milk or almond milk.
For the pasta meal on days 1 & 3 I recommend that you use a gluten free pasta. Wheat is something that is best avoided when you detox.
The detox seems a bit low on veg to me so I don't see why you couldn't add some steamed veg to the marinara sauce and add a couple of more veg to the spinach on Day 2.
If you are making your own soup then take a look at these detox soup recipes:  Detox Soups For Winter Cleansing
You could also add a little home made dressing to the salad. There is nothing wrong with a little virgin olive oil and lemon juice dressing with a few herbs or mustard to perk it up a bit.
I don't think that having a few more cups of green tea or herbal tea will be a problem either.  If you don't like drinking plain water try some of these detox waters: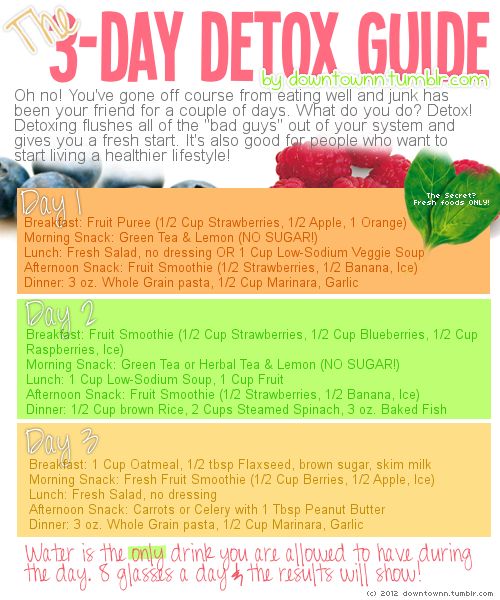 So what do you think of these 3 day detox diets? Which one do you like best? Let me know in the comment box.
If you want to know more about detox and are ready for a longer detox then check out my Recharge and Energize Detox Plan.
Don't forget to share this post using the share buttons below  if you think others would find it useful. 🙂
Save