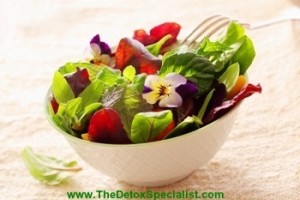 Do you like bowl food? Power bowls are all the rage on Pinterest or Instagram right now. People are posting mouthwatering pictures of rice bowls, breakfast bowls, acai bowls, nourish bowls, smoothie bowls, Budda bowls and noodle bowls and it struck me that many of these make excellent detox power bowls.
Who says that detox food has to be confined to a glass or a plate? Why not a healthy, tasty, nourishing, easy to eat bowl of food that will boost your detox system?
Nigella Lawson, the TV chef, recently commented on her cooking program that she would eat everything from a bowl if she could. I agree with that. There's something about eating eating tasty and nourishing food from a bowl that's so very easy and satisfying.
It seems to be a trend that's here to stay. Even restaurants have taken to serving meals in bowls although true bowl food should be something you can eat from a bowl without a knife and fork.
The power bowl trend for 2016 is for bowls of healthy food featuring raw and cooked vegetables, greens, whole gluten free grains or pseudo-grains (really seeds), beans or bean sprouts for protein, and jam packed with good fats like avocado, chia seeds and almonds.
Perfect food for a detox diet!
A tasty and nutritious way to start your day is with a Green Smoothie Açaí Bowl
The internet is awash with açaí berry recipes but here is a tasty recipe to start you off.
This fruit that comes from Brazil is absolutely loaded with antioxidants but is hard to get fresh. Look for acai berry powder or frozen acai puree instead.
Green Smoothie Açaí Detox Power Bowl                                                
Ingredients
1 organic banana
1/2 cup organic blueberries
1/2 cup organic strawberries
1/2 cup coconut milk
1 tablespoon Brazil nut butter
Large handful fresh organic baby spinach
1 heaped tablespoon açaí powder
1 tsp chia seeds
Extra berries, seeds, or unsweetened coconut chips for topping
Directions
Blend all the ingredients on high speed until smooth and creamy.
Top with more berries, pre-soaked seeds or coconut chips and enjoy.
For lunch try this cooked veg detox salad
Detox Quinoa Power Bowl
Makes 1 large serving
Ingredients
1 cup organic sweet potato, diced into 1″ pieces
½ cup organic beets, diced into 1″ pieces
1 cup organic broccoli florets
2 cups organic kale, central stem removed, cut into ribbons
2/3 cup cooked chickpeas
1/2 avocado, sliced
1/2 cup cooked quinoa
2 tablespoons organic olive oil hummus
1 teaspoon paprika
Celtic or Himalayan Salt
Freshly ground black pepper
Cashew dressing (see recipe here)
Directions
Steam sweet potatoes and beets gently until just tender.
Remove from steamer and keep warm.Add broccoli and kale and steam for another 2 – 3 minutes.
Meanwhile, gently warm quinoa if necessary
Toss chickpeas in a bowl with paprika and season to taste with salt and pepper. Arrange quinoa and vegetables in a large bowl Add chickpeas and avocado on top and add a dollop of hummus, thinned with a little extra virgin olive oil and lemon juice if necessary, on top.
Enjoy!
For even more "power" try this raw food detox bowl
Back To Your Roots Detox Power Bowl
This raw detox salad gives you a full array of vitamins, minerals and antioxidants that will help boost the detox pathways.
Ingredients
Serves 2 -4 depending on appetite
2 cups green salad leaves, shredded
2 baby turnips, grated or spiralized
2 medium organic parsnips, grated or spiralized
2 medium organic carrots, grated or spiralized
1 organic orange sweet potato
1/2 red bell pepper, de-seeded and diced
1/2 yellow bell pepper, de-seeded and diced
3 green onions (spring onions), trimmed and finely sliced
1 cup sunflower or other sprouts
Small bunch fresh parsley or basil, chopped
Mustard Dressing
2 tablespoons freshly squeezed lemon juice
1/2 teaspoon ready made Dijon mustard (no added sugar)
1/4 teaspoon Celtic or Himalayan salt
4 tablespoons organic extra virgin olive oil
Directions
Place salad leaves in bottom of a large serving bowl
Toss other vegetables together with a little dressing
Place on top of salad leaves
Add sprouts and finely chopped parsley or basil
Hand extra dressing separately
Dressing
Place ingredients in a small jug and whisk with fork until well combined.
Alternatively, place in a small jar with lid and shake until combined.
For a substantial and filling dinner Detox Power Bowl try this black bean and rice stir fry.
Black beans together with rice are a good source of protein, healthy fiber, disease fighting antioxidants, and vitamins and minerals.
Studies have linked eating black beans with helping to protect against inflammation, heart disease, weight gain, diabetes and some cancers.
Black Bean & Brown Rice Stir Fry Detox Power Bowl
Ingredients
Serves 4
4 cups cooked organic brown rice
1 can (19 oz/540 mL) black beans, drained and rinsed
2 tablespoons avocado oil
2 baby bok choy, halved
1 cup organic baby spinach
2 cups red cabbage, thinly sliced
1 medium red bell pepper, thinly sliced
1 medium green bell pepper, thinly sliced
1 cup carrot, shredded or cut into matchsticks
1 clove garlic, crushed or finely chopped
2 tsp toasted sesame oil
2 tsp no added sugar chili sauce
Celtic or Himalayan salt
Freshly ground black pepper to taste
Directions
Heat avocado oil in a large skillet or wok over medium heat.
Add bok choy with 2 teaspoons pure water. Cover and cook for 3-4 minutes until wilted and leaves are tender. Remove from wok.
Add spinach, cabbage, bell pepper, carrots, black beans and sesame oil, chili sauce, and garlic to pan and stir-fry for 4 minutes, until vegetables are soft, spinach is wilted and beans heated through.
Add bok choy back to wok and stir fry for for 1 minute more.
Add salt and black pepper to taste, cover and remove pan from heat
Meanwhile gently re-heat rice in sieve over boiling water.
Fill serving bowls with rice. Top with stir fried veggies and beans.
Serve immediately.
Dessert?
Yes! You can even have a detox power bowl for dessert. How about that?
Raw Buckwheat Coconut Pudding Detox Power Bowl
Buckwheat is a very nutritious seed. In spite of its name it has nothing to do with wheat and is completely gluten free. It's become so popular recently thanks to the Sirtfood Diet and a couple of TV chefs that it's gone mainstream.
Ingredients
Serves 2
1 cup raw buckwheat, soaked in pure water to cover overnight or 6 – 8 hours
½ cup unsweetened organic coconut milk
2 tsp raw organic agave nectar
1 mango, peeled and cut in cubes
Raw organic sprouted sunflower seeds and/or soaked nuts, for topping
Directions
Drain the water from the buckwheat and rinse well and drain again.
Place the buckwheat, coconut milk and agave nectar in your blender and pulse to obtain a smooth paste.
Divide equally between 2 serving bowls, top with mango cubes and some drained nuts, chopped and sprouted seeds.
Serve immediately.
It's very easy to build your own power bowls. Here's how:
Choose a base:
1/2 – 3/4 cup cooked quinoa, brown rice, millet, buckwheat, amaranth or 4 ounces wheat free soba (buckwheat) noodles, brown rice noodles, vegetable noodles.
Choose your veggies:
Dark, leafy greens are super-healthy and should be a part of your detox bowl. They can be raw or cooked. You can steam them, saute them, or stir-fry them.
Veggies should form the bulk or your detox bowl. Aim for at least 1 cup raw or cooked. Choose from avocado, tomatoes, cucumber, radish, zucchini (courgettes), Brussels sprouts, beets (beetroot), carrots, broccoli, cauliflower, onion, bell peppers or mushrooms.
Choose your protein:
3/4 cup beans or lentils or 1/2 cup tofu. You can add animal protein if you like such as organic chicken, free range turkey, wild salmon or organic eggs.
Toppings:
Add flavor with fresh herbs, a few fresh unsalted and unroasted nuts or seeds, a few raw olives or add pesto, hummus, plain live yogurt, tahini or a fresh sauce.
According to an article I read recently there's a science to the 'perfect power bowl', which is based on macrobiotics. The most powerful bowlfood is made up of 15% lean protein, 25% whole grains, 35% vegetables, 10% sauce and 30% extras which includes nuts, seeds and sprouts.
See how easy it is?
Healthy Power Bowls are great for detoxing, helping with weight loss and boosting your overall health.
Have you tried them yet? Got any favorites? Share them with my readers in the comments below.