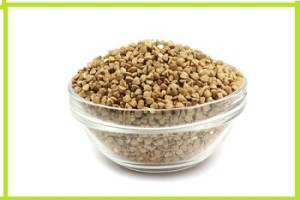 Two of UK's major supermarkets have recently reported a 80% surge in demand for the miracle food buckwheat. Who would have thought that this humble detox food would suddenly go mainstream?
That's the power of TV chefs who have suddenly latched on to this gluten free pseudo grain. It could also be due to the fact that buckwheat is a major player in the best selling Sirt Food Diet.
Buckwheat is often used as a detox food as it is a very nutritious alternative to gluten grains which should be avoided when you are detoxing. Although it is gluten free it behaves like gluten in recipes so is useful for cooking.
I don't know who came up with the name buckwheat because it is nothing to do with wheat. It's in a class of foods called pseudo grains or pseudo cereals because it can be used in much the same way as grain or cereals although it's actually a seed related to rhubarb of all things.
Dieticians who are up in arms against removing a whole food group from the diet please take note that any good detox diet does not remove an entire food group like gluten grains without replacing it with another food that is equally, if not more nutritious.
Grains increase blood sugar and inflammation
It's known that grains, even whole grains, and cereals do cause a rise in blood sugar levels although not as quickly nor as high as refined grains so still can contribute to dangerous levels of inflammation in the body. Inflammation is now recognised as the underlying cause of heart disease, cancer, Alzheimer's and other diseases.
Grains are a poor source of vitamins and minerals and have an improper balance of essential fatty acids that is one cause of inflammation in the body.
Buckwheat is very nutritious
Buckwheat, on the other hand, provides a complete source of protein having more protein than rice, wheat, millet or corn, a rich array of essential nutrients and soluble and insoluble fiber.
There is a certain amount of disagreement about it's glycemic index number with some saying it's low and other saying high but I think it all boils down to what form you eat it in and what you eat it with. It's the Glycemic Load that matters more than the individual glycemic index of foods.
Canadian researchers confirm that that buckwheat has, in fact, a powerful blood sugar stabilising effect. A Chinese study published in the American Journal of Nutrition discovered that eating 100 gms of buckwheat a day provided heart protective and healthy cholesterol levels.
Using buckwheat in place of wheat and refined grains can nourish and protect the body.  Dr Micahel Prager, dermatologist and healthy ageing expert recommends eating buckwheat pasta in place of regular pasta as part of his regime for beautiful skin.
Buckwheat groats are inexpensive, nutritious and easy to prepare. Like all seeds and beans buckwheat contains anti-nutrients such as phytic acid, a substance that reduces our absorption of minerals such as calcium, iron, zinc, and magnesium, and, enzyme inhibitors.
Acvtivate your buckwheat
Sprouting is an important part of the preparation of buckwheat as it brings the seed back to life. Sprouting activates essential enzymes that break down inhibitors so the nutrients are more bioavailable and absorbable.
Buckwheat is very easy to sprout. Russell James the raw food chef shows us how to do it in this video:
Buckwheat Recipes
I often have this raw sprouted buckwheat recipe for breakfast about 30 minutes after my Green Smoothie. It's ideal for eating when you are following a detox diet. Just use this as a basic recipe and experiment with other spices, seeds and superfoods.
Sprouted Buckwheat Breakfast Bowl
Ingredients
2 – 3 heaped kitchen tablespoons ( 1/2 cup approx) organic sprouted buckwheat
1 tbsp organic chia seeds or ground linseeds
1 tbsp hemp powder (optional)
1 tsp raw organic maca powder
1-3 tbsp very low heat melted organic coconut oil
½ cup organic almond milk, coconut milk or pumpkin seed milk
1 tsp ground cinnamon to taste
Organic Coconut yogurt ( optional)
A few organic blueberries ( optional)
Directions
Soak buckwheat sprouts and chia seeds in chosen milk overnight in a cool place. Allow to come to room temperature before eating. Alternatively use half the chosen milk for soaking and low heat the remainder if, like me, you prefer your breakfast less cold.
If you prefer your buckwheat more crunchy then soak in milk for 15 minutes in the morning to allow the chia seeds to expand a little.
Add maca powder, hemp seed powder if using, and ground cinnamon to taste and stir well
Top with coconut yoghurt and blueberries if you like.
Yummy!
One of the most popular ways of using buckwheat is to make pancakes with buckwheat flour.
Here's a recipe based on one by Alexandra founder of Creative Simple Life
Coconut Buckwheat Pancakes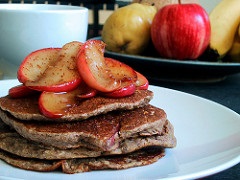 Using flour made from sprouted buckwheat makes the pancakes a lot easier to digest and better for people with blood sugar problems.
Ingredients
2 cups organic sprouted buckwheat flour
2 tsp baking soda
1 tsp sea salt
1 can organic coconut milk or 2 cups of non dairy milk of your choosing
2 organic eggs
2 Tbsp maple syrup or date puree
2 Tbsp organic coconut oil or ghee + more for for the pan
Directions
Mix together the flour, baking soda, and sea salt in a medium mixing bowl.
In another bowl, beat together the coconut milk, eggs, maple syrup, and coconut oil.
Once thoroughly mixed, add this liquid mixture to the dry mixture.
Stir until the batter is mostly smooth.
Set it aside for 10 minutes to allow the flour to fully absorb the liquid ingredients.
Preheat a cast iron skillet on medium heat for 5 minutes.
Add some oil for frying the pancakes.
Pour ¼ cup of the batter per pancake onto your preheated skillet, pan, or griddle.
Cook the pancakes for 1½ minutes per side, flipping when bubbles begin to burst at the surface and the edges begin to look cooked.
Serve hot with a little organic maple syrup or date puree.
When you want a change from rice based detox salads give this buckwheat based salad a try. The amino acids in the buckwheat will provide you with good protein that is so often lacking in detox diet food.
Buckwheat Garden Detox Salad
Based on a recipe by Sonia,  The Healthy Foodie
This is quick and easy to prepare even though there is a longish list of ingredients. The trick is to have the buckwheat already cooked then all you have to do is toss all the ingredients together. Easy peasy!
Ingredients for 2 servings
1 cup buckwheat groats
2 cups pure water
½ tsp Celtic or Himalayan salt
½ chayotte, finely diced
12 large green olives, pitted and quartered
1 small red bell pepper, diced
1 cup broccoli florets, chopped
¼ cup red onion, finely chopped
50g organic walnuts, chopped
½ cup fresh dill, chopped
2 tbs fresh mint, chopped
Juice of 1 organic lime
2 tbsp apple cider vinegar
1 tbsp organic extra virgin olive oil
½ Celtic or Himalayan saltsalt
½ tsp freshly ground black pepper
Directions
Bring water and salt to a boil in a small saucepan.
Add buckwheat groats, reduce heat, cover and cook until all water has absorbed, about 10 minutes.
Remove lid and allow to cool for at least 30 minutes.
You can also cook your buckwheat groats the previous day and let them cool overnight.
Add all ingredients, including cooled buckwheat to a large mixing bowl.
Mix well to combine .
Serve immediately or leave in a cool place for a few hours to allow the flavors to develop.
There is no end to the ways you can use this versatile detox food for breakfast, lunch and dinner. There are so many delicious recipes for it on the internet that there is no excuse for not giving it a try.  Have you ever tried buckwheat? If not will you try it now? Let me know in the comments below. I would love to hear from you.