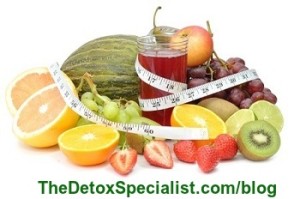 Detox recipes do not have to be boring or tasteless. Gone are the days when you deprive yourself in order to detox. Quite the opposite in fact.
The best detox diets include nutritious food that contain the nutrients needed for the detox system to function efficiently. Many people have slow or compromised detox pathways because of their processed and junk food diets that lack these vital nutrients.
The latest detox diets are actually more about creating healthy habits that you can carry with you long term. Dr Mark Hyman's new book Eat Fat Get Thin is one good example.
Dr Hyman is not stranger to detox. One of his best selling books was the The Blood Sugar Solution 10-Day Detox Diet
which was, you may have guessed, is about sugar detox.
Now in his latest book he turns our understanding of why we get sick and fat completely upside down.
The latest science shows that if you eat FAT, you get THIN and reverse heart disease, type 2 diabetes, and more.
Just about everything we've been told about fat is completely wrong!
Dr Hyman has kindly allowed me to reprint some of the recipes from his new book Eat Fat, Get Thin
here as they make good detox recipes too.
I have taken the liberty of changing olive oil for avocado oil as the latest advice is that we should not heat olive oil. I have also specified organic for some of the ingredients to make them more suitable for detox.
As I explained the latest detox diets are about eating in a way that supplies your body with the nutrients that rev up the detox system so it can deal with all those chemical toxins that we are bombarded with on a daily basis.
Detox Recipes
Ginger Spice Smoothie                                                                                                                                           
This creamy, spiced, low-carb smoothie is a great way to start your day and get it into fat-burning mode. The ginger is also great for digestion.
This smoothie may not sustain you all morning but you could make double the amount and have a second glass midmorning. Alternatively, allow 30 minutes before eating a healthy breakfast or if you don't have time for that have a snack of a handful of almonds and seeds or a healthy gluten free, sugar free breakfast bar or muffin.
Serves 1
1 Cup organic almond or cashew milk
2 tablespoons organic raw almond butter
2 teaspoons grated ginger
¼ teaspoon grated nutmeg
1 handful organic baby spinach or greens of choice
Place all the ingredients in a blender and blend until smooth and creamy.
Steamed Salmon Fillets With Lemon Aioli
Steaming is a fast, easy, and nutritious way to prepare salmon. It can be served warm or chilled, making it easily transportable to the office or other away-from-home dining spot. You can steam and chill the salmon ahead of time.
Make sure you do not buy farmed salmon as it will contain far more polluants than wild salmon.
Makes 4 servings Prep time: 20 minutes Cook time: 10 minutes
For the steaming broth:
4 cups filtered water
1 bay leaf
2 cloves garlic, crushed
3 fresh thyme sprigs
1 carrot, roughly chopped
1 rib celery, roughly chopped
½ small onion, roughly chopped
1 large organic lemon, quartered
For the lemon aioli:
½ cup organic mayonnaise
juice and zest of 1 organic lemon
1 clove garlic, finely chopped or grated
pinch of Himalayan salt
pinch of white pepper
For the salmon:
4 (6‑ounce) skinless wild salmon fillets
¼ teaspoon Himalayan salt
¼ teaspoon freshly ground black pepper
In a wide 5‑ to 6‑quart pot, combine all the broth ingredients, squeezing the lemon quarters into the water and adding the lemon rinds to the pot.
Place a steamer rack, either metal or nonstick silicone, in the pot.
The broth level should just meet or be below the level of the steamer rack.
Bring just to a boil.
Turn the heat down to low, place a lid on the pot, and simmer the broth for 15 minutes to blend the flavors.
While the broth is simmering, combine all the aioli ingredients in a small bowl and stir until smooth. Set aside to serve with the salmon.
Sprinkle the salmon fillets with the salt and pepper.
Place the salmon fillets in a single layer on the steamer rack and replace the lid.
Steam the salmon for 5 to 6 minutes or until the salmon reaches an internal temperature of 145°F when tested with a digital thermometer.
The fillets will be a light pink-orange color.
Serve the salmon warm or cool with 2 tablespoons of the lemon aioli per serving.
Pair with Lemony Broccoli Slaw.
You can make ahead and chill the salmon or store leftovers in the refrigerator in a glass container with a tight-fitting lid. It's best enjoyed within 2 days.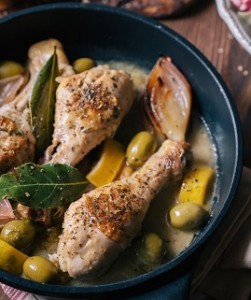 Greek Chicken Thighs With Artichokes And Olives
Please don't be put off by the long list of ingredients. It only takes 15 minutes to prepare and it will be well worth it I can assure you. We have to make time for our health. It pays dividends in the long run.
Mediterranean flavors of lemon, oregano, artichokes, and olives make for a delicious dinner dish. Look for jarred, pitted olives, but also check out the options in the deli section of your market. Serve this dish in shallow bowls with the vegetables and juices poured over the top and on the side, and a tossed green salad with a quarter of an avocado per person, dressed with vinaigrette
Yield: 4 servings Prep time: 15 minutes Cook time: 25 minutes
8 bone‑in, skin‑on, organic chicken thighs (about 2. pounds)
¼ teaspoon sea salt
¼ teaspoon ground black pepper
¼ teaspoon granulated garlic
1 medium onion
2 1/2 tablespoons organic avocado oil or coconut oil
3 large garlic cloves, finely chopped
1 can (15 ounces) water-packed artichoke hearts, well drained
4 ounces mixed, pitted Greek olives
1 1/2 cups low-sodium chicken broth
2 tablespoons fresh chopped oregano leaves (or 2 teaspoons dried)
1 large organic lemon, sliced into thin rounds (preferably Meyer lemon)
2 tablespoons filtered water
1 tablespoon arrowroot starch
Trim any excess fat from the chicken thighs. Season the chicken with the salt, pepper, and granulated garlic.
Cut the onion in half through the root end. Peel, then lay the onion flat on a cutting board and slice crosswise into thin half-moons.
Heat 1 1/2 tablespoons of the avocado or coconut oil in a large, heavy, wide pan (3‑ to 4‑quart braiser or saute pan) over medium heat. When the oil is hot, add the chicken, skin side down. Cook until the skin is crisp and golden brown, 7 to 9 minutes. Move the chicken thighs to a plate or rimmed baking sheet.
To the same pan, add the onions and cook until softened, 3 to 4 minutes. Add the chopped garlic and cook 1 minute more. Add the drained artichoke hearts, olives, broth, remaining 1 tablespoon oil, and oregano. Add the chicken thighs back into the pan and top with the lemon slices.
Bring the mixture to a strong simmer, put the lid on, and reduce the heat to medium low. Simmer over low heat for 12 to 13 minutes or until the thighs reach an internal temperature of 165°F when measured with a digital thermometer.
To serve, place the chicken thighs in shallow bowls and pour the vegetables and jus over the top. If you prefer thicker gravy, in a small bowl or measuring cup whisk together 1 tablespoon arrowroot starch and 1 tablespoon cold water until smooth. Remove the chicken thighs from the pan. Stir arrowroot mixture into the pan and stir and cook 1 to 2 minutes, until the juices thicken into gravy.
Did you ever imagine that you could eat such delicious recipes and detox your body at the same time?
Want more?
To celebrate the launch of his latest book, Eat Fat, Get Thin, bestselling author Dr. Mark Hyman has created a powerful Q & A Video that covers the top questions he gets about fat, and simple strategies you can implement today to look and feel your best in no time.
If you're ready to lose the extra pounds, have more energy immediately, and learn how to prevent or even reverse chronic disease naturally, you won't want to miss this.
To watch the FREE Q & A Video and find out how you can get his new book CLICK HERE.
Will you be making these delicious detox recipes this weekend?
Recipes images by kind permission of Dr Hyman