Filling your plate with a variety of colorful vegetables and fruit, a rainbow of foods, for your detox diet not only looks so appetizing but is one of the easiest ways of of boosting your intake of precious nutrients that rev up the detox system and reduce the risk of a whole range of health problems.
Plant foods are generally low in calories and will help you maintain a healthy weight. They are high in fiber which helps keep you regular which is essential for detox and helps protect against bowel cancer.
Protective pigments
Vegetables and fruits get their vibrant colors from phytochemicals (natural plant chemicals) that have a host of health boosting properties. Different pigments have different benefits so eating a rainbow of plant food ensures you get the widest possible range of nutrients while you detox without having to check what each food contains.
Plant foods also contain many other non colored phytochemicals that can benefit your health.
Antioxidants
Many phytochemicals are anti-oxidants and can combat harmful free radicals that are created during the detox process and everyday living and damage your cells and cause cancer. There is such a huge diversity of free radicals and the way that they do damage that there is no single anti-oxidant that provides all the protection you need. A wide variety of antioxidants are essential to promote optimum health and minimize the effects of aging, degenerative disease and exposure to toxins.
Contrary to to what the media would have us believe about the latest superfood that will help you live longer, improve your memory, prevent illness or turn back the clock there is no single food that can do this. To get the most from your detox diet and be healthy you have to eat a variety of fruit and vegetables.
A Rainbow of Foods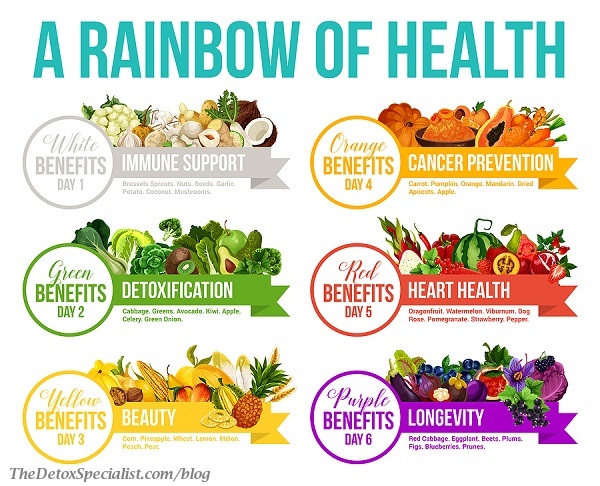 Red foods:
Tomatoes, red peppers, watermelon, pink grapefruit, strawberries, raspberries, cherries, cranberries.
What do they do?
Tomatoes, watermelon and pink grapefruit contain lycopene an antioxidant that researchers say can help protect against prostate cancer. Strawberries and raspberries contain ellagic acid which also has potential anti-cancer effects. Red peppers and tomatoes are rich in beta-carotene another antioxidant.
To find out more about lycopene and other mesonutrients read my article: Mesonutrients | Beyond Superfoods For Boosting Health
Orange foods:
Carrots, oranges, apricots, mangoes, Cantaloupe melon, sweet potatoes.
What do they do?
Orange colored fruit and vegetables usually mean they contain beta-carotene which the body can convert to Vitamin A.
Citrus fruit can be good for Vitamin C which help fight free radicals.
Yellow foods:
Yellow peppers,  butternut squash, sweetcorn
What do they do?
Yellow foods contain various carotenoids. Sweetcorn is a good source of lutein which researchers tell us help to protect against age related macular degeneration.
Green foods:
Cabbage, Brussels sprouts, broccoli, kale, spinach, apples, kiwi fruit.
What do they do?
The brightest and darkest greens contain the most phytochemicals, Green chlorophyll is an antioxidant that directly neutralizes free radicals. Most green vegetables contain beta-carotene. Broccoli, Brussels sprouts cabbage contain flavonoids and carbinols which boost the activity of the phase 2 liver detox enzymes. They are especially important in the prevention of cancer.
Blue foods:
Blueberries, black grapes,
What do they do?
Blue foods usually contain anthocyanins, another type of anti-oxidants. Most dark berries are full of are rich in Vitamin C.
Purple foods:
Egg Plant (aubergine), blackberries, red cabbage, beets ( beetroot).
What do they do?
Purple fruit and vegetables are also good for anthocyanins. Some research suggests they could slow the growth of cancer cells. Beetroot contains compounds which could help lower high blood pressure.
White foods:
Onions, garlic, leeks, cauliflower, parsnips and mushrooms.
What do they do?
The onion family are a source of allicin which decomposes to sulfenic acid and reacts with free radicals. The onion family also supply sulfur which is used to detoxify some toxins. Cauliflower, a brassica, like broccoli, cabbage, Brussels sprouts contains flavonoids and carbinols which helps to boost the phase 2 liver detox enzyme.
Next time you eat think about color and variety in your rainbow of foods. For optimum health try to include at least three colors of vegetables or fruit on your plate whether you are following a detox diet or not.
Note: Some of  this information was adapted from an article by Carina Norris in the World Cancer Research Fund Newsletter.
Save