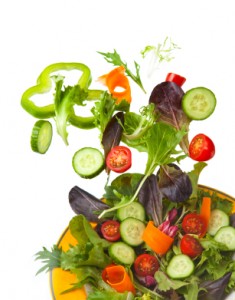 If you are put off healthy detox diets because you can't face living on your usual boring salad for a week or more then read this.  Raw food coach Karen Knowler gives her tips below on how to liven up your salads and  make them exciting!
Salads: The What, The Why and The How
What you should know:
There are salads and then there are salads! Many people get used to thinking of a salad as simply some lettuce, tomato and cucumber when in fact there's hundreds of ingredients that can go into a salad, making for countless fantastic permutations. Salads can be as exciting or as simple as you please. The quickest way to transform a salad so that anyone will eat it is with a great dressing.
Why salads are good for you:
Salads are a vital part of a raw food diet – they provide a wide variety of vitamins and minerals as well as important fibre and chlorophyll. Salads help you stay balanced as they usually revolve around greens and other low sugar vegetables. Salads make it easier for you to incorporate other foods into your diet that you may not eat alone. Salads help carry more dense foods such as nuts, seeds, cheese and meat through your body more easily.
What you'll need:
A good knife is all that's required but a grater makes things more interesting.
How to make a great salad:
First of all decide how big you want your salad to be and choose a plate or bowl large enough to accommodate it (pasta bowls are good) then select from the following:
Base
Take a look at the lists of leafy greens, herbs and wild greens and then choose from two to five different varieties. Tear, shred or arrange whole, as desired.
First layer
Select a few salad fruits and/or vegetables and grate, dice, chop, slice away until your salad has a good layer of high-water content foods covering the greens. Be imaginative and vary the textures and shapes and arrange them artistically. If you want something sweet, small amounts of apple, orange and pineapple will probably be digested easily so long as they do not form a large part of your main salad.
Second layer
Add in any of the denser foods which appeal from the following list: sprouted beans, young sprouted grains, indoor greens, soaked or dried seeds, soaked or dried nuts, soaked dulse or other sea vegetables, olives, mushrooms.
Topping
To finish off you might want to consider adding one or some of these: fresh herbs, edible flowers, dried seed/herb/veggie/sea veggie sprinkles, ground ginger, ground flax (linseed) and/or of course a sumptuous salad dressing.
Salad ideas:
If you are eating a purely vegetable based salad, don't be afraid to experiment with adding some tangy or sweet fruit pieces such as orange, apple, pineapple, peach, mango, grapes or grapefruit. It can make all the difference.
Learn how to make some great dressings so that when salad doesn't seem so appealing you can turn it around and enjoy it immensely.
Here's one of Karen's salad recipes:
Ingredients:
Serves one.
½ -1 head of lettuce (Green Batavia is my lettuce of choice for this)
3 large handfuls of rocket (arugula)
15 sundried tomato halves – ideally the ones in oil, or at least pre-soaked
10 baby plum tomatoes (or other small tomatoes)
3 spring onions (scallions) finely chopped
OPTIONAL: 5 cm length of cucumber diced
OPTIONAL: 1 punnet of fresh cress
Directions:
Finely shred or tear the lettuce and place into a large bowl.
Add in the rocket (arugula) and toss both greens together to ensure an even mix.
Add in the chopped sundried tomatoes and the chopped baby tomatoes. Also add the optional cucumber and cress at this stage if you have them.
Toss all ingredients together well.
Serve with a favourite dressing (a thick and creamy one is good!). I make mine by blending 1 cup of cashews, 1 cup of water, 1 Tablespoon of apple cider vinegar, juice of half to one juicy lemon and a pinch of Himalayan Crystal Salt. This doubles up as a sauce or dip, and you can make it as runny as you wish.
When you serve all of the above together – the salad and the dressing – it makes the most incredible meal, especially when served with fresh orange juice as a side drink, like I do!
© Karen Knowler, The Raw Food Coach publishes "Successfully Raw" – a free weekly eZine for raw food lovers everywhere. If you're ready to look good, feel great and create a raw life you love get your FREE tips, tools and recipes now at www.RawFoodCoach.com.