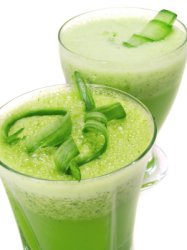 Here is an easy,  1 Day Detox from Frederic Patenaude that anyone can safely follow, once a week or so:
BREAKFAST:
Either skip breakfast, or make a light smoothie consisting of some fruit and greens.
For example:
* 3-4 bananas
* 1-2 cups of sweet fruit (mango, papaya, pear, apple, etc.)
* 2 cups of baby spinach
* water
Blend together
LUNCH:
Same as breakfast, or have a fruit meal of one or two types of fruit. (eaten whole or as a smoothie.) For example: papaya and banana, blended together or eaten together.
AFTERNOON SNACK:
Make another green smoothie. Here's one of my favorites:
* 3-4 bananas
* 1 ½ cups of frozen blueberries
* 2 cups of spinach or romaine lettuce or other greens (non-bitter)
Blend with water!
DINNER:
If you're really hungry, start dinner with some fruit, or a fruit smoothie or soup.
Then follow with a simple vegetable soup.
Here's one that I really like:
* 2 medium tomatoes
* 2 small cucumbers, peeled
* 1 mango or 1 cup of another fruit
* fresh basil, or dill
* 2-3 green onions, fresh
The idea here with this soup is to blend it at the lowest speed in your Vita-Mix or blender. It should still be chunky. Dice the tomatoes and cucumbers. Blend together and add the other ingredients. Blend slowly!
If you're still hungry after this soup, you could make a non-fat salad, or eat more fruit. As long as you avoid oils, nuts and other fatty foods, as well as salt, you'll still be following the guidelines for the cleanse!
Try this one-day detox, and you'll see how great you feel. Now imagine what 5 or 7 days could do for you…
Related reading: 5 Day Raw Food Detox | Detox Recipes
Frederic Patenaude has been working in the natural health movement for over 8 years, and has over 10 years of experience in the field of nutrition, health and personal development. He is the author of several books including the Raw Health Starter Kit.
Save
Save