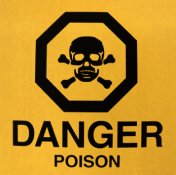 I could hardly believe my eyes when I read a recent newspaper article where a British journalist claimed that toxins were invented relatively recently by the alternative health industry purely to sell detox products!
She said that the whole business of detox diets was based on the spurious concept that toxins build up in our bodies and damage our health and the debatable theory that if we purge them from our bodies then we will be purer. She adds that when you read the rubbish written about toxins you'd think that, unless you are willing to remove them from your body, you're more or less asking for a shorter life.
Well this is just another case of the journalist not doing her homework or simply making up a story for the effect. If she had bothered to do some research about toxins she would have found good evidence that they really do build up in our bodies and can shorten our lives.
Researchers from the World Wildlife Fund UK and the Environmental Working Group USA discovered that when a newborn babies take their first breath they are already contaminated with a range of toxic chemicals. They found a shocking average of 200 industrial chemicals and pollutants in umbilical cord blood.
180 of the 287 found in babies born in US hospitals cause cancer in humans or animals, 217 are toxic to the brain and nervous system, and 208 cause birth defects or abnormal development in animal tests. This is fact not fiction.
Jeffrey Bland, the American researcher and nutritional biochemist who introduced the concept of Functional Medicine has stated that "illness is related to problems of the digestive and liver detox systems and their influence on the immune, nervous and endocrine system". So it's true to say that toxins can shorten your life.
What are toxins?
A toxin is a substance that is harmful to your body. It is any substance that if allowed to build up in your body will cause damage to your cells. This includes substances produced in your body as well as substances that you take in through food, water and air and things you apply to your skin.
Internal toxins

Fermentation – bad bacteria and yeast create dangerous toxins right inside your body, a common problem in the digestive system
Putrefaction & rancidity from undigested foods
Toxic thoughts and emotions.
Normal metabolic processes produce lactic acid, pyruvic acid and urea that have to be detoxified.
The detox process itself produces free radicals that are damaging if left unchecked.
External toxins
inhalation – smoking, air pollution, dental amalgam fillings, sick buildings
ingestion – chemical residues on food, chemicals in water, drugs
injection – vaccinations, flu shots, tattoos
absorption – chemicals from personal care products, synthetic fabrics, paints, plastics, pesticides and chemical fertilizers sprayed on lawns
irradiation – medical x-rays, nuclear power plants, bomb testing, uranium mine tailings, cell phones and towers, computer monitors and televisions, microwave oven
Here are the top 5 sources of toxins and how to reduce your exposure:
# 1. Food
Your food contains more toxins than you may think. Processed foods are full of chemicals and additives that can create cravings, weight gain poor digestive health and food allergies.
But it's not just processed food. Conventional produce is full of pesticides. In fact, over one billion pounds of pesticides are used on food in the US alone. These pesticides have been linked to symptoms ranging from muscle cramps and heart rate changes to irritability and emotional instability.
To reduce your exposure to food toxins:  Choose whole foods instead of processed foods. In addition, choose organic fruits and vegetables. Organic produce is grown without harmful pesticides in mineral rich soil.  Eating organic, whole foods is a great step you can take toward health and wellness.
# 2.  Water
Tap water is just full of  toxins. The Environmental Working Group found over 140 contaminants in tap water. And over the past few years, studies have shown that prescription drugs and over the counter drugs, are being found in tap water. Substances such as antibiotics, anti-depressants, birth control pills, seizure medication, cancer treatments, pain killers, tranquilizers and cholesterol-lowering compounds have been found in tap water!
The fluoridation of drinking water is something that has been highly debated for decades and is too big a subject to cover in any depth here. Fluoride is a class 2 poison, only marginally less poisonous than arsenic. It can inhibit enzyme systems, damage the immune system, contribute to calcification of soft tissues, makes bones more brittle, worsen arthritis and, of course, cause dental fluorosis in children.
Your body is between 70 – 90% water so it pays to be particular about your water. Many bottled waters have been shown to be just as bad as tap water and there is a danger that toxins leach form the plastic bottles.
To reduce your exposure to water toxins get a good water filter.
# 3. Environment
Your environment is also a major source of toxins. Pollution from manufacturing, cars and second hand cigarette smoke can be difficult to avoid. However, you can avoid a lot of the toxins inside and around your home.
Household cleaners containing bleach, ammonia and other toxic chemicals that can cause a wide range of health problems from nausea to skin problems, asthma and wheezing.
To reduce your exposure use natural household products, eco paints and natural untreated fabrics. Avoid using chemicals in the garden.
# 4.  Personal care products & cosmetics

The products we use to look our best may actually be the biggest source of toxins and aging. The skin is highly absorbent and anything you put on it is absorbed into your body.
Products like toothpaste, lotions, youth creams, soap, shampoo, conditioner, perfumes and makeup are full of toxic chemicals.
Read ingredient labels on your personal care products and avoid sodium laurel sulfate, sodium laureth sulfate, triclosan (found in antibacterial products), Parabens (Methylparaben, Ethylparaben, p-Propylparaben, Isobutylparaben, n-Butylparaben and Benzylparaben), mineral oil, petroleum, Diethanolamine DEA, Cocamide DEA, Lauramide DEA, alpha and beta hydroxy acids, talc, lanolin and phthalates.
# 5. Stress and negative thinking

There is strong evidence suggesting the existence of a link between psychological stress and chronic conditions such as depression, cardiovascular disease, infectious diseases, autoimmune conditions and HIV/AIDS,  Stress has an adverse effect on the good bacteria that live in your intestines and keep your immunity and digestive health strong.
It is important to try to reduce the stress in your life. If at work take lunch and tea breaks, and get physical exercise at lunchtime to release tension and activate natural endorphins. Discuss work or other concerns with a counselor, or friend who can give good advice. Resist turning to alcohol or drugs. Try meditation or other relaxation techniques.
Toxins were not invented.  While I accept that many companies take advantage of the concept of detox and push useless products there are others that make very good detox support supplements based on research.
With the right diet to encourage detox and a few changes in your day to day habits, you can live in the modern world and still take charge of health and longevity.