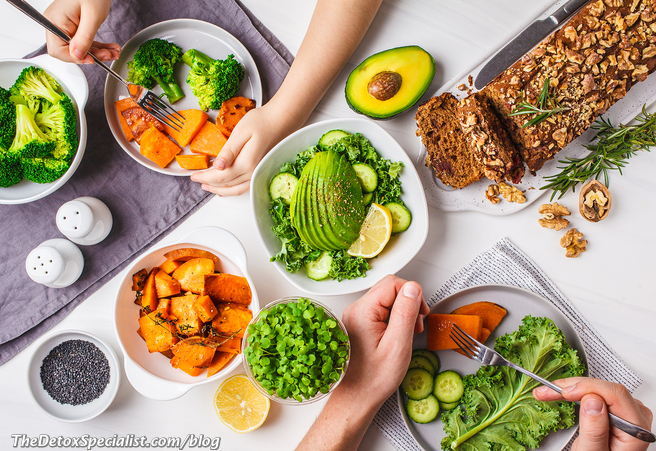 One of the most common excuses I hear for not continuing to eat more vegetarian food after following a detox diet is that healthy eating seems to be such a chore and people simply run out of ideas of what to prepare.
Well, now there is no excuse because nutritional therapist Barbara Cousins has just written Vegetarian Cooking Without after  numerous requests for healthy vegetarian recipes without the use of ingredients such as gluten, dairy produce, sugar, yeast and saturated fats.
If you've been following the Great Health Debate for the past couple of weeks you will have noticed that all the experts agree on one thing and that is above all we all need to eat a high plant based diet.
Whether you choose to eat animal products or not there is no getting away from the fact that you won't be truly healthy unless you eat ample  amounts of fresh fruit and vegetables.
High in fiber, vitamins, minerals and antioxidants
Fresh fruit and vegetables are full of fiber, vitamins, minerals and antioxidants that are needed for the good and proper function of all the cells in your body. Green leafy vegetables are the best source of highly alkalizing minerals: potassium, calcium, magnesium and sodium.
In a recent meta-analysis published in the Lancet it was found that those who ate a lot of fiber rich foods lived longer and healthier than those who didn't. Fruits and vegetables will ensure that you meet your daily recommended intake of 35 grams of fiber.
All researchers agree that a diet rich in whole food plants provide significant health benefits. It's no coincidence either that the diets offered by majority of healing centers are all plant based.
The Eskimos with their high fat and meat diet are an exception to the rule. Their genetic make up enables them to get enough nutrients from their traditional diet.
The reality is if you are from Asia, Africa, Central or South America or Europe then your genetics are more suited to a high plant based diet.
The problem that most people seem to have with increasing fresh fruit and vegetables in their diets is that in spite of the fact that they are quick to prepare and easy to eat they don't know how to make them into a tasty meal.
Healthy vegetarian recipes
Here are a few healthy vegetarian recipes that you might like to try.
Blueberry Buckwheat Pancakes
Ingredients
• 1 cup buckwheat flour
• ¼ cup ground flaxseeds
• 2 teaspoon gluten free baking powder
• 1 teaspoon cinnamon
• ½ teaspoon fresh ground nutmeg
• 1 organic banana
• 2 cups filtered water
• ½ cup buckwheat flakes or raw oats
• ½ cup organic blueberries
• Coconut oil
Directions
In a large bowl, mix together the flour, flaxseeds, baking powder, cinnamon and nutmeg.
In blender or food processor, blend the banana and water and then slowly add the dry mixture until smooth.
Add buckwheat flakes and blueberries (leave some blueberries to top pancakes with).
Lightly oil a frying pan with some coconut oil over medium heat. Pour batter onto frying pan to the desired size of pancakes.
Cook for about 5 minutes on each side. Top with fresh blueberries and organic maple syrup.
Fattoush (Middle Eastern Salad)
Ingredients
• 4 medium organic tomatoes, diced
• 2 scallions, chopped
• 1 organic cucumber, peeled, chopped, deseeded
• 1 cup fresh parsley, chopped
• ½ cup fresh mint, chopped (or spoon dried mint)
• 1 head organic romaine lettuce, chopped
Dressing:
• 3 tablespoons fresh organic lemon juice
• 3 tablespoons extra virgin olive
• 1 teaspoon Redmond Real salt
• 1 teaspoon allspice
• ½ teaspoon black pepper
Directions
In a salad bowl, add dressing ingredients and whisk together. Add tomatoes, cucumbers, mint, parsley and scal-lions and toss together.
Let sit in fridge for a couple of minutes to cool and blend flavors together.
Before serving, add romaine and toss again and serve
Carrot Almond Salad
Ingredient 
• 1 bunch thin asparagus tips cut into 2″ pieces
• 1 bunch thin baby organic carrots, sliced in half
• 1 cup sliced almonds
• ½ cup cilantro, fresh chopped
• 1 large clove garlic
• ½ jalapeno pepper, seeded and chopped
• 1/3 cup of extra virgin olive oil
• Juice of 1 organic lemon
• Redmond Real salt
Directions
In a skillet, toast the almonds over medium heat with a pinch of salt and a drop of olive oil, until they get brown, but not burnt and set aside.
Bring a pot of salted water to a boil and blanch the sliced and pieced carrots and asparagus. About 45 seconds. Remove from the water and put the vegetables in a bowl of ice water to shock them and stop them from cooking.
Combine the cilantro, garlic and salt in a food processor or blender. Drizzle in the olive oil slowly until you have a smooth dressing.
In a large bowl, mix the vegetables and dressing and most of the almonds and toss. Top with remaining almonds and a squeeze of lemon and serve.
For more recipe ideas check out these 5 Easy Vegan Recipes For Busy People.
Don't they just make your mouth water?
Barbara's Vegetarian Cooking Without Cookbook was created for both vegetarians and meat eaters. Vegans and vegetarians will find exciting new ways to prepare their meals. Meat eaters will discover tons of new salads, side dishes, soups, stews, snacks, and delicious desserts.
It makes such a change to find a vegetarian cookbook full of tasty healthy vegetarian recipes that do not contain cheese, milk, cream, wheat and refined sugar. The recipes were designed to improve your health.