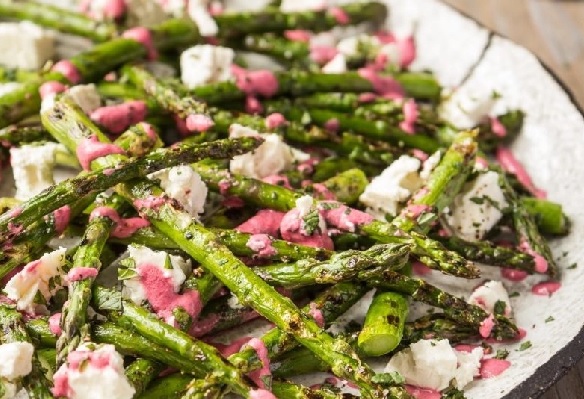 I came across some fresh asparagus recipes in a free newspaper that I picked up at the airport on my way to Spain and thought how good some of them would be for including on a detox.
Asparagus is considered a detox food because it contains glutathione, made up of three amino acids—glutamic acid, cysteine, and glycine. Glutathione plays an important part in phase 2 detoxification and is a potent antioxidant.
According to Dr Mark Hyman it's the most important molecule to stay healthy and prevent disease. He states
Glutathione is the mother of all antioxidants, the master detoxifier and maestro of the immune system.
There has, however, always been a certain amount of controversy over whether glutathione can be absorbed from food intact so some say it's useless to eat foods which contain it specifically to raise glutathione in the body.
However, I read a recent study where researchers found that it can cross the intestinal barrier although the study did involve supplements of glutathione.
One problem though is that glutathione is reduced when the food is cooked so it's best to cook it for a short a time as possible.
Nutrients in Asparagus
Asparagus is a very healthy vegetable containing numerous vitamins, minerals, fiber and antioxidants. It's an excellent source of vitamin K, folate, copper, selenium, vitamin B1, vitamin B2, vitamin C, and vitamin E. It also contains magnesium, manganese, phosphorus, potassium, choline, iron, zinc, calcium, vitamin C, vitamin B3, vitamin B6, Vitamin B5, and pro-vitamin A.
Many of these nutrients are needed for the optimal function of the detox system.
Besides glutathione asparagus also contains other antioxidants such as  rutin, quercetin and kaempferol.
Smell after eating asparagus
You may have been put off eating asparagus because of the way it can make your pee smell but it's not harmful. It's due to asparagusic acid an unique sulfur-containing compound that actually has beneficial antioxidant activity. Not everyone gets the smell or else they are unable to smell it.
There has been a lot of theories as to why this happens. The explanation is that in different people there are differences in digestion, differences in the absorption of asparagusic acid and in the way it's metabolized.
Asparagine a non-essential amino acid (not the same as asparagusic acid) in asparagus is thought to have a diuretic effect.
Fiber in asparagus
The fiber in asparagus is inulin, a soluble fiber which feeds the beneficial bacteria in the gut. Inulin aids in the improved absorption of nutrients.
It helps to detox the colon by lubricating the digestive system preventing constipation and cleansing toxins, waste, and cholesterol particles.
Here are some Fresh Asparagus Recipes that are an ideal detox food but tasty to have at any other time too. I have tweaked the recipes slightly to make them even healthier.
Fresh Asparagus Recipes
Griddled Asparagus with Feta and Beet Dressing
This recipe includes feta which is, or should be, made from sheep's milk or a combination of sheep's and goat's milk. Although dairy is usually excluded on a detox diet sheep's and goat's milk is often allowed as these animals are not intensively reared like cows and not fed antibiotics or pumped full of growth promoters.  If you can find organic feta so much the better.
Greek yogurt is included on a detox diet too as it is a fermented product and contains live bacteria which can be good for the gut.
Related reading: Yogurt: A Powerful Ally For Your Detox Diets
Ingredients
Serves 4
125g cooked beet
2 tbsp organic Greek yogurt
2 tbsp organic crème fraîche (optional)
1 small clove garlic, roughly chopped
2 bunches good quality asparagus, trimmed
2 tbsp avocado oil
Himalayan salt
Freshly ground black pepper
100g organic feta cheese, crumbled (should be made from sheep's milk)
Handful of mint leaves, chopped
Directions
Set a griddle pan over a medium-high heat, and leave for five minutes.
Make the dressing: put the beetroot, Greek yoghurt, crème fraîche and garlic in a deep jug and pulse to a smooth sauce with a stick blender. Season to taste.
Tip the asparagus into a mixing bowl and drizzle over the avocado oil with a little seasoning. Spread out on the griddle pan and cook for five minutes, turning regularly until lightly browned but not charred and just tender. You may need to do this in batches depending on the size of your pan.
Place the asparagus on a serving platter and drizzle over the dressing. Sprinkle over the feta and the mint and serve immediately.
Minted Pesto, Asparagus and Potato Salad
Ingredients
Serves 4
For the salad
250g organic cherry tomatoes, halved (or ready to eat sun-dried tomatoes)
2 cloves garlic, crushed
2 tbsp balsamic vinegar
2 bundles good quality asparagus
2 tbsp approx Avocado oil
500g new potatoes
Himalayan Salt
Freshly ground black pepper
For the pesto
Small handful fresh mint leaves
1 handful rocket leaves
30g walnuts
½ clove garlic
50ml extra virgin olive oil, or enough to loosen the pesto
30g Parmesan or vegan cheese, grated (optional)
Organic lemon juice, to taste
Directions
Pre-heat oven to 320F/160C. Halve the fresh cherry tomatoes, if using, and place on a baking tray. Add the garlic and balsamic vinegar, and bake for an hour. Remove from the oven.
Turn the oven up to 200°C/400F. Trim the ends of the asparagus and place on a roasting tray, drizzle with some oil, season and roast in the oven for 6 – 8 minutes.
Meanwhile scrub or scrape the new potatoes, halve them and boil gently until cooked through, drain and set aside.
For the pesto, place the mint in a blender along with the rocket, walnuts and garlic, and drizzle in the oil while blitzing until you have a loose consistency. Add the grated Parmesan or vegan cheese and season to taste with salt and pepper and lemon juice.
Place the potatoes and asparagus on a serving plate. pour over the pesto and scatter the roasted cherry tomato or chopped sun-dried tomatoes over them.
Asparagus with Lemon and Tahini Dressing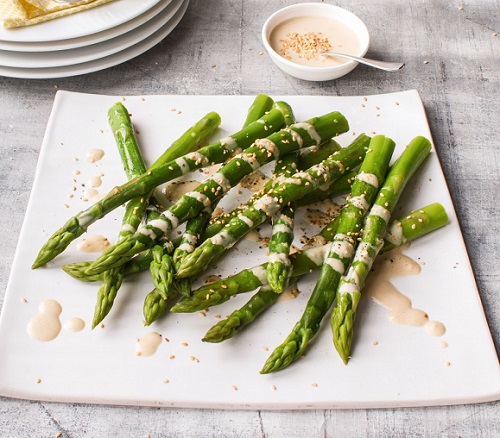 Ingredients
Serves 2
500g good quality asparagus
4 tbsp tahini
2 cloves of garlic, crushed
2 tbsp extra virgin olive oil
1 tsp clear honey
Juice of 1 organic lemon
Himalayan Salt
Freshly ground black pepper
1 tbsp sesame seeds
Directions
Blanch the asparagus for 2-3 minutes in a large pan of salted water. Drain and plunge into a bowl of ice-cold water.
To make the dressing put the tahini, crushed garlic, olive oil and honey in a small bowl and mix well. Gradually whisk in the lemon juice until thickened. Thin the dressing if necessary by adding 1 tbsp filtered water and mixing well. Season with salt and pepper to taste.
Tip the sesame seeds into a dry frying pan and toast until just starting to brown. Keep moving the seeds around the pan to stop them from burning. Once toasted, set aside to cool.
Place the asparagus on a small serving dish and drizzle over the tahini dressing then sprinkle with the sesame seeds.
Quinoa 'tabbouleh' with Asparagus and Kale
Quinoa is a useful gluten free, pseudo-grain to use when you are detoxing. It is high in protein and helps to keep you feeling full. Kale is of course a cruciferous veg and is another good detox food.
Related reading: Quinoa : Another Detox Diet Superfood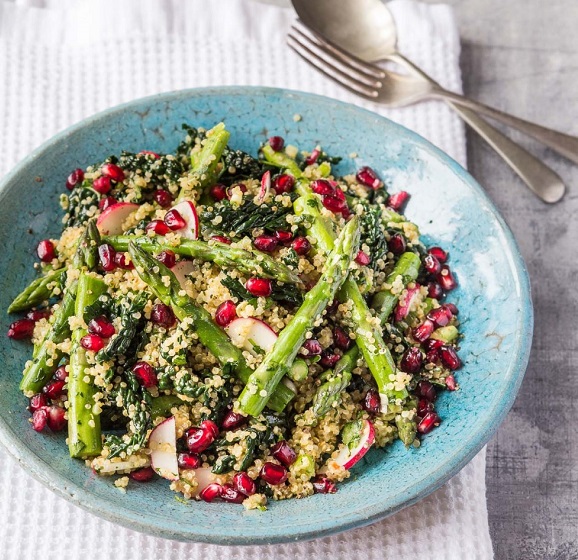 Serves: 4
Ingredients
For the tabbouleh:
200g quinoa
350ml hot vegetable stock
2 bunches good quality asparagus, trimmed and sliced into bite size pieces
200g organic kale, torn into bite sized pieces
1/2 bunch spring onions, finely sliced
1 large bunch flat leaf parsley, chopped
Handful of radishes, trimmed and thinly sliced
Seeds from 1 medium pomegranate (or a 200g pack pomegranate seeds)
For the dressing:
Juice of 1 organic lemon
1 tbsp raw honey
1 clove garlic, crushed
1 tsp dijon mustard (no added sugar)
6 tbsp extra virgin olive oil
Himalayan salt
Freshly ground black pepper
To serve (optional):
2 x 250g packs halloumi, cut into 1cm thick slices
1 tbsp extra virgin olive oil
Directions
Put the quinoa with the hot stock into a small saucepan and bring to the boil. Reduce the heat to
a very gentle simmer, cover with a lid and cook for 15 minutes until the grains are tender and the
stock absorbed.
To make the dressing put the lemon juice, honey, garlic and mustard in a small bowl and whisk.
Slowly pour in the olive oil whisking until thick and creamy. Season with salt and freshly ground
black pepper to taste.
Place asparagus into a pan of lightly salted boiling water and and simmer for 2 inutes. It should
be just tender. Remove and drain well then tip onto a plate and allow to cool.
Add the kale to the boiling water and cook for 2 minutes then drain and plunge into ice cold
filtered water to cool quickly. Drain well and spin dry in a salad spinner or place on a clean
drying cloth.
Add the kale to the bowl of dressing, along with the spring onions, parsley, radishes and blanched
asparagus. Toss together lightly to mix.
Once the quinoa is cooked, fork through the grains to separate and tip into the salad, lightly
mixing through. Spoon onto a serving plate and scatter over the pomegranate seeds before serving.
Asparagus and pea risotto with lemon and crème fraîche
Ingredients
Serves 2
600 ml organic chicken or vegetable stock
25g organic grass-fed butter
4 spring onions, chopped finely
2 cloves garlic, crushed and chopped
½ green chilli, deseeded and chopped finely
150g arborio rice
½ glass white wine
Half a bundle good quality asparagus, trimmed and chopped
100g organic peas
3 tbsp organic crème fraîche or bio-yogurt
Juice and zest of 1 small organic lemon
Handful chives, chopped finely
2 tbsp grated Parmesan or vegan cheese (optional)
Directions
Place the stock in a pan on low heat. Melt the butter in a separate, large pan then add the spring onions, garlic and chilli. Sweat for five minutes until soft.
Add the rice and mix well so it absorbs all the flavours and is well coated in butter. Add the white wine and stir gently until absorbed. Add the asparagus and start adding more stock ladleful by ladleful at a time stirring constantly until each one has been absorbed.
After 15 minutes of continual stirring and adding the stock, taste and adjust the seasoning and add the peas.
Cook gently for a further five minutes then turn off the heat. Add the Parmesan or vegan cheese, if using, and crème fraîche or bio-yogurt, lemon zest and juice and let them melt in.
Dish up onto serving plates and garnish with some chopped chives.
I have posted some more recipes which are low carb and keto on my Shed and Shape blog. The keto diet is also a type of detox diet as toxins are released from fat stores as fat is burned for energy in place of glucose from carbohydrates.
Get them here >> Healthy Asparagus Recipes For Keto