If you are struggling to lose weight and hate counting calories then the Alternate Day Diet with Green Smoothies could be the answer. Even if you do not need to lose weight you can get a tremendous energy boost and have incredible health improvements with this type of eating plan that includes a green smoothie detox on alternate days.
Scientists have known for the past 75 years that restricting calories in animals could make them live healthily for up to 40% longer than normal. They know that a very low calorie diet can keep arteries clear, give better blood sugar control, improve inflammation which is an underlying factor in many diseases, keep brain cells sharp and prevent diseases associated with aging.
Lose more weight on the Alternate Day Diet
Well that sounds great but at what price? Very few people have the will power to stick to a tedious regime of very low calorie eating where you feel hungry all the time.  But more recent research on animals showed that they still got all the health benefits if they restricted calories only on alternate days. In fact, you can lose more weight on the alternate day diet than on a conventional weight loss diet.
This way of losing weight does not slow your metabolism down like other calorie restricted diets. The alternate day diet can be followed indefinitely. Many people find that when they come off it they can maintain their weight without any problems if they eat healthily.  If you find though that your weight starts to creep up again just go back on the Alternate Day Diet until you have lost the weight again.
So how does it work?
Apparently, this type of diet triggers the "skinny gene". This gene known as SIRT1 is triggered by a calorie restricted diet activating it's amazing anti-aging and anti-disease powers. The effect of the gene is to block another gene responsible for fat storage so your body uses up more of your own fat stores and you start to lose weight.
But the good news is that researchers have discovered that SIRT1 is still triggered if you just restrict calories on alternate days. You can still get all the health benefits as well as weight loss if you only restrict your calories every other day. I think you will agree that it's much easier to stick to this sort of diet for one day at a time if you know you don't have to diet the next.
How to do the diet
Some popular women's magazines are suggesting that you starve one day and eat whatever you like the next.  Well this would be dieter's paradise if you could eat whatever you wanted but the truth is that to get the true health benefits of the diet you should eat a healthy diet on the days that you are not restricting calories and not binge on junk food.
Generally the advice is to eat plenty of fresh fruit and vegetables and avoid unhealthy fats. You know the type – hydrogenated and trans fats. Having said that,  it is important that you do not feel deprived and that you eat some of the food you enjoy. Over time though, as your body gets more nutrition from healthy food, you will crave unhealthy food less and less and be content to eat a very healthy diet.
Where do Green Smoothies come in?
On the low calorie day it is suggested that for the first 2 weeks that you stick to 500 calories.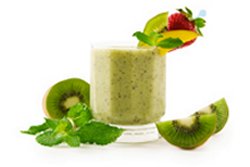 This would be an ideal time to drink Green Smoothies. If you make them with fresh juicy fruit and a variety of green leaves you would only get about 100 – 150 calories per smoothie.  Once you start adding bananas and other high calorie things like tahini that you see in some recipes then you are adding too many calories so this won't work.
This very low calorie period will trigger the skinny gene and after the first 2 weeks you can increase the calories on the subsequent low calorie days without sacrificing the effect of the gene.
Keep the calories to 25 – 35 % of your regular calories requirements. This means that you can have 625 – 875 calories if your normal eating days consist of about 2500 calories. So you could add some other fruit such as bananas to your smoothies or include some extra fruit and salad vegetables on the low calorie days.
If you are stuck for ideas for Green Smoothies, Robyn Openshaw, The Green Smoothie Girl, has produced what is probably the world's largest downloadable collection of Green Smoothie Recipes.  Robyn is another one who cured her health problems by cutting out dairy and sugar and refined foods and eating a 60% raw and whole foods diet. Since then she has helped many people eat a whole food diet easily and affordably.
Find out more here