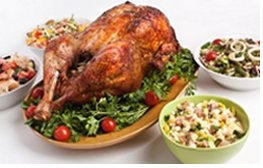 The foods that are traditionally eaten for the Christmas Dinner on Christmas Eve or Christmas Day vary so much around the world but Turkey is eaten in a good number of countries. Turkey itself is quite healthy but it's all the other high fat and high sugar things that are included in the feast that ruin it. Here are some healthy eating tips for Christmas dinner.
Related reading: Healthy Christmas Recipes That Won't Ruin the Detox
Start the day with a good breakfast. You will be less likely to want to nibble unhealthy snacks to keep you going. Try oatmeal porridge, muesli with yogurt, or whole grain toast with poached egg if it is cold where you live. If it's warm then a fruit smoothie with live yogurt, a bowl of fruit or muesli with fruit would be good.
If you need a snack to keep you going until the Christmas meal have a couple of clementines or satsumas , a few dates, figs or a handful of walnuts. Raw vegetable sticks with hummus or guacamole dips would be good too.
Free range or organic turkeys are better than intensively reared ones. Avoid sausages and bacon unless high quality organic.
Cut root vegetables into large chunks for roasting so they absorb less fat and cook them in a minimum of avocado or coconut oil. Coconut oil, a saturated fat,  is not damaged by heating. Olive oil should not be heated to high temperatures.  Health experts say that its health benefits are lost when heated. Use herbs instead of salt to give them flavor or use Redmond Real Salt from ancient sea beds. It won't be contaminated with plastic microfibers.
Steam your vegetables to preserve as many nutrients as possible. Brussels sprouts, a traditional Christmas dinner vegetable that so many people hate, are making a comeback as nutritionists and chefs point out their health benefits. Modern ways of stir frying them with garlic, ginger, spring onion (scallions) and a little soy sauce have made them more palatable for many who previously disliked them.
Opt for natural yogurt or fromage frais instead of cream over a small portion of Christmas pudding, the traditional dessert in the UK.  Dried fruit and fruit juice is so sweet that the pudding does not need any added sugar. When you make your next Christmas pudding look for a sugar free recipe. There are also some great recipes for pumpkin and apple pies that are not full of refined sugar. Try this delicious Low Carb Pumpkin Pie Recipe. Or what about trying a raw pumpkin pie recipe for a change? Try a fresh fruit salad or warm dried fruit salad with plums for a lighter dessert.
Choose grapes or a crisp apple to accompany cheese over crackers and butter.
If you can't resist trying everything simply watch portion sizes.  Eat in moderation, eat slowly, chew well  and savor every mouthful. Your stomach has time to signal your brain that you are full and you are less likely to want second helpings.
Avoid sugary fizzy drinks and opt for water with a slice of lemon or fruit juice. Whizz up an anti-stress green smoothie for a quick boost.
Don't drink alcohol on an empty stomach, drink in moderation and pace yourself. Follow each unit of alcohol with a glass of water to keep hydrated. Avoid mixing alcoholic drinks. Reduce your alcohol intake by mixing alcohol with non alcoholic drinks eg champagne & orange juice. If you happen to end up drinking more than you intended try this Detox Hangover Smoothie .
Get active. Don't slump on the sofa all day. Get out for a brisk walk if you can or put on some music and dance off the calories!
If you eat sensibly you can still enjoy your meal without feeling guilty and without ruining the detox.