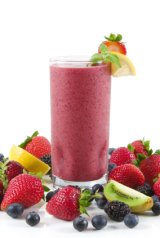 Since the green smoothie revolution some people are asking if blending is better than fruit and vegetable juicing for detox. When you juice fruit or vegetables you extract the juice from the produce leaving a lot of pulp behind. Unless you add this to other dishes you lose the health benefits of the fiber and possibly some other nutrients like flavanoids and anthocyanins. With blending on the other hand you use the whole fruit or vegetable. So which is best for detox?
Fresh fruit and vegetable juicing has been used as part of detox regimes for many years. Proponents argue that the fresh raw juices without the fiber are easy for the body to digest. The vitamins, minerals and other nutrients released from the produce are easily absorbed. In cases of cancer and serious illness the person can consume many more nutrients through juices than he/she can by eating whole fruit and vegetables.
Force out toxins
By flooding the body with these concentrated nutrients it is believed that toxins are forced out of the cells and tissues and damaged tissue is repaired. People with poor digestion or bowel problems like Ulcerative Colitis get all the nutrients without the added digestive burden or irritation of the fiber. Unless you are juice fasting the high intake of whole fruit and vegetables in detox diets provides enough fiber to make up for that lost in the juicing.
Do juices spike blood sugar levels?
There is some concern among nutritionists that drinking sweet fruit and vegetable juices will affect blood sugar levels and contribute to high insulin levels which in turn can cause an increased risk of developing diabetes and other types of cardiovascular disease. But, while the glycemic index (GI) of carrots is high the glycemic load (GL) of carrot, apple and orange juice are low. (The GL takes into consideration a food's GI as well as the amount of carbohydrates per serving).
A small study done by Halleluja Acres Foundation using fresh carrot juice concluded that most people could consume carrot juice without causing any blood sugar imbalance. The report stated that loss of blood sugar control is more likely to be caused by high fat, refined sugar and grain diets than the moderate consumption of carrot juice.
Advantages of Blending
Blended fruit and vegetables are considered to have less of an impact on blood sugar because they contain fiber which slows the release of natural sugars into the blood stream. High powered blenders like the VitaMix and Blendtec break down the cell walls of the produce releasing all the nutrients which can be easily absorbed.
Because of the health benefits of fiber and other nutrients in blended fruits and vegetables that may be lost in juicing many practitioners are now recommending blended fruit and vegetables for detox. Although I can find no scientific evidence for the effectiveness of it thousands of people have lost weight, restored their health and energy by using blended fruit and vegetables or Green Smoothies for detox.
Green Smoothies
Green Smoothies consist of blended green leaves and fruit. While they may not sound very appetizing they taste delicious. If you are new to it you can start off with a higher ratio of fruit to greens and gradually increase the leaves and decrease the fruit as you become used to the taste. Its an ideal way of getting more green vegetables into your diet if you hate them.
Some nutritionist have been concerned that the fast speed of the blender may result in increased oxidation of the smoothie. Oxidation is the process that causes a sliced apple to turn brown. However, Professor of chemistry Gregory T. Miller of Southern Oregon University believes the opposite is true. He stated that he believes the blending process releases a much higher percentage of antioxidants from the food than the juicing process which prevent oxidation.
Fresh vegetable and fruit juices should be drunk immediately after juicing as they start to deteriorate but green smoothies seem to retain their freshness much longer and can be kept refrigerated for several days without obvious deterioration. I do not recommend this though. You should always drink them as fresh as possible.
So which is best for detox – fresh juices or blended fruit and vegetables?
Blended fruit and vegetables will keep you feeling full for longer. If you are very sick, have a delicate digestion or are low in nutrients then fresh juices are probably best to start off with. You can gradually introduce smoothies  as you become stronger. If you are juice fasting the lack of fiber will very likely stop your bowels moving. It is essential that you keep your bowels moving during detox so you may need to take a herbal bowel stimulant or fiber supplement.
I think both have their place and in the end it is a matter of personal choice. Many people do both. I do.  I like to start my day with a green smoothie and have a vegetable juice before dinner.