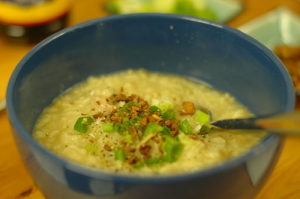 The ancient India healing system Ayurveda recommends detox at every change of seasons to clear the body of toxins that may have built up over the previous season.
Ayurvedic cleanses are prescribed by Ayurevedic practitioners after taking a detailed history and are chosen for your particular "dosha" -mind and body type.
A complete Ayurvedic cleansing program includes 15 days of preparation and 45 days of actual cleansing but here is an Ayurvedic light vegetarian mini detox that is suitable for all "doshas" and can be followed for 2 or 3 days a week to help flush out toxins.
Related reading: The Best Way To Detoxify and Reset with Ayurveda 
Of course the usual preparation applies before starting any detox. If you are not already on a very good healthy diet then take two weeks or more to gradually cut out tea, coffee, alcohol, processed food, junk food, fizzy drinks, sugar and foods containing it, fried and fatty foods, meat, gluten grains and dairy products.
Replace these toxic foods with vegetarian foods that are light, warm, and cooked.  Freshly made  made soups and dhals, organic vegetables cooked with spices, and whole grains are ideal.
Related reading: Ayurvedic Detox Diet Recipes
Drink plenty of hot water or Detoxifying Tea through the day to flush toxins out of the body through the urine.
7 am Lemon Tea:
Squeeze half a lemon into a 10 oz. glass and add one tablespoon
of maple syrup (Grade B) and 1/8 teaspoon cayenne pepper. Top
up with hot water.
(You will recognize this as the drink from the Master Cleanse or  lemonade diet that Beyonce and others have spent 10 days or more on to lose weight)
8 am Carrot & Apple Juice
Stewed fruit
9.30 am Ginger tea
11 am Vata or Pitta Tea ( see supplier below) or other Herbal Digestive Tea
12 md Ginger pickle  (see recipe below)
12.30 pm Lunch
Choose 3 vegetables from the following list.  Steam lightly and eat with grain and sauce.
Asparagus, Butternut squash, Carrots, Celery, Eggplant, Fennel, Green beans, Mangetout, Red pepper, Yellow Pepper, Spinach, Sweet Potato, Zucchini
Grain:
Brown Basmati rice, Buckwheat, Quinoa, Barley or Bulgar Wheat
Sauce:
Make by liquidizing some dhal or vegetable soup
Season with a little rock salt & black pepper
3 pm Carrot & grape juice
4 pm Vata or Pitta tea or Herbal Digestive Teas
6 pm Ginger pickle  (see recipes)
6.30 pm Evening meal
Vegetable Soup or dhal.  Season with a little rock salt and black pepper
Digestive herbal Tea
9 pm Bedtime Tea
Take 2 Triphala tablets to keep the bowels moving or other herbal bowel stimulant
Herbs & teas can be purchased from:
www.mapi.com (USA)
www.maharishi.co.uk ( UK)
Complete the detox with some gentle exercise each day.  Yoga and walking help detoxification by improving digestion and elimination. Avoid strenuous exercise. A massage during the mini detox can help release toxins from the tissues and improve the lymph and blood circulation.
Additional reading: Ayurvedic Detox Diet Recipes
Related reading: How Ayurveda can Help you Detox Full Body
Related reading: 7 Ayurvedic Strategies to Heal Lower Back Pain